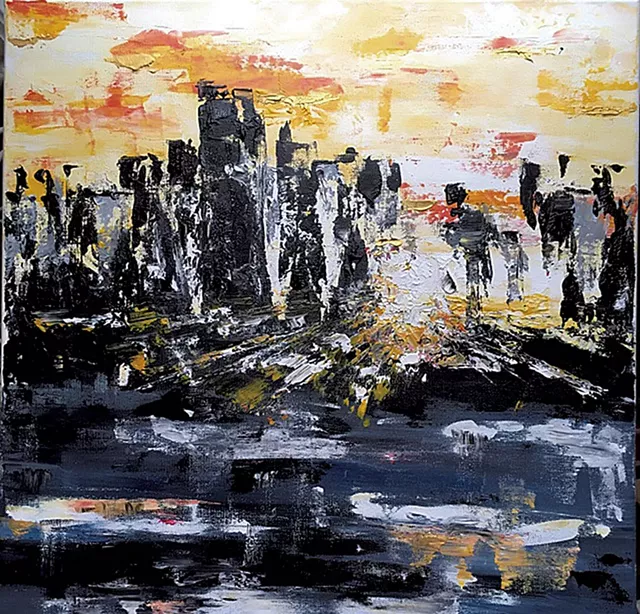 "Sunrise in the City," acrylic on canvas
Even established artists struggle to make ends meet in Vermont, and the starving-artist stereotype holds doubly true for many student artists. But a recent graduate from the University of Vermont just launched a digital platform that he hopes will help him and other aspiring visual artists, such as painters, sculptors and illustrators, sell their work faster while keeping more of the profits.
Jeremy Goldberg of Burlington created Art Student's Gallery, a free website where aspiring and established artists alike can display and sell their works commission-free. He described it as "Craigslist for artwork."
"I know how hard it is to sell art, especially as an art student," said the 25-year-old Boston native, who produces mostly acrylic paintings, as well as some ink and charcoal drawings. "Going through traditional art galleries, they can take a pretty substantial commission."
Indeed, it's not uncommon for brick-and-mortar art galleries to take a 30 to 50 percent commission on every piece they sell. But Goldberg is hoping that the Art Student's Gallery website, which went live in October, will become an online marketplace for those who are new to the commercial art scene.
There's no cost for artists to use the site, he explained, "and that probably won't change anytime soon."
Currently, Goldberg said, about 45 artists have expressed interest, and another 18 are already active on the site.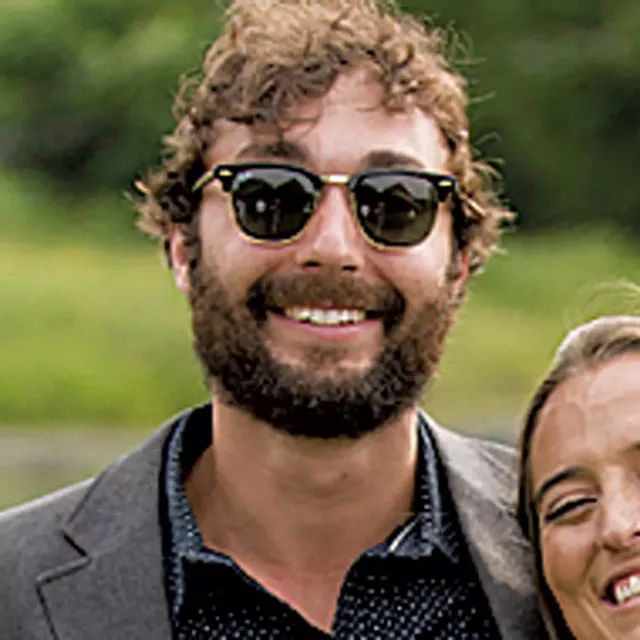 Courtesy Of Jeremy Goldberg
Jeremy Goldberg
Here's how it works: As Goldberg explained, the artist creates a login to set up their personal pages, which he likens to Facebook profiles. They can then create different galleries within their profile for the mediums in which they work, such as oils, watercolors, sculptures, photography and the like. Artists are then free to upload as many photos of their works as they wish and can customize their profile to include email addresses and links to other websites. No sales are processed through Art Student's Gallery, though customers can message artists through the site.
Currently, Goldberg is limiting the site to Vermont artists, though he envisions expanding it to other college markets in the future. Once he's reached at least 100 members, Goldberg said he plans to keep the site free for students but may charge a modest monthly fee to established artists to make the site sustainable.
Among Vermonters already active on the site is Jess Dudley, a Colchester jewelry maker who markets her work under the name Jeshali Designs. In the past, Dudley has sold pieces through the e-commerce site Etsy.com; she also has works on display at Northwood Gallery in Stowe and at Tangerine, a women's clothing store in downtown Burlington.
Dudley isn't a student anymore; she works full time at the UVM Alumni House and said it can be hard for aspiring artists to find time to market and sell their creations. Because she's not yet ready to invest in her own website, she sees Art Student's Gallery as a cost-effective alternative.
"I love the fact that it's a place for students and artists of any age to go on and use it as an artwork platform and share it with their friends and family," added Dudley, who has 33 pieces for sale on the site. "They can see what we're producing and post about it and be in the artists' community in Vermont at the same time."