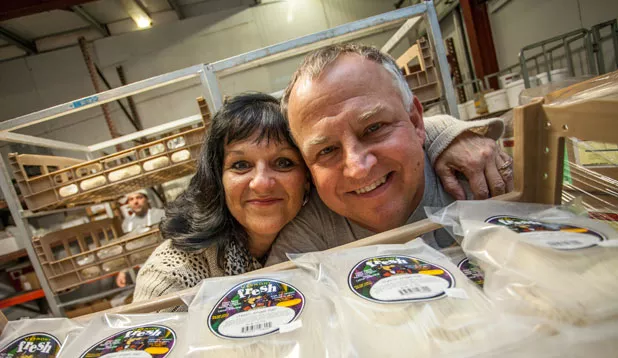 Last fall, chef Michael Werneke was on the hunt for ramen — but not the loaves of dried noodles with flavor packets favored by college students. For his 2011 winter menu at the Rusty Nail Bar & Grille in Stowe, the cook planned to serve authentic Japanese noodle soups adapted from the recipe in David Chang's Momofuku cookbook. He was surprised to find that none of his regular suppliers, including upscale specialty-foods giant Sid Wainer & Son, offered fresh ramen noodles.
Sean Buchanan of Black River Produce recommended that Werneke contact Vermont Fresh Pasta, which sells both wholesale and retail. "I started talking to [co-owner] Tricia [Jarecki] about alkaline noodles," Werneke remembers. "She said, 'My husband is a chemist, so I think he'd be really into it.'"
When the couple started Vermont Fresh Pasta in 1992, Ken Jarecki wasn't just a former New York City chemist: He was a restaurateur. That combination of scientific know-how and culinary creativity has made VFP the state's largest pasta manufacturer — and regional supplier to a national grocery chain. Today, 60 percent of VFP's sales are retail to 40 percent bulk, so both home cooks and chefs appreciate its ever-changing roster of creative pastas and sauces.
Werneke approached Ken Jarecki shortly after Tropical Storm Irene hit Proctorsville, washing the company's delivery truck down the Black River. Making new pasta — a process that involved recreating the sodium carbonate- and potassium carbonate-heavy water of China's Lake Kanas — was a welcome distraction for the scientist and cook. But chemistry wasn't the only appeal; Jarecki has always enjoyed tailoring new noodles to chefs' specifications, he says. After several adjustments from both manufacturer and chef, the slightly sour-tasting noodles were ready to serve.
They were such a success that, with Werneke's blessing, VFP began selling its ramen to other clients. Crop Bistro & Brewery in Stowe and the Wooden Spoon Bistro in South Burlington have it on their menus, and the alkaline noodles have been a hit at institutions including Fletcher Allen Health Care, Williams College and St. Johnsbury Academy. "I'm a big open-source advocate," says Werneke, who will soon leave the Rusty Nail, of sharing the recipe he helped create. "No one can compete with my broth, anyway."
When the Jareckis left New York City for Killington in 1986, they never expected to become the Green Mountains' top pasta makers. Dedicated home cooks, they built Powderhounds Restaurant in the space that is now home to the Garlic. The couple and their now-grown children lived in the building's basement. The fresh fare they prepared included dishes with noodles from a local company called DiMartino's Pasta.
When the small business closed, Jarecki and his then-business partner, David Bienstock, decided to take it over. At first, that meant producing pasta and sauces, including a popular Caesar dressing, for Powderhounds and its Killington neighbors. That is, until Whole Foods came calling.
In the late 1990s, VFP became the northeast co-packer for the supermarket giant's own pasta label. As the chain has grown, it has begun using larger factories to supply some of its stores, but the small Vermont company still makes and packages pasta for Whole Foods locations in Massachusetts, Connecticut and Rhode Island. Healthy Living Market & Café in South Burlington and Wilson Farm in Lexington, Mass., also use VFP as their private-label pasta maker. Under its own name, VFP's wares are sold at co-ops all over Vermont and New Hampshire and at other premium food purveyors, such as Shelburne Supermarket and the King Arthur Flour Baker's Store.
In the early years, the Jareckis used their basement home under Powderhounds as their factory. When they moved (they now live in Pittsfield), their bedroom became a walk-in cooler. Eight years ago, Black River Produce left Proctorsville for Springfield, allowing VFP to move into that much larger space. The company currently shares the expansive building with CMC Mushrooms, a fungus-growing business run by a pair of recent University of Vermont grads.
When Seven Days visited the factory last Thursday, a team of 10 employees was coming to the end of a manufacturing cycle. Most of the ravioli had been pressed the day before and sent to restaurants via suppliers, including Black River Produce and Provisions International. Since losing its own truck, VFP has depended on other companies to get its pasta to clients.
A pair of young women packed pasta sheets for retail, while another worker sent sheets of pumpkin-parsley fettuccine, the company's monthly special, through a machine that looked and operated much like the automated version of a tabletop hand-cranked pasta maker. Across the factory floor, between one of two walk-ins and an industrial oven used for roasting ingredients, several employees prepared dozens of boxes of jewel-green fresh basil for the next day's pesto-sauce-making session.
Nearby, Ken Jarecki stood alone at the 4-foot-tall Rosito Bisani pasta extruder, a machine that squeezes out and cuts pastas like a futuristic Play-Doh Fun Factory, with eminently more edible results. He was working on a sample of elbow macaroni for a client — Richard Jarmusz, executive chef at FAHC.
Jarmusz already uses 150 pounds of VFP tortellini each week in dishes for the hospital's cafeteria and patients. Now he's requested elbows for his kitchen's gooey, turkey-bacon-studded macaroni and cheese.
"All I can tell you is, price-wise, [VFP is] very competitive with [mega-supplier] US Foods and suchlike," Jarmusz tells Seven Days. "It was a no-brainer when we switched to them three years ago."
Finding ways to cook with VFP's quirkier offerings seems to have been a no-brainer for Jarmusz's team, too. They boil ramen to make a noodle salad, which they serve at the hospital's Main Street Café in an Asian trio with sushi and Vietnamese summer rolls. On Thursdays, the ramen lands in noodle bowls featuring Vermont Soy tofu. VFP's artichoke-mushroom ravioli becomes a bed for braised pork.
VFP's sauces come in handy, too, giving the FAHC kitchen team a break from chopping mirepoix or reducing red wine for certain dishes. Jarmusz is especially eager to talk up the company's most recent addition to its sauce line: roasted-almond-Asiago pesto. A pesto without herbs, it's a buttery, cheesy concoction that plays on the combination of nutty Asiago with milky-tasting chunks of almond.
Another attraction of VFP products for FAHC and other large institutions is nutritional analysis prepared by Jarecki himself. The chemist doesn't stop at listing calories and fat, as most packaged foods do, but offers specific vitamin and mineral information that helps dieticians at the hospital integrate VFP products into their patients' meals. Jarecki runs the ingredients and quantities through his own database, rather than sending them to a costly lab.
"Nutritionist" is just one of the hats he wears in the company: Jarecki also does the bookkeeping himself and repairs the machines. While much of the equipment has been upgraded over the years, some is older, such as the cutter and sheeter VFP acquired when it bought out Burlington's floundering Vermont Pasta Company in 1997. "Running a small business, you need to be multitalented," Jarecki says.
Tricia Jarecki is in charge of coordinating with all the company's clients. That means making more than 100 phone calls every Monday and Tuesday, before the weekly manufacturing cycle begins. "Even if you're very good, you can't rely on a chef to call you every week," Ken Jarecki says. "If they have Sysco or someone visiting them on the road, sometimes it's just too easy [to buy from that mobile supplier]."
Jarecki says he doesn't sweat it too much if a chef stops using his product for a season or two. "We are not always on a menu at a particular restaurant, but we always end up back on the menu. Everyone comes back to pasta," he explains.
And, more often than not, what "everyone" is ordering is ravioli. Over the years, Jarecki says, he — in collaboration with Bienstock and their chef clients — has created more than 100 varieties. That number is always growing: As long as a customer buys 12 pounds of the product, Jarecki will make practically any type of ravioli, he says.
Most chefs are happy to choose from the long roster. The most frequently requested ravioli is butternut squash, pumpkin and caramelized onion, especially during foliage season, Jarecki says. But he still has time to produce flavors such as chèvre with smoked fig pesto; curry-black-bean-sweet potato; and smoked salmon with chèvre with kalamata olives.
The goat cheese comes from Vermont Butter & Cheese Creamery, which makes it with lower-than-normal moisture especially for VFP. The low-moisture impastata ricotta that fills most VFP ravioli is not made in Vermont, but Vermont Butter & Cheese mascarpone pops up in some varieties.
One such delicacy is the chocolate ravioli with mascarpone filling, VFP's only dessert pasta. Its inspiration came from Tricia Jarecki's upbringing in an Italian American home — where, she recalls, homemade pasta was always drying on the backs of dining room chairs. The chocolate pasta (also available as linguine) contains just enough cocoa powder to color and lightly flavor the dough. Inside the ravioli, mascarpone and impastata ricotta are mixed with cinnamon, vanilla and pistachios. "It's basically a cannoli filling," Jarecki explains.
The dessert has been a hit at the recently opened Bailiwicks on Mill in St. Johnsbury. Chef James Scharnowske says he goes through a case of the ravioli every week and a half. "Basically, we take four raviolis, [dip them in] flour, egg and panko and fry them in a fryolator [and serve them] with a Tahitian vanilla gelato and ganaches," Scharnowske explains. "It is amazing; people have never seen it."
With 20 years behind them, the Jareckis have certainly found the formula that pleases customers. And that's exactly why Ken Jarecki has no major expansion plans. "To get to the next level, we'd have to go to a frozen product," he says. "The investment would be so big, I wouldn't want to take the risk."
As it is, VFP continues to grow slowly and steadily; Tricia says she adds a new client or two every week. But Ken Jarecki wants to keep VFP in Vermont and its neighboring states. "I'm not interested in being a national brand," he says. "I never planned on being a millionaire. I want to stay crafty, fresh and local."
Vermont Fresh Pasta, 226-7580. vermontfreshpasta.com