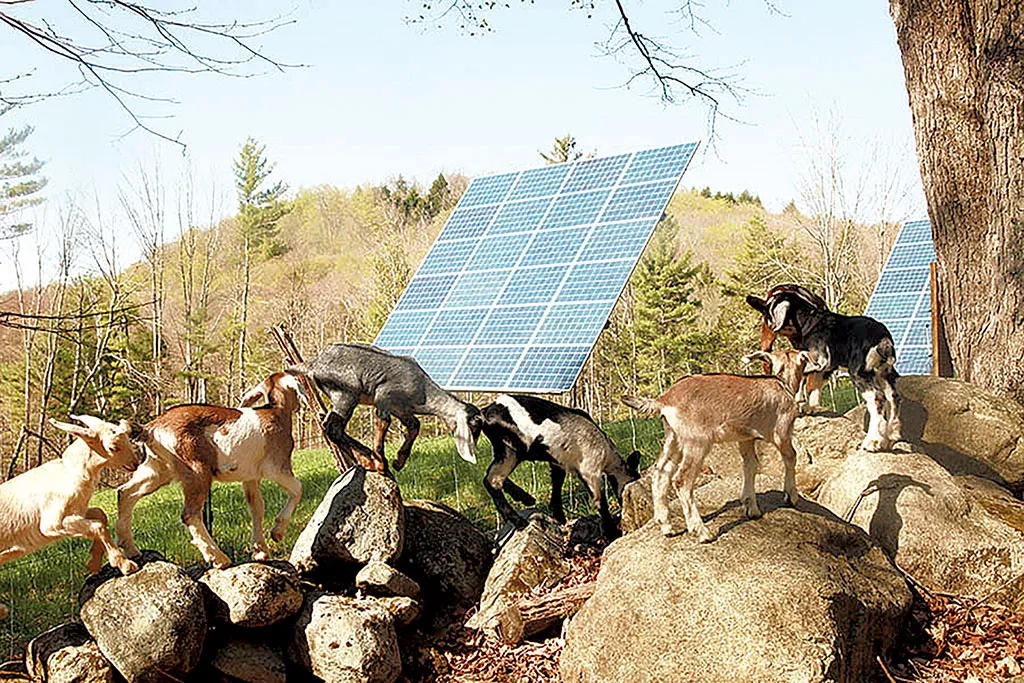 Courtesy Of Big Picture Farm
The goats of Big Picture Farm with USDA-funded solar panels
Each year, the U.S. Department of Agriculture helps selected farmers transform their crops into new products by awarding them Value Added Producer Grants of up to $250,000. Last year, two farms in Vermont received USDA dollars; this year, six snagged grants.
The largest grant, of a full quarter million dollars, went to Champlain Valley Farm in Addison. The funds will be used for processing and marketing through Black River Meats, which will turn pork from CVF and three other local family farms into sausage and bacon at its Springfield facility. Stonewood Farm in Orwell received a comparable grant for processing turkeys.
Vermont GreenWood Resources, a Waterbury forestry operation, will use its USDA grant for a feasibility study on transforming wood into products such as pellet feedstock and microchips.
The three remaining grants will benefit new food ventures. Big Picture Farm in Townshend earned its first USDA grant in 2012. This year's $124,280 grant will go toward the processing, packaging and promotion of goat's-milk truffles that will join the farm's rich caramels on store shelves.
Larson Farm in Wells will begin turning its milk into yogurt and gelato. Finally, Richmond's Slopeside Syrup, which already sells maple products under the UnTapped banner, will use the federal money to expand its maple-as-athletic-energy product line with a new creation: gummies sweetened with syrup.