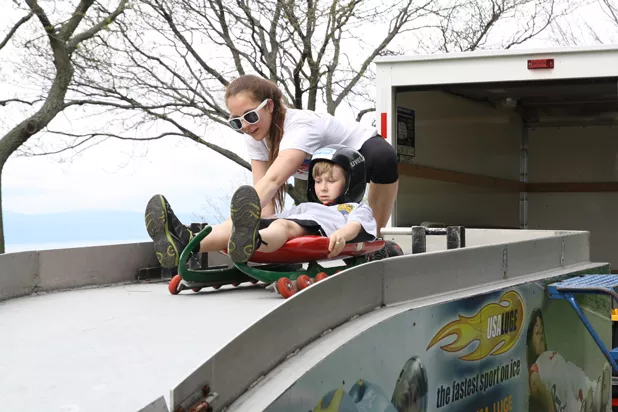 Evan Hausman with Junior National luger Gracie Weinberg of Middlebury at USA Luge Kids Day in Burlington
When the United States Luge Association brings its "Slider Search" clinics to Burlington this weekend, the sessions will enable the organization to demystify a sport that many Americans only hear about once every four years. But with its free mini-camp, USA Luge also hopes to scope out tomorrow's talent.
Developed in Switzerland in the late 1800s, the luge — not to be confused with bobsledding or the skeleton — is a small sled that can hold one or two people lying on their backs. Using downward pressure from their legs as well as handles inside the sled to steer, lugers slide feet first down an approximately 4000-foot-long ice track. In the sport's highest echelons, they do so at speeds approaching 80 miles per hour.
This weekend, they won't go nearly that fast. In three-hour sessions on October 12 and 13, USA Luge recruitment manager Fred Zimny and several junior lugers will instruct children between the ages of 9 and 13 in the basics of the sport. Taking place on Locust Street by Calahan Park, the clinics will culminate in a chance for attendees to slide down a stretch of pavement on wheeled sleds, simulating the real deal.
If any participants show promise, USA Luge may then invite them to try out for the junior development team in Lake Placid. That's the first step to eventually competing at the international level, says Gordy Sheer, marketing director for USA Luge. Sheer himself competed in three Winter Olympics and won a silver medal at the 1998 Nagano games.
"The Slider Search is a great opportunity to try something new. Beyond that, you get a free T-shirt," he says. "And beyond that, it's a chance to open the door to what could potentially be a trip to the Olympic games."
That's not empty rhetoric: The Slider Searches are USA Luge's primary recruiting mechanism, Sheer explains. Eighty percent of the U.S. luge team at the Vancouver 2010 Winter Olympics, he points out, was recruited through the clinics, which the organization has run for 28 years.
But even if they've been a boon for USA Luge's numbers, Sheer admits that the clinics illustrate the challenge facing the niche sport, which must contend with more popular winter pastimes and has a limited legacy in this country. For the last 50 years, countries much closer to the sport's origins — Germany, Austria, Italy — have regularly taken home Olympic gold medals. Unlike the governments in those countries, the U.S. government provides no funding to its Olympic teams.
"It's not like hockey or skiing where there is already an existing structure of high school teams, leagues or clubs. We need to go out and recruit," Sheer explains. "The other challenge is that we don't have a lot of facilities in which to train, so we have to go out and bring the sport to them. That's what the Slider Search is, a way to help us remedy the fact, at least partially, that we have a limited number of facilities."
The U.S. has only three luge tracks: two at the former Olympic facilities in Park City, Utah, and Lake Placid, N.Y., and one at a winter-sports complex in Muskegon, Mich. The bobsled and skeleton also use the same stretches of ice.
A further challenge, explains former luger and Burlington business owner Cynthea Wight Hausman (who will be blogging at the upcoming Sochi games for Seven Days; see sidebar), is the level of commitment required by a child approaching the sport.
"People come to the ski team knowing how to ski. People do not come into the luge development programs knowing how to luge," says Hausman, who attended the Calgary 1988 Winter Olympics as an alternate on the U.S. women's luge team. "It's a cradle-to-grave program," she adds. "They have to teach you every first thing about it."
Since Calgary, Hausman has been involved with USA Luge in coaching and fundraising capacities. She currently manages the organization's social media pages as a volunteer and teaches athletes how to do the same with their personal ones.
According the USA Luge website, 16 men and women now make up the national team. Although none hail from the Green Mountain State, two of 36 members of the junior and development squads do: Elijah Pedriani from New Haven and Grace Weinberg from Middlebury.
As dire as her assessment of the luge program sounds now, Hausman looks back on the sport fondly and encourages families to take advantage of the Slider Search, where she'll also be helping. What appealed to her was not just luging itself, but also the tight-knit community the sport generated in such a small, resource-limited environment. The clinics this weekend, Hausman says, may be just the ticket for a young Green Mountain athlete looking to break into such a world.
"If you have a child that is really coordinated, has a lot of energy and likes to ski fast and likes the camaraderie, it's a really exceptional opportunity," Hausman says. "It's like a big slide, and where else but Vermont? We're cold-hardened, and we can roll with it."
The Slider Search will conduct two clinics on Saturday, October 12, from 9 a.m. to noon and 2 to 5 p.m.; and another on Sunday, October 13, 1 to 5 p.m. on Locust Street in Burlington. Preregistration advised at usaluge.org.
The original print version of this article was headlined "On the Slide"