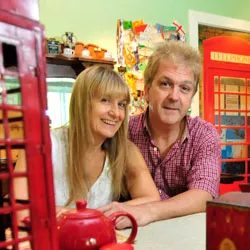 Jeb Wallace-Brodeur
Maxine Longmuir and Graham Hewison in the dining room of their Sugartree Inn in Warren.
Maxine Longmuir and Graham Hewison aren't exactly the poor, huddled masses of immigration lore. But the former Londoners may nonetheless wind up illustrating America's broken immigration system.
The British couple came to Vermont in 2004 on an E-2 investor visa after buying the Sugartree Inn, a nine-bedroom bed and breakfast near the Sugarbush Resort in Warren. E-2 is a nonimmigrant visa available to investors from countries that maintain bilateral investment, commerce and navigation treaties with the U.S. The criteria for getting one are somewhat vague: The two-year renewable visa requires a "substantial" investment in a U.S. business but comes with no minimum investment or job creation requirements. The rules say that the business can't be of "marginal" value, a term some foreign investors and their advocates consider subjective and arbitrary.
Over the years, Longmuir and Hewison have invested $600,000 and countless hours transforming what was once a cramped, outdated inn into a cozy getaway.
Longmuir volunteers with the Vermont Festival of the Arts, and Hewison's a DJ at community radio station WMRW 95.1 FM, where the couple got married on air in 2007.
Now Longmuir and Hewison are reluctantly putting the Sugartree Inn up for sale and preparing to move back to London. The couple's visas expire in 2012, and they believe there's zero chance of getting them extended. Since bed and breakfasts typically take up to two years to sell, the husband and wife are listing the business now rather than betting on the vagaries of the immigration system.
"It's heartbreaking," Longmuir says. "We love this country. We love Vermont. We put our hearts and souls into this business, and made so many good friends here in the valley." She uses local shorthand to refer to their adopted home: the lush, recreation-rich Mad River Valley.
Newspapers and online forums offer plenty of stories about E-2 visa holders who sank big money into U.S. business ventures hoping to spend a decade or more here, only to be sent home when immigration officials deemed their businesses of "marginal" value. Some were employing U.S. workers and pumping money into local economies.
A well-liked British couple, Julie and Jonathan Pierce, purchased the Inn Victoria in Chester five years ago. Earlier this year, the U.S. government sent them packing after denying a visa extension because they didn't have any employees.
Longmuir and Hewison have chosen to sell and split rather than risk winding up in similar straits.
"I'm 56 years old, and I'd quite like to have roots now," Longmuir says. "I can't take the chance that in November 2012, I'm told, 'No renewal,' and now I'm in a situation where you've got a place to sell and all your money's tied up in it."
Longmuir and Hewison knew when they applied for E-2 visas that their Vermont stay was temporary and could end at any time; they had to sign a form declaring they wouldn't seek U.S. residency. But they held out hope of finding a path to green cards.
The U.S. Citizenship and Immigration Service approves more than 80 percent of E-2 extensions, says USCIS spokesman Bill Wright. Wright can't comment directly on Longmuir and Hewison's case, but says that when reviewing E-2 renewals, the USCIS considers money made and lost, future growth potential and the number of family members an investor is supporting.
Wright says the USCIS has "leeway and wiggle room" in determining whether a business is viable or "marginal," and he admits that can be "somewhat subjective." But he maintains officials look at hard numbers — business tax records, personal tax records — to evaluate an E-2 enterprise.
The numbers might be on their side, but Leslie Holman, a Burlington-based immigration attorney who represents Longmuir and Hewison, says the couple have good reason to worry about being denied visa extensions. The number of such extensions being approved is dropping — from 91 percent in 2008 to 82 percent today — and the U.S. embassy in London, where the innkeepers would have to apply, has become more selective over the last five years. Holman has represented dozens of E-2 petitioners from Vermont and New England over the years and has seen an increasing number encounter trouble.
"They have a very valid concern that when they go back, London is going to say, Well, you don't have enough employees, you don't have enough of this, and they actually could decide to deny it," says Holman.
Longmuir and Hewison say the uncertainty around the E-2 program is forcing them to leave Vermont. It makes no sense, they argue, to lure foreign investors here only to send them — and their money — home two or four years later.
Holman and the owners maintain that the Sugartree Inn isn't the least bit "marginal." The couple purchased it for $500,000 and spent another $100,000 updating the guest rooms and converting a cobweb-infested garage into a spacious new dining room and industrial kitchen. Longmuir purchased a $12,000 Aga cooker, nicknamed "Mrs. Bridges" after a 1970s British sitcom character. She uses it to bake muffins and cakes for guests.
Though they don't have employees, Longmuir and Hewison say they hire local contractors, shop locally and are self-sufficient.
"We've been told by more than one or two people that if we came here illegally, we'd probably be in a much more secure situation, because they have amnesties from time to time," says Hewison, 53.
Longmuir and Hewison left high-pressure jobs in London to escape what they call "the corporate rat race." In England, Longmuir was a sports marketer, hobnobbing with elite athletes as she promoted pro golf tournaments and soccer matches. Hewison is a rock musician who worked in the tourism sector.
In Vermont, they found a slower pace that better suited them. "Here, people work hard, but they play hard, too," Hewison says. "They have a life."
The Sugartree does a brisk business during ski and fall foliage seasons, the owners say. In summer, guests come for hiking, paddling and golf. The recession has taken a toll on Sugartree's business, but the pair are still making enough to support themselves and take one vacation a year. More importantly, they say, they're not asking anyone for a handout.
The couple have explored alternative paths to residency, without success. Their last hope may be a PR stunt Longmuir concocted involving their chocolate Labradoodle, Beckham. The dog is going to "write" to Bo Obama, the presidential pooch, and beg for amnesty.
"Beckham's an American," Longmuir jokes. "He was born in Virginia. He doesn't want to live in London."