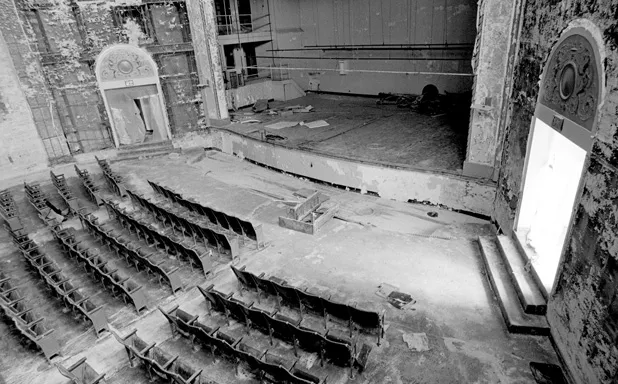 Press)Viewed through the lens of Burlington photographer Karen Guth, Detroit appears to be another American city savaged by a super storm. Actually, it's an unnatural disaster that has befallen her father's hometown. In 29 spare and eloquent shots, Guth records the aftermath of policy decisions that brought about the deindustrialization and depopulation of what was once the world's car-making capital.
Fittingly, all the photos in "Vestiges: Images of the Depopulation of Detroit" are black and white. There's not much color to be captured on Detroit's deserted streets and in its crumbling buildings, but Guth's austere aesthetic has the effect of intensifying the show's mournful mood.
Each image is also devoid of human beings and almost all other signs of life. That, too, seems an appropriate choice for a chronicle of a metropolis turned necropolis.
Visitors to the University of Vermont's Living/Learning Gallery will encounter scene after scene of boarded-up houses, desecrated churches and derelict factories, and libraries, classrooms and auditoriums strewn with debris. It's sad to see what's become of large swaths of Motown, but looking at Guth's photos is nevertheless a pleasurable experience. She finds beauty amid the wreckage.
By focusing on shattered columns and toppled pillars, Guth manages to infuse Detroit's forsaken automobile factories with the nobility of ancient Greek ruins. The content may be chaotic, but the form is classical.
That doesn't mean coolly unemotional, however. As Guth states in a wall text introducing the show, "I was compelled to take my camera and photograph what I was feeling: anger, sadness and utter disbelief."
Her demonstratively personal attachment to the subject matter stems from the time Guth herself lived in the Detroit area. She had moved from New York City in the late 1990s to a place not far from where her father was born. That address now designates a vacant lot.
As Guth recounts in her statement, her father had regaled his daughter with fond memories of 5-cent seats at Tiger Stadium, which was demolished in 2009. But the Detroit she found was "a city of sports arenas and office buildings juxtaposed with urban decay beyond anything I could ever imagine."
A chapel that must once have rung with hosannas now gives visual expression to Shakespeare's "bare, ruin'd choirs." In the apse of a neo-Gothic church, graffiti has been scrawled where the altar used to be. Columns in the nave of the same church appear to have been gnawed away, as though some monster had been trying to get at tasty bits embedded in the stone.
Books and sports trophies remain oddly undisturbed on the shelves of an otherwise ransacked library. A poster pasted to the side of a bookcase lists instructions for a "Take-Cover Drill." Given the appearance of this bombed-out room, it's easy to imagine the library patrons taking cover from an actual attack rather than engaging in a mock exercise.
In a similar scene, textbooks are still neatly stacked in a classroom that looks like it was grazed by a tornado. The title on the books' seams — The American Nation — is too deliciously ironic to have escaped Guth's notice. But the metaphor is a bit blunt; we don't need so explicit a prompt to get the intended inference.
Detroit looks nothing like best-of-everything Burlington. There's no equivalent here of the long stretches of cracked pavement leading nowhere. The Queen City's surfaces don't dissolve into puddles the size of ponds. And you won't see empty houses standing side by side in formerly intact working-class neighborhoods.
Wrong. All of this is indeed visible in Vermont's only metropolitan area.
The unused road lined with weeds and bare trees looks a lot like the leg of the Southern Connector that was built some 25 years ago but has never carried traffic. Guth's flooded lane resembles the section of the waterfront bike path near the Moran Plant a day or two after even a moderate rainfall. And those hollow-eyed homes with official-looking signs affixed to their exteriors? Why, it's as though Guth were shooting streets near the Burlington International Airport, where houses purchased by the airport with federal funds now silently await the wrecking ball.
"Vestiges" is an apt title for this show. "It Can't Happen Here — Could It?" would have worked, too.
"Vestiges: Images of the Depopulation of Detroit," photographs by Karen Guth. Living/Learning Center Gallery, next to Fireplace Lounge, second floor of Commons Building, University of Vermont, in Burlington. Open 1-8:30 p.m. Monday through Friday, and 11:30 a.m. to 4:30 p.m. on weekends. November 25 through December 7. uvm.edu/llcenter