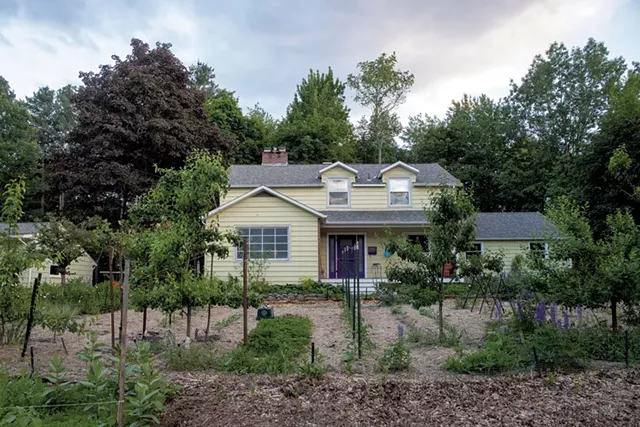 James Buck
Ethan Joseph and Jessica DeBiasio's front yard "mini farm" in South Burlington
Grass is an easy crop to grow, if it rains. Maintaining it, on the other hand, is one of suburbia's running jokes. In Vermont's few suburban areas, transforming front yards into productive garden spaces is nothing new, with residents doing it for aesthetic, practical or philosophical reasons, including the climate impact of maintaining a grass monoculture. With more people focused on gardening during the COVID-19 pandemic, though, the movement against lawns is more visible than ever.
Even Shelburne Farms is reevaluating its relationship to grass. The nonprofit's sprawling green space will look a little wilder this year, with lawns mowed less frequently and on a smaller scale. According to the farm's website, its "environmental commitment, coupled with limited hiring of seasonal staff due to COVID-19," has resulted in a shrinking lawn. The grass that does get mowed will be kept taller as part of the "Raise the Blade" campaign, which seeks to improve soil and waterway health.
Unconventional front yards can be a point of contention in perfectly planned neighborhoods. But when they're turned into thoughtful gardens, they can also be a beautiful way to reconnect with neighbors, nourishment and nature. We visited three Burlington-area front yard gardens that are putting it all out there in the crusade against grass.
Farm House
In a suburban South Burlington neighborhood, Ethan Joseph and Jessica DeBiasio have transformed their front yard into a 2,500-square-foot mini farm that showcases vegetables, herbs, fruit trees and flowers.
When the two bought their house in 2012, they knew they wanted to have a big home garden. Putting it in front of the house wasn't a statement; it was a necessity.
"Our backyard, where most people would do their gardening and nonpublic activities, is all wooded and quite wet," Joseph explained. "The front yard is what our piece of property offered us. Now I kind of have an aversion to lawns, and I've been on a mission to get rid of all of the turf grass on our property."
Joseph, the head winemaker and vineyard manager at Shelburne Vineyard, is a lifelong gardener. When he and DeBiasio were looking for a place to buy, they initially wanted to be farther outside the urban area and have a bit of land. But the suburban life has turned out to suit them perfectly.
"I can get home from working in the vineyard all day and have this sizable — but still really manageable — garden to take care of as a hobby and a way to clear my head," Joseph said. "Any bigger, and it would feel too much like work."
The food the couple produces — nearly three dozen crops — is supplemental, but it includes enough tomatoes to freeze as sauce, beans to dry, and squash to eat through the winter.
Over time, Joseph has noticed newly planted raised beds, fruit trees and small gardens around the neighborhood. "I don't know if they're out of a bit of camaraderie and we were their direct inspiration," he said, but he hopes putting the garden out front has helped inspire his neighbors to rethink their unproductive lawns.
"Even turning a section of the yard into a wildflower area brings in pollinators and would be beneficial to neighbors that are taking a different approach and growing crops," he said. "There's so much lawn, and a lot of potential."
Perennial Source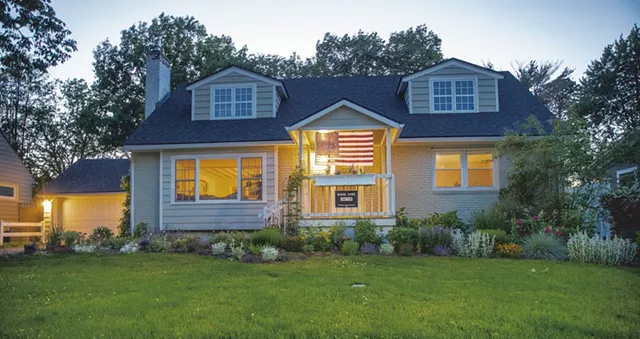 James Buck
FM Muñoz and John Paul Grogan's evolving front yard in the New North End of Burlington
FM Muñoz and John Paul Grogan doubled the size of their front yard garden in the New North End this year. They also enlarged the vegetable-filled raised beds and added perennial fruit plants behind their house. But the work out front, combined with social distancing, has changed their thinking about where they spend time.
"When we have friends over, we're always gathering in the back," Muñoz said. "Since we're not doing that right now, the front yard has become the place where we can have those social interactions with our neighbors and our community.
"There's so much unstructured, unplanned, positive community building that's happening while we're in our front yard digging in the dirt," he continued. "That doesn't happen when you're cloistered in the backyard."
The front yard's perennial beds represent eight years of gardening; each year, Muñoz and Grogan have divided patches of prolific plants such as lamb's ear and coreopsis, spreading them throughout the garden. Muñoz uses that incremental progress to measure the passage of time.
This summer's expansion will make an especially significant mark: The COVID-19 pandemic coincided with Muñoz stepping out on his own as an independent business and marketing consultant. One of his clients, fittingly, is Hinesburg's Red Wagon Plants.
While Muñoz helped the nursery adapt to its booming e-commerce business, Red Wagon owner Julie Rubaud lent her expert eye to the front yard project, helping to create a sense of cohesion. The new beds are more than just aesthetically pleasing; dual-purpose edible and medicinal perennials such as feverfew, Roman chamomile and echinacea are tucked throughout.
"Julie's been really inspiring in terms of identifying plants that are functional and serve a beautiful role in the garden, as well," Muñoz said.
He dreams of a day when the entire front yard is planted with perennials and vegetables, and there's no lawn to mow.
"Every time we talk about the garden, we talk about how much more grass we're going to rip up," Muñoz said. "We joke about it, but it's really just about the time and the tools and the energy to get it done."
Growing Community
James Buck
Matt Kolan's sprawling front garden in Queen City Park
When Matt Kolan moved to Queen City Park 10 years ago, transforming the front yard from grass and concrete into garden space was the first priority — even before addressing the inside of the apartment.
"I wanted more than anything to be able to have hands in the dirt and to tend plants," Kolan said.
After posting online seeking to borrow a rototiller, Kolan got a response from a local master gardener volunteering her time. When she arrived on a Friday afternoon, instead of a rototiller, she'd brought a tractor and a disker to handle the job.
"I'd just moved in, and everybody coming into the neighborhood — which is a dead end — was driving by while she was doing loops in the front yard," Kolan recollected.
Over time, the garden has grown into a collection of beds filled with annual vegetables and perennial plantings: seaberries; blueberry bushes; thornless black raspberries; rhubarb; mulberry, apple, pear and peach trees; sweetgrass; a massive kiwi vine on the front steps; and a strawberry patch that has produced as much as 100 pounds a year of berries for the freezer — and the neighborhood.
For Kolan, who is a senior lecturer in the Rubenstein School of Environment and Natural Resources at the University of Vermont and director of UVM's Leadership for Sustainability master's program, gardening is about getting to know plants in different ways, rather than productivity.
"I'm much more interested in the garden as a sanctuary space than as a space that is turned into how much we can get out of it," Kolan said.
This vision of sanctuary, however, is far removed from any notion of hiding behind tall fences in the backyard. This year, more than ever, Kolan's neighbors are stopping to ask what's growing or what has grown well in the sandy soils as they plan gardens of their own. Kolan sees these conversations as a way of making and building community, just as sharing the bounty of the garden is.
"For me, sanctuary is something community can be connected to," Kolan said. "It's sweet when it doesn't feel like it's sanctuary just for us."