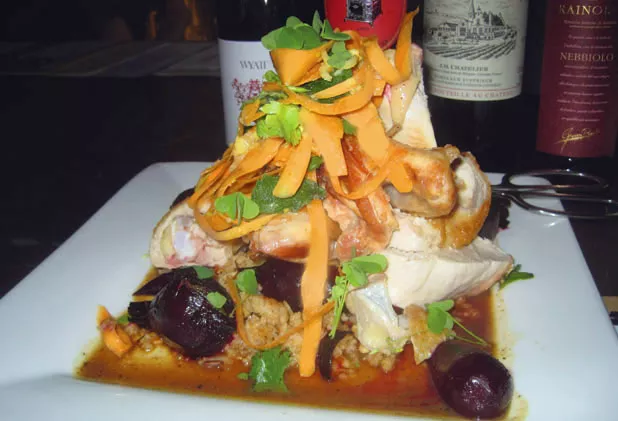 What goes on in a chef's mind as she works the harried, sweaty line? Some may just be keeping their heads above water, reciting the recipe at hand. Others may be contemplating a cold beer at shift's end. Lauren Parlin hears another refrain: "'Mom! Mom. Mom!'" the 52-year-old chef says, mimicking the demands of a hungry child — or three, like her now-grown brood.
At her seasonal restaurant, the Uptown, in tiny Hague, N.Y., Parlin serves tourists who come to the Lake George area as if they were members of her own extended family. She and her husband, Ken, live upstairs from the dining room. Like much of their clientele, they return to New York City in the fall. And, until this summer, they only served prix-fixe meals. "I do family style," Parlin says, "because that's what I'm comfortable with."
When Parlin started the Uptown as a summertime project in 2006, she was not a professional chef, but she thought serving breakfast and lunch would be a fun activity to share with her family. Later that year, back home in the city, she earned a degree from the French Culinary Institute. When she returned to Hague with stronger kitchen skills, Parlin realized the town, composed mostly of summer homes, lacked the morning traffic to justify her original business model. So the Uptown became a dinner-only affair.
When you turn from shimmering Lake George to Graphite Mountain Road, Hague's tiny downtown reveals itself. There's little more than a post office, a couple of churches and the Uptown. Next door is another eatery, the Hague Firehouse Restaurant. The only parking lots belong to the churches. The town is so small, most people just walk wherever they're going.
The camp-style scene inside the Uptown is still casual, but the large plates, priced for sharing, are anything but. And, as Parlin says, it's not just about the food. "The food should be a component of the experience, but for me it's not the whole experience," she says. "It's not elBulli [famous Catalonian restaurant, now closed] or something, where you drive hours for the food, and that's it. I want people to come in and feel like I'm in a little town in the Adirondacks and an old renovated building, and the food is part of it."
The Parlins certainly put noteworthy effort into the building. A general store circa the 1880s, it later became a rooming house for graphite miners. When the Parlins bought the house, it contained a taxidermy business in the space that is now the dark, wood-paneled dining room. Today the elegant feel, with piles of freshly washed, colorful towels in the bathroom and soft bandanas for napkins, brings to mind Martha Stewart. "I have a strong aesthetic need," says Parlin, shrugging off compliments.
Whether they sit at the bar or a table, visitors to this comfortable, upscale home can start their meal by choosing from a carefully selected wine list and a bar menu that includes local goat meatballs. Soon, some of the goat meat may come from kids that Parlin herself is fostering for Sweet Spring Farm in Argyle, N.Y. "I love raising goats. They're such sweet, easy animals and, really, I think goat meat is great," says Parlin, who uses the farm's goat cheese, too.
Some diners may skip the snacks and get right to appetizers. When Seven Days visited the Uptown on a recent Saturday, all starters were $14 and big enough for two. Tuna tartare woke up the palate with lemon, shallots and a sharp purée of garlic. A pile of enormous mustard seeds rested on one corner of the round of diced meat. Spread on a cracker with the tuna, the zippy mustard popped like caviar. Instead of a garnish of mere parsley, Parlin employed parsley flowers. They tasted the same but gave the dish a ladylike, visual edge.
One of the two available entrées that night was roasted Misty Knoll Farms chicken for two or three people. It sounded simple, but what arrived at the table looked more like an ultramodern building in Dubai than a crispy, dead bird. The animal had been butchered into basic pieces and then layered with strips of raw carrot, herbs and celery leaves. The celery worked like an herb itself, lending a brightening note not unlike cilantro. The floppy but crisp carrot slices carried a surge of fresh mint. As for the chicken itself, each piece, including the breast, was tender and juicy inside. Outside, the salty skin was so thick and crisp, it reminded me of pork cracklings.
The flavors of the chicken complemented its carpet of toasted bulgur, which in turn soaked up the earthy sweetness of caramelized onions and got a textural boost from slivered almonds. The blood-red sauce pooling at the bottom of the plate got its hue from the thickened juice of tender beets that Parlin and her sous-chef, Jeanne Jordan, roasted to perfection.
Jordan is just one of the young people who have started culinary careers under Parlin's wing. The young cook began working at the Uptown when she was 17. Now a culinary- school graduate, Jordan is stopping at her old stomping grounds before returning to New York to begin her career in earnest.
One of Parlin's daughters is now a chef in the big city, too, and it's become a family tradition for teenage nieces and nephews to spend the summer in Hague as servers. Working at the restaurant is an education in itself, says Parlin, because of its locavore affiliations.
Parlin makes regular trips to local farms — including ones in Vermont — with Jordan and her front-of-house manager, a recent Columbia University grad whose thesis focused on food anthropology. Most recently, the crew hit the Middlebury Farmers Market to pick up produce from Foggy Meadow Farm in Benson. Next, they headed to Vergennes for sweet treats from Vergennes Laundry, which occasionally supplement the homemade items on the Uptown's dessert menu.
Parlin, whose restaurant is about half an hour from the Champlain Bridge, says 50 percent of her ingredients come from Vermont producers. Starting from scratch six years ago, she says, she built relationships with suppliers on both sides of the lake by visiting them at farmers markets and paying them calls.
On the New York side, Slack Hollow Farm in Argyle is a favorite supplier for salad ingredients. When Seven Days visited the Uptown, the farm's greens, shaved beets and watermelon filled tall bowls of Farm Stand Salad. The nearby fields also contributed the ingredients for picture-perfect presentations of bread-crumb-topped ratatouille.
These, like the tuna tartare, were appetizer options — a new concept for the Uptown. When the restaurant opened for the season at the end of June, the staff kicked off its first year of offering an à la carte menu instead of set meals.
Why the change? Parlin says she adapts to her customers' needs: "Basically, it's like a soft opening all the time." And she has begun to see an appetite for local food paired with a demand for flexibility.
Last summer, a rare infection put Parlin's 28-year-old son on life support, leaving her unable to serve as the Uptown's full-time chef. She brought in Sam Richman, a veteran of kitchens, including the Fat Duck and Jean Georges, to help her with the cooking. Richman — who's now at buzz-worthy Brooklyn, N.Y., taqueria Gran Electrica — made inspired use of foraged and local foods in his prix-fixe menus. Parlin says this year's options are designed for customers who liked those ingredients but found Richman's haute cuisine not so approachable.
Parlin knows her market well: She has been coming to Hague since she married Ken 30 years ago. His family has summered in town since 1935. Parlin says that's not uncommon in the close-knit community, and she knows how its ebbs and flows of population affect business. The Uptown serves dinner Tuesdays through Sundays until Labor Day. After that, Parlin will keep the restaurant open on weekends through Columbus Day, after which Hague mostly empties out for the winter.
That's when Parlin will return to New York City, too. Now that her son has recovered, she says, she'll have time to look for work in a big-city kitchen this winter. But next summer, she'll be back in Hague, cooking for locals, travelers and, she hopes, some Vermonters. "It's an easy drive," Parlin hints with a smile.
The Uptown, 9819 Graphite Mountain Road, Hague, N.Y., 518-543-6202