Most of the big news stories of 2013 are still getting ink — and pixels: The F-35 fight ain't over yet — or so say opponents. Victims of serial killer Israel Keyes continue to turn up. Officials are working on the multi-million-dollar details of Vermont Yankee's shutdown. And the business manager of Seven Days is still waiting for a call back about medical insurance from the IT department at Vermont Health Connect.
You've read all about it.
But in the spirit of "alternative" journalism, our reporters are always on the lookout for stories that no other media outlet is reporting. Why are some Asian massage places open at all hours of the night — even in far-flung corners of Vermont? Ken Picard conducted a simple investigation and turned up glaring evidence of human trafficking and uncaring cops in our own backyard.
Also from the police blotter: Officers in Winooski and Burlington opened fire on suspects, with results that ranged from alarming to tragic; and a pissed-off artist succeeded in shaming the Shelburne 5-0.
Some Seven Days stories played out in the political realm, as lawmakers gave terminal patients the right to seek a doctor's help to die; officials kicked hate groups out of the state employee charitable pool; and Champlain Valley superintendents heard loud and clear that parents want school out for summer.
Other stories sprang up from the grass roots, as volunteers launched a farm to make goat meat available to the newest group of Americans; entrepreneurs built a wind-powered barge to bring Vermont farm products to the Big Apple; and residents of Jericho and Underhill tried to resolve their feud over what to do with a sweet gift of land.
None of these dramas ended the day you read about them. To that point, Seven Days reporters followed up with their sources to get the latest on everything from state daycare regulations and Burlington's bike lock registry to leaderless Goddard College. What they found is nothing short of … well, read on.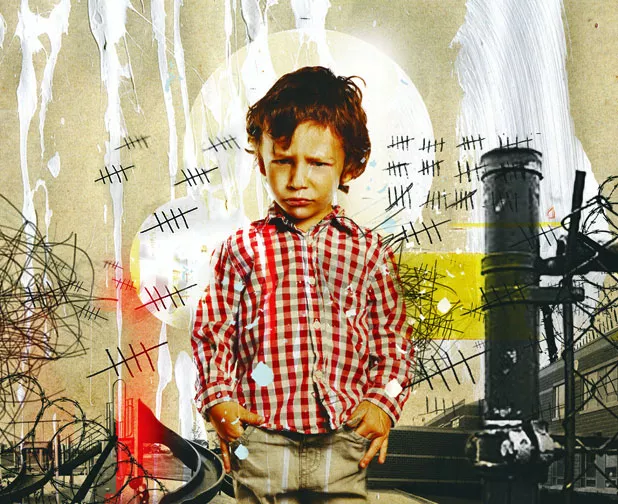 Illustration by David Junkin
State to Release New Rules for Childcare Providers — One Year Later Than Promised
Jan 30: In June 2012, a 3-year-old boy attending the Ed-U-Care Children's Center in Essex Junction walked off the premises and into heavy traffic on Susie Wilson Road. Luckily, a passing motorist pulled him out of harm's way. A subsequent investigation by Vermont's Child Development Division found that daycare staffers never alerted authorities that the boy had gone missing, as required by law. The state cited the center, but allowed it to remain open — and licensed.
Information about such serious incidents is supposed to be available to parents and other caretakers. However, as Seven Days discovered, it's difficult for potential clients to review a daycare center's regulatory history — even when egregious and potentially life-threatening violations have occurred there repeatedly.
State law requires that every regulated daycare provider be inspected at least once a year. But CDD officials acknowledged that they don't have the resources for annual visits, making it virtually impossible to identify violations or patterns of abuse. Some facilities, especially home-based programs, can open for business and operate for years without a state regulator ever setting foot inside. The same officials admitted that Vermont's chronic childcare shortage puts pressure on them to keep as many places open as possible — with potentially tragic consequences.
UPDATE: CDD Deputy Commis-sioner Reeva Murphy told Seven Days last January that new rules governing daycare providers were due to be released "in the next few months." That process appears to be at least a year behind schedule.
Murphy now reports that a new set of proposed regulations governing after-school programs is being finalized for review by an interagency committee in January.
A second set of regs governing licensed daycare centers, and a third for regulated in-home daycare providers, are scheduled for the same committee's review in February. Only after those folks sign off on the proposed rules will they be published online and available for public comment. None of them is likely to take effect before January 2015.
Why the delay? According to Murphy, the process proved more time-consuming and cumbersome than initially expected.
More troubling: The new rules may not adequately address the concerns raised in the Seven Days January 30 cover story. Murphy claimed the state's online portal that facilitates researching a daycare provider's regulatory history will soon be more comprehensive and user-friendly, with violations outlined in greater detail.
But some daycare providers are lobbying to limit the length of time violations remain public. Under one proposal, if a program goes five years without a significant violation, the provider could petition the state to have its violation history erased from view.
"I'd like to get more family input on that," Murphy said.
There is some good news to report. Murphy noted that CDD has since increased its staff of licensing field specialists from seven to nine, thus allowing the state to conduct more inspections. The goal is still to visit every regulated daycare program in the state at least once, preferably twice, a year.
Governor Peter Shumlin has also made passage of a universal pre-K bill a high priority for the 2014 legislative session. If and when that bill passes, Murphy said, it will likely include financial incentives for daycare programs to conduct more staff training and offer tuition reimbursements for families. As a result, she said, "There will be a lot of pressure to improve quality."
It should be changed to: Ed-U-Care is now under new ownership and license, and has since changed its name to Reach For the Stars. In November, the state notified Feels Like Home Play School, which the Seven Days story also called out for repeated and serious violations, that it no longer had a license to operate. It promptly shut down.
A third daycare center in Essex Junction, Kangaroo Corner, which was cited for 16 violations in 2013 alone, closed unexpectedly in early December, leaving about 40 families without any daycare.
– K.P.
Nothing High-Speed About Campaign to Transform Troubled Burlington Telecom
Jan 30: Almost a year ago, a group of Burlingtonians had the idea of forming a cooperative that would purchase the Queen City's beleaguered municipal telecom to keep it from being sold off to some out-of-state entity.
Organizers of Keep BT Local tried to recruit members at City Market, a shining example of a successful co-op they imagined could serve as a model for their own venture. It would be a for-profit enterprise managed by qualified professionals, explained Alan Matson, a local financial consultant who has donated time and money to the initiative.
Co-op proponents argued that Burlington Telecom has a world-class fiber-optic network that can be an enormous asset to city residents and businesses — as long as key decisions are made locally.
In the way, however, are some formidable obstacles. Matson estimated that the co-op would need to raise at least $10 million to be considered a serious suitor for BT. About half that sum could take the form of traditional financing from banks, with the rest to consist of $1 million in member pledges and $4 million in private loans from wealthy co-op backers, Matson suggested.
He knew it would be tough to convince potential investors to buy into what amounts to a bankrupt business. BT lacks the means to pay back Burlington taxpayers the $16.9 million it borrowed without authorization from the city's cash pool. CitiCapital is meanwhile suing BT with the aim of either repossessing the telecom infrastructure or recouping the $33.5 million that it loaned the utility to lease and install the system.
The co-op's founders set a goal of collecting a total of $250,000 in pledges from 1000 members by last Valentine's Day.
UPDATE: Ten months later, Keep BT Local is halfway to its goal. As of last week, it had received $127,800 in pledges from 448 members, according to its website.
"We're not stopped, but it's been really slow," Matson said in a recent interview. "It's difficult for any outside party to push forward with finding financing when we don't know how the litigation will turn out."
Even the most venturesome capitalists pause at the prospect of buying into an operation that could have its entire infrastructure stripped away as part of a legal battle. No one is going to make a deal for BT until that uncertainty is resolved.
Early last year, it looked as though Burlington and CitiCapital might reach an out-of-court settlement. Negotiations foundered, however, and the two sides now appear headed for a showdown in federal court starting in March.
By then, the Keep BT Local campaign may be all but forgotten — even by some Burlingtonians inclined to support it. "There's going to be a point where we'll need to rebuild momentum," Matson conceded. But, like BT, the co-op doesn't have sufficient resources to fund a marketing campaign to sell itself.
— K.J.K.
State Reins in Motel Stays for Homeless, but Demand and Cost Remain High
Jan 30: With an eye on the budget, lawmakers last winter began questioning a controversial and costly practice in Vermont: housing homeless individuals and families in motels when shelters are full. In fiscal year 2012, the state paid for more than 38,000 overnight stays in Vermont hotels at a cost of $2.2 million, a 55 percent increase over the previous year. By January, some officials estimated spending would reach $4 million by the end of the fiscal year.
Seven Days published the first-ever report on per-motel spending in January. Just which motels were benefiting most from this state program? Topping the list of moneymakers were the Ho-Hum motels on Williston and Shelburne roads in South Burlington; the two roadside motels received a combined $211,842 for housing the homeless in 2012.
Cost wasn't the only concern about the program. Homeless individuals complained about the conditions in which they were housed. Many motel rooms didn't have a place to prepare or store food. Some motels barred the state-funded guests from using amenities such as the pool or continental breakfast. The message, 28-year-old mother Ashley Sawyer told Seven Days, was: "'You're not even worthy of eating our stale doughnuts.'"
Update: The state racked up a $4.2 million motel bill in fiscal year 2013. Last spring, legislators tasked the Vermont Agency of Human Services with slashing that number, allocating just $1.5 million for fiscal year 2014. AHS officials came up with new eligibility rules that they said would keep costs in check, but advocates for the homeless balked at a new points-based system they said would leave too many vulnerable Vermonters out in the cold.
AHS subsequently dialed back the rules, which took effect in August. Under the revised system, motel vouchers are available when shelters are full; in catastrophic situations such as a fire or domestic violence; and for individuals over 65, pregnant women in their third trimester, families with children under the age of 6 and for disabled individuals receiving Supplemental Security Income benefits. Others can qualify for a motel if they tally enough points through the new eligibility rules.
Stay lengths have been shortened.
Between August and the end of November, state officials received 3865 applications for motel vouchers and granted housing for 53 percent of them.
Will those new rules keep motel spending in check? Not to the extent that the legislature hoped. Department of Children and Families Deputy Commissioner Richard Giddings says the economic-services division is on track to spend almost exactly as much as last year. But Giddings says that without the new rules, spending would have come in even higher — around $6 million.
Giddings says the increase is due in part to the rising costs of motel rooms, and because the state is serving more individuals than at the same time last year. "There are more Vermonters that need more assistance," says Giddings. The state has lost between 750 and 800 Section 8 housing vouchers over the last year due to the federal sequestration spending cuts. People living at the edges of homelessness are that much closer to the brink.
"We are here to help every Vermonter," says Giddings. "At the same time, yes, the legislature and taxpayers want us to administer this program as efficiently as we can."
— K.F.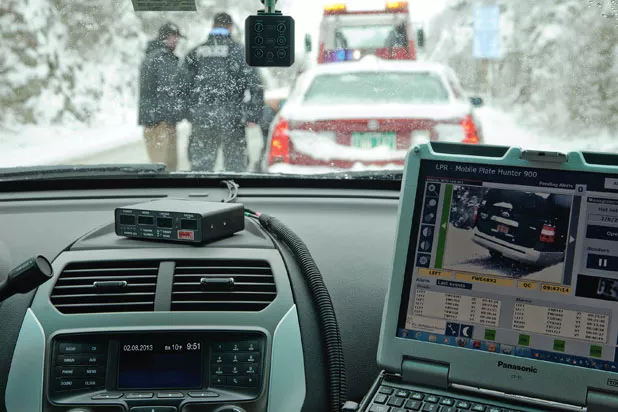 File photo by Matthew Thorsen
Compromise Law on License-Plate Info Leaves Both Sides Happy Enough
Feb 13: Privacy advocates sounded the alarm when they learned that more than 30 Vermont law-enforcement agencies had obtained and were actively using portable automatic license-plate readers. By scanning thousands of plates per hour, the machines allow police to pinpoint the location of vehicles to see if their occupants have outstanding arrest warrants.
Information captured by the ALPRs goes into massive databases available to state and federal authorities. Police said the databases are invaluable tools for catching criminals and finding missing people. But the American Civil Liberties Union and some lawmakers expressed concern about the potential for misuse — as instruments to track and monitor innocent citizens, with little regulation. Police had been storing all information gathered by the readers for up to four years, even if it wasn't part of a criminal investigation.
When Seven Days filed public records requests for information related to the license plates of two reporters, Vermont State Police refused to turn over the information.
"We could have cameras controlled by the state police looking at every single person's front door in the state of Vermont, and that would go a long way towards public safety and catching criminals," said State Sen. Tim Ashe, one of the lawmakers who sponsored a bill requiring police to purge license-plate data after six months. "But the public would obviously think that's an invasion of their lives and privacy."
UPDATE: A bill placing limitations on use of the license-plate data passed both chambers and was signed into law by Gov. Peter Shumlin. But the sausage-making process left everyone with a bit less than they wanted.
The law requires police to delete the information after 18 months. The ACLU had hoped to limit the retention to 30 days, executive director Allen Gilbert said.
"We were happy and not so happy. We were happy that the legislature agreed for the first time to regulate data collection. What we weren't happy with was the amount of time the law gives police to retain the data," Gilbert said.
Public Safety Commissioner Keith Flynn, who had initially proposed a two-year retention period, pronounced the law "fair." Meanwhile, license-plate readers have become more entrenched as a standard law-enforcement tool in Vermont: Police deployed them along several border areas when alleged Boston Marathon bomber suspect Dzhokhar Tsarnaev was on the lam.
— M.D.
File photo by Sarah Priestap
Fairlee Hunting Park Makes Peace with State But May Shut Down Anyway
Mar 06: For years, the Vermont Department of Fish & Wildlife allowed Wild Hill Preserve, a captive-hunting facility in Fairlee, to operate without submitting legally mandated documentation for every animal on the property. That raised concerns that the preserve could represent a chink in Vermont's armor against the possible spread of chronic wasting disease, a fatal neurological affliction that, like mad cow disease, has no known cure.
While CWD has not yet been found in Vermont, it has spread to at least 21 other states, ravaging local deer populations and costing taxpayers tens of millions of dollars in disease-control efforts. Almost all the outbreaks were traced back to captive-hunting facilities, where sportsmen pay thousands of dollars to hunt exotic animals in close quarters. Many of the creatures are not indigenous to the area.
Wild Hill has lured visitors to Fairlee since 1960 to hunt elk, Spanish goats, Mouflon rams and other animals. Hunters pay as much as $6000 for a shot at a trophy kill.
In a March interview, Fish & Wildlife Commissioner Patrick Berry acknowledged his agency had been lax in enforcing state regulations at Wild Hill.
"Frankly, if there are folks who think we should have moved this along more quickly, you could make an argument that they're right," Berry said.
UPDATE: In September, the Vermont Fish & Wildlife Department issued Wild Hill an operating permit that allows it to let customers kill exotic species of deer, sheep and goat within the 500-acre hunting enclosure through February 2015. Boar and moose are no longer among the options.
Fish & Wildlife Maj. Dennis Reinhardt said the preserve filed all necessary paperwork documenting its animals and safety measures, and wardens made a site visit to the facility.
There have still not been any reports of CWD in Vermont. "We haven't found any yet," Reinhardt said.
But Wild Hill's owners, Bill and Marlene Richter, aren't completely satisfied with how events have unfolded.
While they declined to talk to Seven Days earlier this year, Marlene Richter said in a recent interview that she believes her business was unfairly maligned.
"It's a well-run preserve," Richter said. "Our preserve has always been in compliance with the state. If all the farm animals in the country were as healthy as our animals — our animals don't have antibiotics; they have plenty of room."
The operating permit says that Wild Hill "indicated a desire to end captive hunting at the facility by December 31, 2014."
In the interview, Marlene Richter said the family was taking matters "day to day" and hasn't decided whether or not it will close the preserve.
"We're playing it by ear," she said.
— M.D.
New American Community Goes for Goats at a Refugee-Run Farming Collective
Apr 03: Meat by refugees, for refugees: That was the vision behind the Vermont Goat Collaborative, an innovative farming project that emerged last spring on a farm in Colchester, just a few miles from Vermont's largest concentrations of New Americans in Winooski and Burlington.
The project aimed to solve several problems. Burlington's New American community had long complained that finding fresh, locally raised goat was all but impossible; few American supermarkets stocked what is arguably the most-consumed meat animal in the world. Meanwhile, Vermont dairy farmers were struggling to offload the bucklings — male kids — that are the inevitable byproduct of breeding goats but serve little function on a dairy farm.
On a more personal note, Chuda Dhaurali, the lead farmer in the Goat Collaborative's pilot year, was looking for a chance to reconnect with the agricultural traditions he left behind in Bhutan and Nepal.
Dhaurali and his brother-in-law, Tika Dulal, set out to raise a gaggle of goats. When Seven Days first reported on this venture in April, the goats were feisty kids, frolicking around in an old dairy barn conserved by the Vermont Land Trust. Dhaurali and volunteer Karen Freudenberger envisioned adding an on-farm slaughterhouse to the growing operation they hoped would someday employ several New American farmers.
Update: The farmers and volunteers scrambled to build that slaughterhouse in time for the October Muslim and Hindu holidays of Eid and Dashain, respectively. Some disagreements between the Vermont Agency of Agriculture and Agency of Natural Resources over permitting made the timeline especially tight, but in the end, the custom slaughter facility — funded by state grants and matching funds from Green Mountain Coffee Roasters — was finished by the end of September.
"We had volunteers out there every weekend working on it," says Freudenberger, the tireless volunteer who dreamed up the goat collaborative. "We got it done in time, and it all worked out."
Freudenberger says that, for her, the highlight of the season was the weekend of "goat choosing days" in late September. Dhaurali gathered his goats on the upper fields of the farm, near the barn, and families from Burlington and Winooski flocked to Colchester to pick out their animals. Demand was so great that leaders in the Bhutanese and Muslim communities devised a system for distributing the meat, pairing families to share a single goat.
Altogether, the collaborative sold 117 goats, 77 of which were raised on the farm in Colchester. This particular custom-slaughter facility allows customers to purchase a live animal on-site and then legally butcher it right there. Dhaurali brought in $20,000 — which means he'll be able to operate his herd next year without grant funding.
In turn, the collaborative plans to help another farmer get up and running next spring. The long-term vision calls for herders to share the farm's infrastructure while individually owning their goats.
"We surpassed even our own expectations," Freudenberger says.
— K.F.

File photo of Packard Lofts under construction by Matthew Thorsen
On Lakeview Terrace, Packard Loft Residents Turn Out to Be Good Neighbors
Apr 24: Six months ago, Diana Carlisle and Jim Inman hosted what amounted to a neighborhood gripe session in the living room of their Lakeview Terrace home. Many of the 50 or so residents in attendance hurled pointed questions and barbed criticisms at Justin Dextradeur, manager of the Packard Lofts project then taking shape at the northern end of the street perched on a bluff above Lake Champlain.
They complained about the scale of the building — 50,000 square feet on a two-thirds-of-an-acre lot — and the developers' newly disclosed decision to rent Packard's 25 units rather than sell them as condos, as had originally been announced. Renters aren't as responsible as owners, a couple of the critics suggested, while another warned that the development could turn into "student housing."
Neighbors also expressed fears about added traffic on the quiet street, as well as a shortage of curbside parking. Dextradeur, a representative of the Hartland Group development firm cofounded by Burlington Mayor Miro Weinberger, sought to placate the project's opponents throughout a meeting that lasted more than two hours.
But there seemed no way to win over a few of the locals who had been trying for eight years to block the conversion of an old auto showroom and warehouse into a residential structure. If anything, these opponents had been further incensed by the demolition of the structure, which the developers had promised would be largely preserved through "adaptive reuse."
UPDATE: Packard Lofts finally opened in June. "I feel positive about it now," Carlisle said in an interview last week. "My main concern had been about traffic and safety on the street, but I don't notice any great difference." She cautioned, however, that "the proof is still to come." The Hartland Group has said it intends to lease out a retail space on North Avenue as a coffee house or restaurant, Carlisle noted.
Ivan Goldstein, a Lakeview Terrace homeowner who had likened Packard Lofts to a "cruise ship," says the three-story blue-and-white building with balconies and setbacks "still seems disproportionate to me."
Packard Lofts, in Goldstein's view, is one of several recent or proposed changes with potential negative impacts on Lakeview Terrace. "If you keep eating away at a good thing," he says of the street that offers stunning views of the lake, "eventually there won't be a good thing."
How are the new tenants? "They're a very polite and pleasant group of people," Carlisle says.
Dextradeur says he's pleased that many longtime residents appear to be taking an accommodating approach to the project and its occupants. "It's really heartening to see the neighborhood welcoming new people," he comments.
The building was fully leased even prior to its opening, Dextradeur notes, suggesting Packard Lofts is helping meet "an enormous demand for housing close to downtown." The ground-floor space will likely be filled early in the new year, he adds. The Hartland Group is "in discussions," he says, with "a local business that will be a great addition to the neighborhood."
Packard Lofts will remain a rental development for at least the next 10 years, Dextradeur says. Financing arrangements for a project that includes five subsidized units require a long-term commitment to the leasing option, he explains.
— K.J.K.
Vermont's New Physician-Assisted Death Law May Have Had One Taker
May 15: Should doctors be allowed to prescribe life-ending drugs to terminally ill patients?
Political leaders avoided that emotionally charged question for more than a decade in Vermont — until February, when the state senate voted on it for the first time.
The results were hardly conclusive: An almost evenly divided Senate initially eviscerated a bill legalizing the practice. But after the House approved the bill's original language in May and Sen. Peter Galbraith (D-Windham) forged a compromise with its backers, both bodies found consensus.
When Gov. Peter Shumlin signed the bill into law on May 20, Vermont became the fourth state to allow physicians to prescribe life-ending drugs.
UPDATE: So how many Vermonters have made use of the new law? Between zero and one, depending on how you calculate it.
Physicians are legally required to report to the Department of Health that they have complied with regulations and written a 'scrip. They do not have to report whether a patient has used the drugs.
"The physician is required to report that the requirements of the law have been met," Department of Health spokesman Robert Stirewalt says.
According to Stirewalt, just one doctor has done so since the law was passed.
On December 14, the Burlington Free Press reported that a 47-year-old Middlebury man suffering from stomach cancer obtained a prescription. But according to his sister, he died of the disease on November 22 — the very day he had intended to pick up the drugs.
— P.H.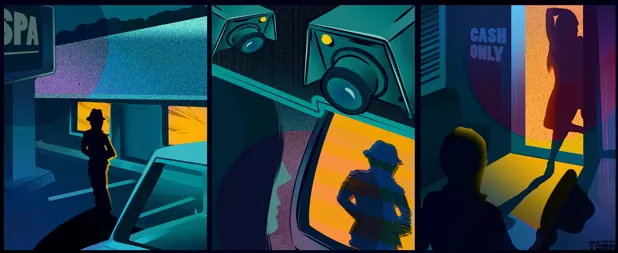 Illustration by Michael Tonn
State to Consider Licensing Massage Therapists, Redefining Prostitution
Jun 05: In May, local police and FBI agents raided two Asian massage parlors — but made no initial arrests — as a result of a two-year investigation of suspected prostitution and human trafficking in Bennington. Soon after, Seven Days decided to launch its own investigation. I spent one week and $500 visiting four Asian massage parlors in Chittenden County that were featured on Rubmaps.com, an adult-entertainment website that bills itself as a nationwide guide to "erotic" massage parlors. The site features descriptions and reviews of the women working there, the sex acts they perform and how much each service costs.
The working conditions Seven Days discovered suggested forced or coerced prostitution: undocumented, all-cash transactions with an exclusively male clientele; abundant use of surveillance cameras, locked doors and buzzers to screen customers; and windows covered with bars, boards or curtains. The women, all of whom were Chinese or Korean with limited English-language skills, said they worked seven days a week, from early morning until late at night, lived on the premises and worked for tips instead of wages.
In three of the four establishments, the women assumed, without being asked, that I was there for sex.
UPDATE: Within 12 hours of the story's publication, one of the three businesses profiled — River Spa in Burlington — closed its doors. A second, Seiwa Spa in Essex Junction, shut down 10 days later. None of the employees or owners could be located.
Despite the fact that all three establishments were known to police, and two had had prior run-ins with the law, representatives from the Vermont State Police and the Vermont Human Trafficking Task Force were slow to respond. Harmony Spa was raided in 2004 for similar suspected activities, though no prosecutions were brought in that case because the business owner and witnesses all disappeared before the investigation could be completed.
A week after the Seven Days exposé, Chittenden County State's Attorney T.J. Donovan convened a meeting of top law-enforcement officials and instructed them to hand deliver correspondence to about a dozen Chittenden County establishments, along with copies of the Seven Days article. The letters put the businesses and landlords "on notice" that they would be held criminally liable for allowing prostitution or other criminal activities on their premises. After one such letter was delivered to the Evergreen Spa in Essex Center, which Seven Days had neither visited nor mentioned, it closed "due to health concerns," according to property owner Kevin Macy.
Shortly after Donovan's letters were sent, Williston police stopped two men who had just left Harmony Spa, both of whom admitted to having paid for sex there. The police charged the building's landlord, Thomas Booska, 68, of Burlington, with allowing prohibited sexual acts on his property. In October, Booska pleaded no contest to the charge. His plea deal called for making a $500 donation to the Polaris Project, a national anti-trafficking group, and cooperating with federal officials investigating alleged sex trafficking through the spa. U.S. Attorney Tristram Coffin also filed a forfeiture action against Booska's building, which is currently in litigation.
State lawmakers are also discussing ways of discouraging such criminal activities in the future. Secretary of State Jim Condos, who oversees Vermont's Office of Professional Regulation, said he's willing to consider licensure of massage therapists but wants to avoid a "knee-jerk reaction" to the problem in the form of burdensome or costly laws.
Senator Dick Sears (D-Bennington), who chairs the Senate Judiciary Committee, said he expects to take up a bill in 2014 to license massage therapists, but recognizes that it'll likely face strong industry opposition.
Sears said his committee may also discuss revising Vermont's prostitution law, which currently defines the crime as "the offering or receiving of the body for sexual intercourse for hire." (Italics added.) Under that definition, paying for oral sex or the proverbial "happy ending," aka hand job, isn't technically prostitution. Sears suggested that his committee may recommend tougher penalties for "johns" who frequent such establishments but cautioned, "I'm not sure how many people we want to throw in jail for happy endings."
Currently, at least six Vermont "exotic" massage parlors are still listed as active on the Rubmaps.com website.
– K.P.
Burlington Stands Firm on Yanking Liquor Licenses for Non-Taxpayers
Jul 10: A Burlington City Council committee unveiled a novel method of tax collection earlier this year, threatening to deny liquor licenses to three restaurants that had fallen behind in their sales-tax payments to the city.
Even more controversially, the licensing committee warned the owner of Bove's Restaurant that continued failure to correct housing-code violations at his residential rental properties would result in the same penalty.
Councilor Max Tracy, a Ward 2 Progressive, defended the committee's tough tactics. "Having a liquor license is viewed as a privilege," Tracy said in July. "It's an opportunity to make significant amounts of profit, so you should be in good standing with the city in every aspect of your dealings with the city."
Dick Bove, founder of the Pearl Street pasta emporium, told the committee he strongly objected to linking liquor license renewal to what he said was the unrelated issue of housing-code compliance. The owners of the other three restaurants in arrears didn't challenge the committee's stand and said they would work out tax-payment plans. Radio Bean, ONE Pepper Grill and Kountry Kart Deli collectively owed the city close to $10,000.
Committee chairman Norm Blais, a Ward 6 Democrat, said at the time that he believed his panel had the authority to refuse to renew liquor licenses for reasons unconnected to alcohol service or consumption. He acknowledged, though, that the legal situation was not entirely clear.
UPDATE: The licensing panel is moving ahead with its effort to tie liquor licenses to tax payments. A letter signed by Blais, Tracy and the committee's third member, Ward 7 Democrat Tom Ayres, was sent last week to all 200 or so liquor-licensed establishments in the city.
It warns that the committee will urge the full council to block renewal of a license for any business that falls behind in its taxes. All Burlington restaurants and bars licensed to serve alcohol must apply for renewals before the end of March.
As of mid-December, city officials say that Kountry Kart Deli was up to date on its taxes, Radio Bean was making regular payments and ONE Pepper Grill remained delinquent.
Blais said last week, however, that housing-code violations will not be considered grounds for denying a liquor license. Doubts linger, he added, as to whether his panel is on sound legal footing in proceeding with the plan to hold licenses hostage to tax payments.
"The safe route," said Blais, an attorney, "would be to ask the legislature to broaden the scope of municipal violations that could be addressed by withholding liquor licenses." He plans to ask the city council to press Montpelier to make such a change.
— K.J.K.
After a Summer of Turmoil, State Employees Union Says It's Back on Track
Jun 19: Ever since he took the reins of the Vermont State Employees Association in December 2011, executive director Mark Mitchell has been shaking things up in Montpelier. Critics have questioned his hard-charging style, while allies say he's just what the union needs.
Last summer, that shaking almost did him in.
On June 12, two VSEA staff attorneys brought a series of complaints about Mitchell to the union's board of trustees. Mitchell, they alleged, willfully violated federal labor law by refusing to pay the union's own employees time and a half for overtime work. Within hours, the board voted 10-6 to fire him.
But Mitchell and his allies fought back. One of them, board president John Reese, called the termination "crazy." Five days later, the board changed its mind, voting 10-7 to reinstate Mitchell and put him on leave until it could complete an internal investigation.
UPDATE: The monthlong investigation cleared Mitchell of wrongdoing. He went back to work — and the two staff attorneys who crossed him immediately resigned.
"It's been great to be back," Mitchell says, half a year after his temporary ouster. "Of course, I'm personally grateful for how things turned out."
After a board election in September, Mitchell says, more of its members support him and the more aggressive "organizing model" he's sought to implement at the VSEA. That model involves training rank-and-file union members to fight for their own rights — and not just to rely on central staff to file grievances.
Says Mitchell, a couple of board members "who were not on the side of due process" were replaced in the elections.
According to Shelley Martin, who took over from Reese as board president, "The board is now moving forward. We're more focused on building an organizing model and having members more involved than [whether to have] Mark be here or not be here."
Last fall, VSEA negotiators signed off on four new contracts with state government, each of which is currently being ratified by members. Mitchell says he's particularly proud that the new contracts guarantee a living wage to those covered by them.
"Our union is healthy and working hard to keep our members in a good working environment so they can produce a good quality of work to the public," Martin says.
— P.H.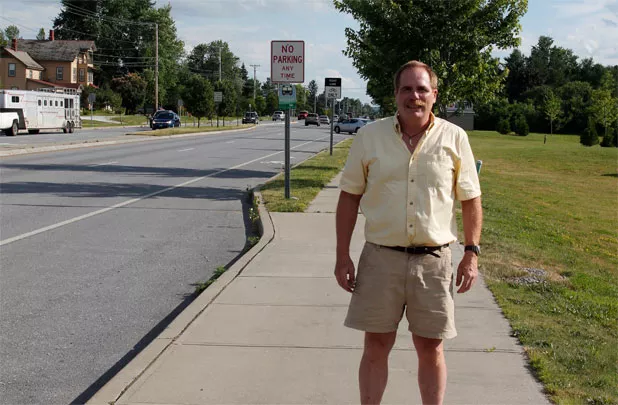 File photo by Charles Eichacker
Monkton Artist's Battle with Police Moves to Federal Court, with a Stop at UVM
Jul 25: Over the summer, Seven Days reported that Monkton artist Rod MacIver was suing the town of Shelburne in small-claims court for what he described as acts of perjury stemming from a bogus traffic stop.
Several months earlier, MacIver had been driving south on Route 7 when Officer Jason Lawton ticketed him for running a red light. At the time, MacIver blew up. He denied the violation and asked — facetiously — if the cop had been "smoking pot or something."
When MacIver later filed a complaint with the department, he apologized for his ill temper but maintained his innocence. Sergeant Allen Fortin insisted the video from Lawton's cruiser cam proved MacIver's violation.
In fact, it hadn't. When MacIver later secured a copy of that footage, it showed him passing through the intersection under a yellow light. The artist used the video to get his traffic violation overturned, and subsequently sued Shelburne in small-claims court, requesting that the town amend its police complaint follow-up procedure and reimburse his legal fees.
UPDATE: The July hearing was postponed because none of the Shelburne witnesses showed up, but that didn't stop MacIver's story from transfixing a small corner of the internet. In the following week, various news outlets, including the Huffington Post and a Japanese morning TV program, picked it up. The YouTube video of his traffic stop has clocked more than 260,000 hits.
It wasn't just idle-minded netizens who found MacIver's case compelling. This fall, the Vermont chapter of the American Civil Liberties Union took MacIver on as its client. Dropping the small claim in Chittenden Superior Court, the ACLU brought his case to federal court, suing Officer Lawton for violating MacIver's First and Fourth Amendment rights.
MacIver welcomed the assistance, he says, because he couldn't find a lawyer to take his case pro bono. Also "small-claims court wasn't the right venue, but I didn't feel capable of bringing my case to federal court myself."
Depositions for the case are scheduled to take place next month. Lawton's attorney, Colin McNeil of McNeil, Leddy & Sheahan, didn't respond to a request for comment.
MacIver's case aside, it wasn't a terrible autumn for the Shelburne 5-0. Competing in the 2013 National Law Enforcement Challenge, the department took silver in the category of municipal law-enforcement agencies with between 11 and 25 officers. The national award, which is presented by the International Association of Chiefs of Police, honors the quality of traffic-safety initiatives and community involvement.
According to a press release from the Vermont Department of Public Safety, "the Shelburne Police Department has coordinated special high-visibility enforcement campaigns with all of the law-enforcement agencies in Chittenden County and elsewhere. These efforts have helped to make the roadways in Chittenden County some of the safest in the state."
MacIver is still driving on them. In fact, around 11 p.m. on December 6, University of Vermont police pulled MacIver over and issued him a traffic ticket.
The department won't share any specifics about the incident, and MacIver has also declined to comment on the case — that is, the artist says, until he has a chance to watch the footage from the officer's cruiser cam.
— C.E.
Rent Subsidy Vouchers Slashed, but Officials Say No Evictions Yet
Aug 14: State administrators of a federal rent-subsidy program warned a few months ago that 2000 or more poor Vermonters could be forced out of their homes due to indiscriminate budget cuts ordered by Congress.
The across-the-board reductions known as sequestration were forecast to result in the loss of 11 percent of the state's $49 million allocation for the Section 8 voucher program.
Under this 1930s New Deal initiative, eligible tenants are required to pay between 30 and 40 percent of their incomes toward a monthly rent level set through negotiations between local housing officials and private landlords. Uncle Sam covers the difference between the tenant's share and the monthly payment specified in the lease.
Because of sequestration, the number of Section 8 vouchers issued to Vermont households was expected to fall from 6750 to about 6000 this fiscal year.
That could increase the number of Vermonters who spend nights in state-run shelters, housing advocates warned; last year there were 4400. The Section 8 cuts mean "the ability to access housing is going to get significantly harder," warned David Yacavone, commissioner of the Department for Children and Families.
UPDATE: Not a single Section 8 voucher has been taken away from a Vermont tenant as a result of sequestration, Burlington Housing Authority director Paul Dettman said last week.
Federal spending cuts did take place; housing officials in the state have been allocated a substantially smaller number of vouchers than they received prior to sequestration. But the spectacle of mass evictions of low-income renters has been avoided through stricter enforcement of the Section 8 regulations.
"People are losing housing vouchers not because of funding cuts but because they're not meeting their obligations under the program," says Janet Green, Burlington's Section 8 coordinator.
The rate of attrition for participants in the program has risen "somewhat," Dettman says, as state officials more closely monitor compliance with rules mandating timely rent and utility payments as well as law-abiding behavior.
Some vouchers are terminated for "positive reasons," Dettman notes, such as when a tenant gets a job that lifts him or her above the income- eligibility level. A voucher also gets deducted from the state's total when a Section 8 renter dies or moves into an assisted-living arrangement. But a larger-than-typical number of subsidized tenants are now losing their vouchers — and thus their homes — because they didn't follow the rules.
A portion of these people would likely have been able to remain in the program if the state had provided services aimed at preventing homelessness, Green suggests. Obtaining funding for these sorts of services has long been an aim of Vermont housing advocates. But, Dettman reports, "We're not making any progress in persuading the state to put money into prevention."
— K.J.K.
Would a Bike Registry Help Recover Stolen Wheels? Now There's an App For That
Sep 04: Bike theft tends to spike in Burlington around the time students return to area colleges. In one week at the end of last summer, the folks at North Star Sports turned away several people trying to sell bikes that appeared to be stolen.
The shop owners decided to go public with their concern. Appearing before the Burlington Police Commission, Pat and Jay Miller requested that the department consider reinstituting a citywide bike registry. For decades, the city had required new bike owners to register serial numbers with the city in exchange for a sticker or license plate. The city abandoned that system several years ago, but if the police department reinstituted the database, the Millers argued, it would streamline the process of recovering stolen wheels.
Burlington police already keep an internal database of all bikes reported stolen, and the nonprofit cycling advocacy group Local Motion has a separate — if somewhat buggy — registry, too. But in response to the Millers, Burlington Police Chief Mike Schirling explained that he was open to having a third party create such a resource available to the riding and retailing public.
Update: After reading Seven Days' story, a group of web developers from the Berlin-based cybersecurity firm Pwnie Express took that challenge upon themselves. For Hack VT, an October coding competition, they decided to build an electronic bike registry from scratch.
"We did a bunch of market research, talked to bike shops and really got confirmation that the existing systems weren't working for their needs," says lead developer Gabriel Koss, pointing to Local Motion's resource, as well as a national stolen-bike registry "that's pretty defunct and crusty, for lack of a better word, and it costs money."
Ultimately, the Pwnie team didn't receive any honors for their HackVT creation, a web-based service called Safe Spokes VT (the winning team developed a functional health-insurance calculator). But that hasn't changed their plans to move Safe Spokes VT onto the web as a free app that would be accessible through any browser or smartphone. Doing so would be easy, Koss says, because they completed 90 percent of the program in the 24-hour "hackathon."
The system would allow bike owners to register their new or existing ride, then print out and affix a QR code somewhere on its frame — Koss suggests tamper-resistant metal stickers. In case of loss or theft, a finder or shop clerk could scan it with a smartphone and get in touch with the owner. Users of the program could also do a "fuzzy intelligence search" around Craigslist, to see if anyone was advertising bikes that matched their stolen one.
Koss says the biggest challenge is finding a partner — it could be Burlington police or bike shops — who could host the database and promote the app, which would be available free of charge to the public.
"The system only really has value if people adopt it and really start entering their data into it," Koss explains. "More than a technical challenge, it's a social challenge of promoting it and getting people to adopt it, and unfortunately we don't have marketing skills. We're technical people."
— C.E.
Controversial Calendar Shelved, But Achievement Gap Remains Top Issue for New Ed Head
Sep 11: Last fall, a group of Champlain Valley superintendents proposed a new way to reorganize the public-school year. Dubbed "Calendar 2.0," the idea was to break up the academic calendar with several one- to two-week "intersessions" that would allow underperforming students to catch up on schoolwork, while providing others a chance to pursue extracurricular enrichment. Proponents argued that such refresher periods would shrink the achievement gap between students from low- and high-income families.
What wasn't to like? Students would lose two weeks of summer vacation to make room for those intersessions in the 175-day academic calendar.
Many parents cried foul. Some formed a group, the Vermont Save Our Summer Coalition, and collected over 1000 likes on Facebook. They complained not just about the sanctity of summer, but also about the lack of data to support an experiment that would force students into hot classrooms in August and press parents to find childcare in winter.
In fact, no definitive study has proven the value of Calendar 2.0, but the superintendents defended their proposal by pointing to the problem of summer "regression," when all students forget 6 percent of the previous year's learning during the long vacation. The supers held four public forums in October and also welcomed feedback on a Calendar 2.0 blog in anticipation of an annual vote to establish the next year's school calendar.
UPDATE: Some parents and students voiced support for Calendar 2.0 in those forums, but the majority took issue with the idea. At the end of October, the superintendents nixed the proposal for 2014-2015.
But the concept behind "intersessions" lives on. Although she hasn't taken a stand on Calendar 2.0 specifically, incoming Vermont Education Secretary Rebecca Holcombe says she's not opposed to redefining the school day — or year — if it helps kids learn. In her view, the achievement gap is exacerbated by the lack of intellectually stimulating activities — such as summer camps — available outside the classroom to students from lower-income families.
"The opportunities and concerns that gave rise to Calendar 2.0 are still out there, and I am sure community conversations will continue about how to best use time to support student learning," Holcombe wrote in an email response to questions from Seven Days. "We have good research now that shows that a lot of the achievement gap can be explained by learning — or less learning — outside of the regular 175-day, 8 a.m. to 3 p.m. school year."
To increase the "time children spend engaged and learning," one of the programs Holcombe intends to focus on is 21st Century Community Learning Centers, a federal initiative that funds after-school or summer learning opportunities for low-income students.
What does that program have over Calendar 2.0? Chiefly, data. Among the 15,000 students it served nationwide during the 2011-2012 academic year, math and language arts scores stayed the same or increased for more than 80 percent.
Emanuel Betz runs the program in Vermont, where 115 schools — roughly a third — are participating.
"I think it is fair to say we are invested in what works, and right now, the place where we can get traction on this very important issue is around the work Emanuel is doing," says Holcombe. "His work directly increases the time children spend engaged and learning."
— C.E.
Antigay Groups Dropped from State's Charitable- Giving-Program
Sep 25: When you think charity, you probably don't think of fighting the homosexual agenda.
But as Seven Days reported in September, the annual charitable giving program for state employees, called VtSHARES, included at least two groups devoted to fighting for "traditional" marriage. One, the Mississippi-based American Family Association, has been categorized as a "hate group" by the Southern Poverty Law Center. The SPLC cited the other, Colorado-based Focus on the Family, as an antigay organization.
The cost to the state to operate VtSHARES, which allows employees to deduct contributions directly from their paychecks, is "pretty insignificant," Secretary of Administration Jeb Spaulding said at the time.
Truth Wins Out executive director Wayne Besen countered: "The fact is, if even a penny is spent on this, it's too much."
While Spaulding defended the program in September, he said he was already planning to review it "to make sure the vetting process works as well as it should."
RU12? executive director Kim Fountain told Seven Days she hoped Gov. Peter Shumlin, a strong supporter of gay rights, would take action to oust the two groups from the program.
"What I am going to assume is that Gov. Shumlin doesn't know these groups are on the list," she said. "And I'm also going to assume that once he finds out, something is going to be done about it."
UPDATE: According to Deputy Secretary of Administration Michael Clasen, five state employees pledged a total of $578 to Focus on the Family during this fall's VtSHARES drive. That's more than the $234 pledged by two state workers last year. Nobody pledged to the American Family Association, which was new to the program this year, Clasen says.
Next year, both groups — along with other out-of-state organizations — will be excised from the list of approved groups.
"The governor was concerned about Focus on the Family and the American Family Association being part of the campaign," Spaulding says. "He was not happy they were in there, but he was willing to give us the time to give it a thoughtful review and develop a plan to move forward."
That review resulted in a policy change, Spaulding says.
"What we decided to do, starting with next year's campaign, is to limit the charities in the VtSHARES campaign to Vermont-based organizations or businesses that provide direct services to Vermonters, with a legitimate presence in Vermont."
Organizations will have to be vetted and approved by either the United Way of Vermont or by the VtSHARES organizing committee.
"The long and the short of it is we think we can target a lot more funds to Vermont charities," Spaulding says. "We won't have organizations such as the ones that were questionable in there anymore, and we're going to focus on Vermont."
— P.H.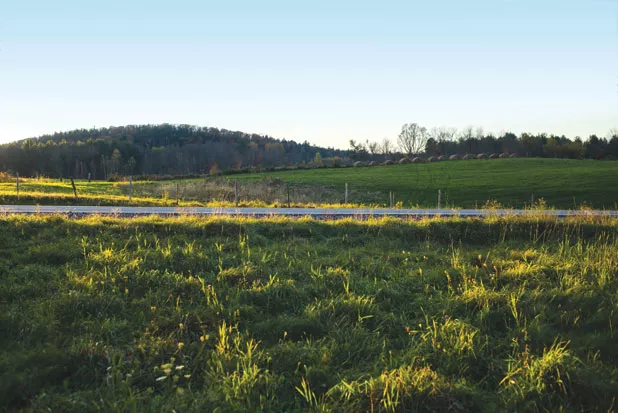 File photo by Tim Santimore
Town Officials Intervene in Jericho Land Dispute
Oct 23: Firefighters on the Underhill Jericho Fire Department butted heads with some Jericho neighbors last fall over the department's plans to sell a 125-acre parcel in Jericho Center. The fire department maintained that the land, which was donated in 1986 by Mary "Alice" Rivers, should be managed for the department's greatest possible financial benefit. They slapped a hefty price tag on the scenic farm — $5.3 million — and put it on the market.
On Front Porch Forum and Facebook, neighbors cried foul, saying that the fire department's plan violated wishes expressed by Rivers — who died last December at age 91. She'd written that she wanted the farm to remain "as close to as God made it," but it wasn't a legally binding document.
Jericho's fire department operates as a nonprofit, independent from the municipal government. Thus, even though 60 percent of its budget is tax dollars from the people it serves, those same residents wouldn't have a say in how the Rivers property was managed.
"We all know what Alice Rivers wanted, and it's not a question of legal versus illegal, or private company versus public company," said Mike Kramer, the Jericho resident who organized a Facebook group in protest of the land sale. "It's just right and wrong."
Update: After the Seven Days story, the movement Save the Rivers Property gathered steam. Kramer became its default leader; he set up a website, helped coordinate meetings and sifted through town documents to bolster the contention that Rivers wanted her farm to remain undeveloped.
But the conversation between conservationists and firefighters ultimately devolved, says Jericho selectboard member Catherine McMains. "It had gotten to the point where people … were really having a not-so-civil back and forth," she says. "We said, 'We'll step in and see what we can do.'"
The selectboard and fire department agreed to hold off on any sale of the Rivers property until March 1. In the meantime, the selectboard is negotiating with the department "to essentially take over the land," says McMains. There's no talk of using a taxpayer-supported bond to make an outright purchase, but one proposal would have the selectboard essentially pay the department what it would have made in interest if the Rivers property proceeds had been put into a trust.
In the meantime, the town wants assurances that the asking price matches the property's market value, and leaders want to see a more transparent budget from the fire department.
"We're trying to say it's in their best interest to make the townspeople happy," says McMains.
That's all the fire department wants, according to former fire chief Randy Clark. Clark says the department is dropping the parcel's price to $1.5 million.
That's a good number for the selectboard to work with, says Clark. "The ball's in their court, basically … We just want to get rid of it at this point, because we're just fed up with the negativity of it all."
Kramer remains "cautiously optimistic."
— K.F.
Supreme Court Decides Case of One Would-Be Murderer, Mulls Second Case
Nov 20: The Vermont Supreme Court recently heard an appeal from Norman Stevens, a Burlington man who was the first defendant in state history to be sentenced to life in prison without parole for a crime other than murder.
Stevens, 58, was convicted of attempted murder for beating his ex-girlfriend with a hammer in 1999 and dragging her to a van where he had stored ropes and gasoline. He planned to set it on fire with her trapped inside and was stopped only when neighbors rushed outside and saved her.
Comparing him to the 9/11 terrorists, Judge Michael Kupersmith sentenced Stevens to life in prison without parole. Stevens appealed to the state Supreme Court, arguing that his sentence was disproportionate to his crime.
While Stevens' appeal was pending, a second defendant, Edward Johnson of Barre, was also sentenced to life without parole for attempted murder, again by Kupersmith. Johnson also appealed his conviction.
UPDATE: Vermont's Supreme Court justices continue to mull Stevens' appeal of his life sentence, but they have decided Johnson's case. In a 5-0 decision, the justices upheld his conviction.
His appeal centered on several claims of error during his trial, including an assertion that he should not have been found guilty because, at the scene, the victim could not identify him as the attacker.
"These issues were already resolved by the jury in favor of the state," Chief Justice Paul Reiber wrote in the opinion. "We are not triers of fact, and we will not substitute our judgment for that of the jury." Stevens remains in a Kentucky prison, where Vermont sends most long-term inmates. Johnson is being housed in the Southern State Correctional Facility in Springfield.
— M.D.
Goddard's Controversial President Leaves a College Struggling to Survive
Feb 13: When Barbara Vacarr took the top job at Goddard College in 2010, she inherited a school that had gone from trailblazing to treading water over the course of a half century. The storied experimental college was up against declining enrollment, tight finances and unrest among faculty and staff.
Vacarr promised big changes, which boiled down to a two-part initiative: Raise the college's profile, and make money in the process. She cozied up to potential donors and pumped new blood into the college's leadership, recruiting at least 10 new members for the board of trustees. Vacarr also brought on staff with experience in financial management and development.
Vacarr's agenda rubbed some Goddard employees the wrong way. Detractors bemoaned "corporate retooling" at a school renowned for its countercultural leanings. Goddard's staff voted to unionize, a move Vacarr opposed, and faculty members complained about a new trend of unilateral decision making.
At a place known for shaking things up, Vacarr's supporters characterized her changes as visionary, forward thinking — and, perhaps most significantly, crucial for Goddard's survival.
UPDATE: Just a few months after Seven Days published a cover story subtitled "How Barbara Vacarr plans to save Goddard," the new president announced that she would step down at the end of 2013.
Avram Patt, a 1972 graduate who now serves as the chair of the board of trustees, said personal issues factored into Vacarr's decision. But he also acknowledged that she caused friction on the Plainfield campus. In late July, following Vacarr's announcement, VTDigger.org reported that some faculty were considering a possible vote of no confidence. The "overwhelming feeling among both faculty and staff," creative writing professor Jan Clausen told Digger, "has been that we need different priorities."
Still, the board stood by Vacarr and, after she resigned, invited her to stay on for a few more months — an offer she declined. Her last day of work is December 31.
Two weeks before that date, the board was still scrambling to find an interim president who could be in place by the start of the new year, Patt said. If there is a gap of a few weeks between Vacarr's departure and a new president's arrival, the board plans to appoint an acting president to act as caretaker of the college's business. He or she could be looking at a $1.5 million deficit, as the Barre-Montpelier Times Argus reported in June.
The board is still in negotiations with faculty and staff unions about benefits, compensation and working conditions. Patt declined to comment on that, except to say that Goddard has asked for some pay and benefit "concessions" that are still under consideration.
Patt acknowledged a "deep need" to diversify the college's revenue, which right now is 96 percent dependent on tuition. That means finding new uses for a campus that sits empty for long stretches of time. Goddard is currently leasing space to an alternative high school and is investigating the feasibility of refurbishing the iconic "design-build" art buildings erected in the 1970s under the tutelage of Warren architect David Sellers.
Goddard has faced existential crises before. When it chose to shutter the school's resident undergraduate program in 2002, Patt said, "the board had really been on the verge of closing the school and putting the assets up for sale." But Patt said he thinks Goddard can push ahead. For now, he said, the college is paying its bills and making payroll.
He said, "I wouldn't be involved in this if I didn't feel like with some smart structural changes, and with the understanding of the Goddard community, we have the time and the space to bend the curve and get it going in the right direction."
— K.F.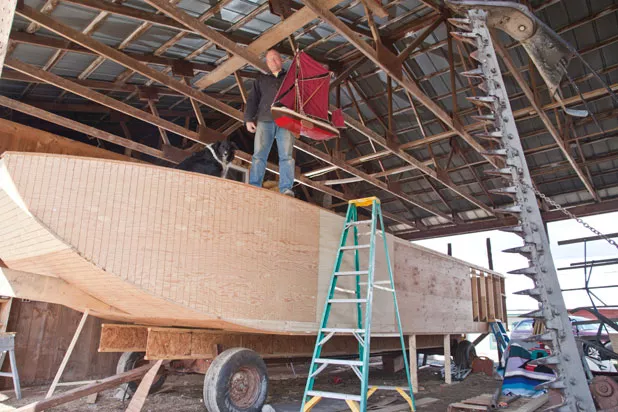 File photo by Matthew Thorsen
Wind-Powered Barge Could Take Vermont Food Farther in 2014
Apr 23: Ferrisburgh farmer Erik Andrus spent more than a year raising public awareness — and cash — to build a 19th-century-style, wind-powered cargo barge that could transport locally grown food and goods from the Champlain Valley to New York City. His goal wasn't just to prove it could be done; in the centuries prior to road, rail and air transport, it was commonplace to transport heavy cargo by boat on Lake Champlain, the Hudson River and the St. Lawrence Seaway.
Instead, Andrus wanted to prove that wind-powered water travel, which has been largely overlooked in discussions of sustainability and carbon-emissions reductions, could once again be commercially viable along the Champlain Valley.
With financial and logistical support from his nonprofit sponsor, Monkton's Willowell Foundation, and help from scores of student and community volunteers, Andrus constructed a nearly 40-foot, flat-bottomed vessel to carry 12 tons of farm and forest products from Ferrisburgh to the Port of New York. The enterprise was dubbed the Vermont Sail Freight Project, and Andrus envisioned the barge as a floating farmers market, of sorts, making frequent stops to buy and sell wares along the way.
As Andrus put it, "For small farmers, if you're invisible, you're dead. If you can't get the story out there about what you're doing and why it matters to the wider world, then the supermarket wins every time."
UPDATE: Word about the Vermont Sail Freight Project traveled faster than the Ceres. The vessel was named for the ancient Roman goddess of agriculture, who is also recognized in statue form atop the golden dome of the Vermont Statehouse. After local and regional newspapers and broadcast outlets covered the story, publications as diverse as Crain's New York Business, the New Yorker and National Geographic wrote their own versions.
Contacted in mid-December at his Ferrisburgh farm, Andrus reported that the barge had finally been put away for the winter. "We accomplished pretty much everything we set out to do," he said, "so I can't complain."
The barge, which spent about a month on the water last fall, made about a dozen stops between Vermont and Brooklyn, N.Y., 10 of which were at markets. In all, the vessel carried 15 tons of freight — three more than initially expected — and with considerably more variety. According to Andrus, 37 participating farms proffered 160 different products ranging from locally raised apples and maple syrup to wild-harvested mushrooms and goat-milk caramels.
In fact, Andrus said the "ridiculous variety" of goods actually proved problematic, in that many of the items weren't marked with prices. The crew also had trouble remembering where all the items were stored on the vessel.
"Those logistical problems hounded us for the entire trip," he acknowledged. "So, we need to come up with a simpler model that's got more retail streamlining built into it."
Also needed, he said, is a more sustainable business model. As Andrus pointed out, the team pulled off the trade mission "by the skin of our teeth," thanks largely to volunteer labor.
"But you can't run a trading company indefinitely as a volunteer project," he said. "We need to start paying people and having enough capital for buying products and paying our bills on time."
That could prove challenging, he noted, because the Vermont Sail Freight Project still looks too "businesslike" to qualify for most nonprofit grants, yet lacks the corporate governance structure and business model to attract for-profit investors.
Nevertheless, Andrus and his team are already looking forward to the 2014 season, and hope to have the barge fully loaded and ready to sail when the locks open in mid-May. They're even discussing ways of expanding their reach north to Montréal and adding ocean-worthy vessels to travel south to the Caribbean to buy coffee beans and chocolate.
Are you listening, Green Mountain Coffee Roasters? Lake Champlain Chocolates?
— K.P.
Correction 07/16/14: A previous version of this article stated that Ed-U-Care is now under new management. The company is actually under new ownership and license.