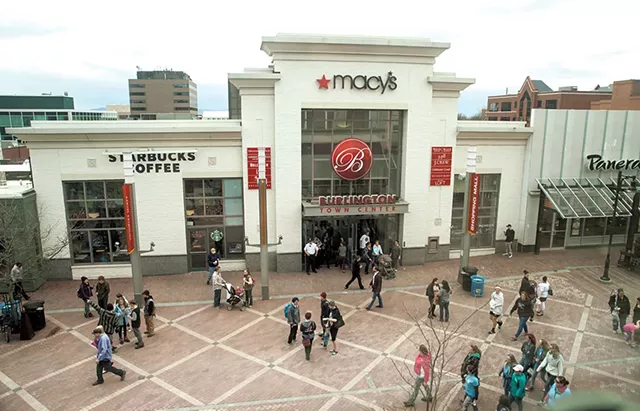 Matthew Thorsen
Burlington Town Center shopping mall
For more than a decade, Canadian customers could buy their baguettes at the Newport Natural Market and Café with their own colorful currency. But last spring, a sign went up at the cash register to announce that the border-community store would no longer accept loonies.
Its value — roughly on par with the U.S. dollar just a couple of years ago — had dropped to about 80 American cents.
Tourism leaders worried that despite Vermont's bienvenue, the Canadian-unfriendly exchange rate could discourage our neighbors from the north from visiting — and spending. Especially in border towns, Vermont businesses braced for losses.
---
UPDATE: The Canadian dollar is even weaker now. Since March, its worth has dropped to about 72 American cents.
Boardings at Burlington International Airport, where Canadian traffic is an important source of revenue, are down 2.4 percent this year from last. Officials are hoping the winter school holidays will bring the usual seasonal bump. "There's still a lot of Canadians coming to Burlington," said Gene Richards, BTV director of aviation.
It's unclear how big a hit tourism might take. The good news: State rooms and meals tax revenue for the first four months of the fiscal year that started in July is running 4.9 percent higher than last year — so somebody's spending money.
Some state highway welcome centers are seeing more visitors. Yet the welcome center on southbound Interstate 89 near the Canadian border reported 7.5 percent fewer visitors in October.
On Church Street, Canadians typically account for between 4 and 8 percent of sales, according to Ron Redmond, executive director of the Church Street Marketplace Commission.
At the Homeport store there, much of the normal Canadian shopping traffic has "evaporated," said Mark Bouchett, co-owner of the family business. "I speak French, and I do a lot of the talking to the French customers who come into the store, and they haven't been here. Last weekend I may have seen one French-speaking couple in the store, and that's highly unusual."
Still, December sales were on track to finish 16 percent higher than last December's, making it an "outstanding" month, Bouchett said. Why? Vermont shoppers are confident about the economy, he said, and December's unusually warm weather helped.