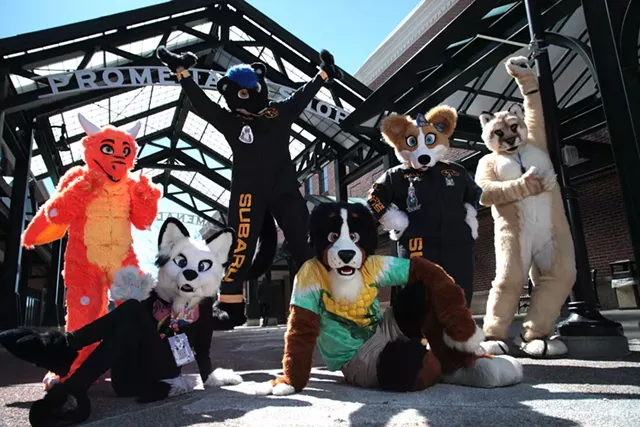 During Burlington's Mardi Gras celebration last February, a city employee ordered a band of people dressed as furry animals to remove their masks. The charge: They were "performing" on Church Street without the required permit.
The revelers were members of Vermont Furs — people known as "furries," who share an interest in anthropomorphic cartoon animals. They had attempted to renew their permit prior to Mardi Gras, according to Jessica Owens — whose "fursona" is a race car-driving corgi — but had been told to hold off while the Church Street Marketplace revamped its permit policy.
Marketplace executive director Ron Redmond said he supported allowing the Vermont Furs to return to Church Street, but he first wanted to ensure patrons would be safe. He noted that in New York's Times Square, people dressed as the Cookie Monster and Spider-Man had pickpocketed and groped people.
In the meantime, the Vermont Furs learned that Church Street wasn't the only place that was off-limits to them. An obscure city ordinance prohibits people over age 21 from wearing masks in public, effectively barring their kind from Burlington.
---
UPDATE: The Church Street Marketplace updated its process for permitting street performers, and, as a result, it's a lot harder to make the cut. In the past, "99 percent" of applicants got approved; now, just 40 percent.
Nonetheless, Redmond said the Vermont Furs would likely pass muster.
Why haven't they auditioned?
The marketplace also upped the price of permits. The group of 12 would have to pay $540 for a one-year permit, which would cover background checks and administrative costs. That's not feasible for the Vermont Furs, who entertain for free, Owens said.
In their quest to do away with the mask ban, the furries have gained an influential ally: Allen Gilbert, executive director of the American Civil Liberties Union of Vermont. In early November, Gilbert urged Burlington to repeal its ordinance after police detained two men wearing Guy Fawkes masks at an anti-Ku Klux Klan rally. Gilbert argued that masks can be a form of political expression — and therefore protected speech.
In response, Burlington's city attorney, Eileen Blackwood, is analyzing the ban. She expects to recommend "potential revisions" to the city council's ordinance committee in January.