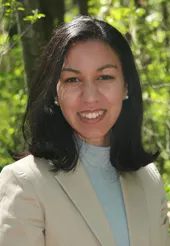 On Saturday I got the chance to sit down with Democrat Kesha Ram at her apartment in Burlington. Kesha is running to represent Chittenden 3-4 (the Hill, Old North End, and University District) down in Montpelier come November. We met so that she could challenge the idea being asserted by some people (ahem) that her small market-share of supportive lawn signs indicates that the race is not boding well for her.
Needless to say, she doesn't buy it.
In fact, Kesha tells me that she believes the race is going well. She is confident that her challenge to the Progressive ticket of Chris Pearson and David Zuckerman will break this district's two-cycle tenure holding the "lowest turnout" title.
The smell of change is in the air this autumn, and Kesha wants to ride the tide. While she wouldn't come out and explicitly say that David Zuckerman, who came into office "all those years ago" as a fresh-faced UVM graduate, is not too old and out-of touch with the young and growing student population, she does drop some serious hints: ""Twelve years. That's a long time, and there's turnover for a reason."
I ask her if she thinks lawn signs are the best real-time polls available. "No," she says. "I don't even have a sign on my lawn." She doesn't. Her warm, clean, and surprisingly new (for Burlington) apartment, with its signless front lawn, sits directly between the end of the UVM Central Campus and the beginning of the off-campus housing sprawl — perhaps a metaphor for the two communities she's trying to bridge if she wants to win this election.