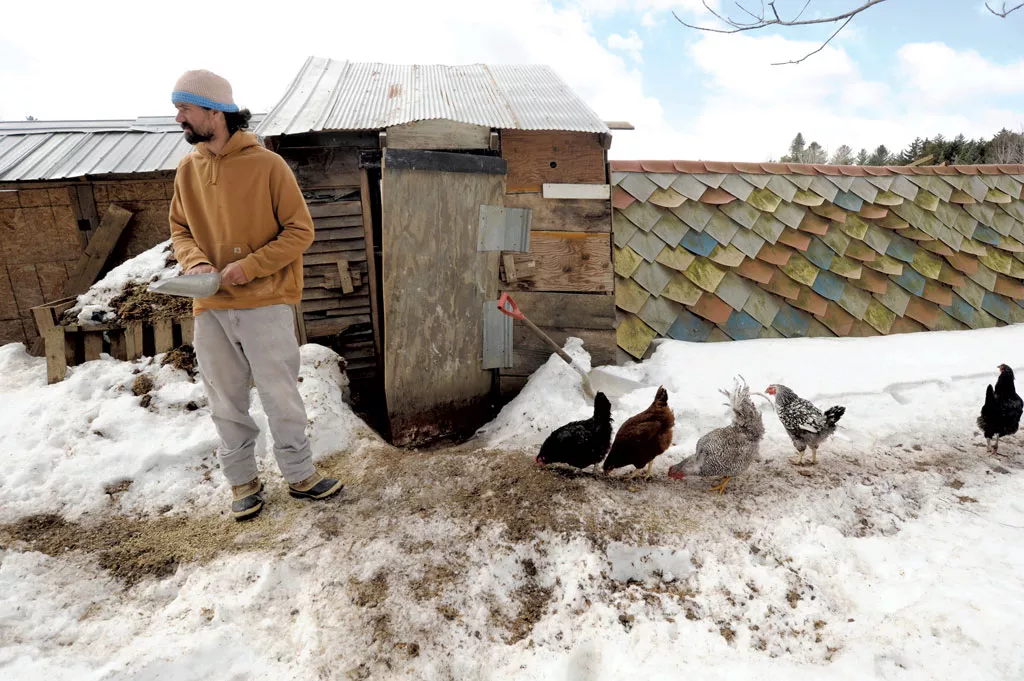 File: Jeb Wallace-brodeur
Johnny Vitko
Hemp activists scored a big victory in 2013, when Gov. Peter Shumlin signed into law a bill that legalized the cultivation of cannabis sativa, a relative of marijuana that can be used to make food, fuel and fiber. The problem is that the state law regulating hemp — which lacks tetrahydrocannabinol, or THC, in the concentrations necessary to produce a high — doesn't match up with federal regulations that still classify it as an illegal, controlled substance. So would-be hemp farmers faced a conundrum: They couldn't find seeds.
In advance of this year's growing season, farmers scoped out their options. Some considered smuggling in seeds from Canada, where farmers have been legally cultivating hemp since 1998. Some went online. Others considered harvesting and storing seeds from the feral hemp plants that already grow in Vermont.
Why the eagerness to plant hemp? It's one of the oldest cultivated crops in the world — and it could be a moneymaker for Vermont farmers and entrepreneurs. The farm advocacy group Rural Vermont and the Vermont Sustainable Jobs Fund estimate the controversial crop could bring in up to $3,000 an acre.
Johnny Vitko of Warren envisioned feeding his chickens hemp seed.
Most farmers weren't worried about a Drug Enforcement Administration bust; the feds had bigger fish to fry, they reasoned, than shaking down farmers trying to grow a non-psychotropic plant.
UPDATE: State law requires hemp farmers to register with the Vermont Agency of Agriculture. Seventeen did so this year, according to Tim Schmalz, who oversees the agency's hemp registry. He isn't sure how many of them actually got seeds in the ground, however. A survey last summer by Vermont Public Radio showed that at least five of the farmers opted out of growing, with some citing fear of the federal prohibition.
Middlebury entrepreneur Netaka White wasn't worried, though. He and business partner David McManus are behind Full Sun Company, which aims to source seeds regionally for the production of local canola, sunflower, flax, soybean and, yes, hemp oils.
Last spring, White wanted to go big. He was looking for 50-pound bags of seed. Then reality set in — no one could get their hands on that much seed — and White settled instead for a small package of mail-order seeds from Europe. On Mother's Day, he seeded a roughly 100-square-foot patch of his home garden with organic hemp seeds.
By early summer White had 30 or so robust plants nestled beside his kale. All told, he harvested about one pound of "nice, dark, healthy seeds" to take him into next year.
He has enough to plant 4,000 square feet next year, which should yield about 70 pounds of seeds. By 2016, he should have five acres under cultivation; if all goes according to plan, that year he'll harvest two and a half tons of hemp seeds. Starting next year, White will outsource the growing to two farmers in the region.
He's not alone in his homegrown approach; White knows of a handful of other small growers who put a few plants in the ground last spring with visions of much larger crops within two or three years.
"To really build or grow an industry from nothing, we had to scratch and scrape and use whatever tricks of the trade we could," said White.
"What's a few more years at this point?"
The original print version of this article was headlined "First Seeds in Vermont's Budding Hemp Industry"