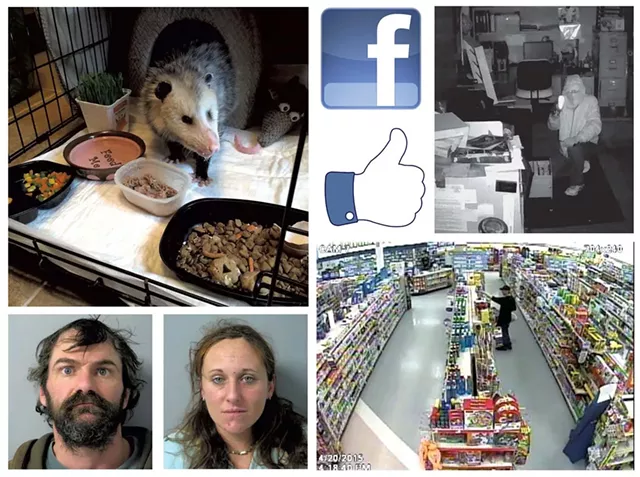 A rescued opossum,mug shots and aphoto of a crimein progress from theSouth BurlingtonPolice Department'sFacebook page
Law-breakers don't generally inspire a lot of sympathy. But when police in South Burlington and Winooski started posting mug shots of crime suspects on their Facebook pages, it prompted a debate about a social media trend in law enforcement. Police chiefs in the two communities defended the practice, pointing out that suspect photos are public records — and that many media outlets publish them.
Critics questioned the public shaming of people who could later be found innocent — while their photos lingered indefinitely on Facebook. Another issue: hateful, potentially libelous comments about those pictured, as well as their friends and family members.
For the first few years, visitors to the South Burlington Police Department Facebook page were allowed to call suspects dirtbags, rats, welfare queens and worse. The level of discourse sank so low that officers who were monitoring the page posted a plea for civility and fewer "swears."
---
UPDATE: For better or worse, people who run afoul of the law in Chittenden County can count on a little more privacy. Police in both South Burlington and Winooski have stopped routinely posting mug shots on Facebook. SoBu pulled the plug on the public pictures in early July, and Winooski did the same more recently.
"At the end of the day I felt from my moral-compass side that it wasn't the right thing to do," said South Burlington Police Chief Trevor Whipple, who said he was worried about the photos remaining searchable when a defendant faced only a minor offense or was not convicted.
Winooski Police Chief Rick Hebert did not return calls. But the WPD Facebook page has been purged of most mug shots, as well as much of the gossipy commentary.
Both Winooski and South Burlington continue to post images of people named in warrants and surveillance photos of suspects. Those pictures aren't coming down, Whipple promised. They generate tips and even prompt suspects to turn themselves in.
Said Whipple: "I have people call and say, 'For heaven's sake, if I come and turn myself in, will you please take my picture off your Facebook page?'"