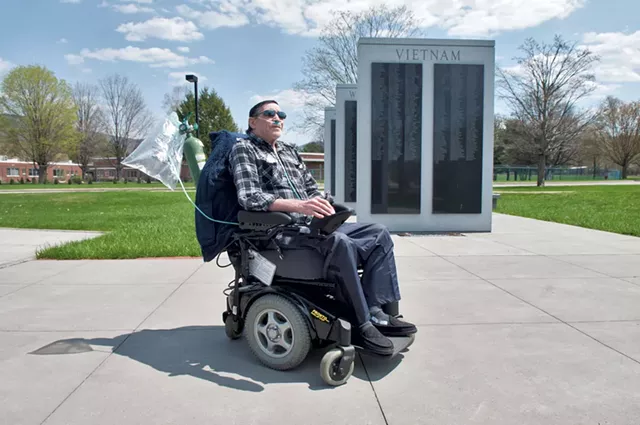 Zachary Stephans
Jack Tremblay on the groundsof the Vermont Veterans' Home
The Vermont Veterans' Home has been on shaky financial ground since the Great Recession. The number of patients has dropped at this special nursing home that serves veterans of military service, their spouses and "gold star" parents who've lost a son or daughter in the line of duty. It has lost some federal funding because inspectors found deficiencies. And the home had failed to collect $1 million for care it provided.
Lawmakers had begun talking about privatizing, selling or closing the home, until they learned that shutting it down could obligate the state to repay the U.S. Department of Veterans Affairs $11 million for recent capital investments. Privatization would take time. So the legislature ponied up $5.9 million to keep the home open — but ordered a study, due in January, of how to operate it sustainably.
---
UPDATE: The Vermont Veterans' Home is now licensed for 130 beds, not 171, which saves $200,000 a year.
Still, overtime is running more than $100,000 over budget, said CEO Melissa Jackson, which is why management wants to implement a new schedule that would maintain constant staffing levels throughout the week.
That requires negotiating with the unionized workforce — which hasn't gone well. The Vermont State Employees' Association, which represents the 196 full-time nursing staff, asked for a mediator in October after the two sides failed to reach agreement. Stacy Crawford, a licensed practical nurse, said the schedule that management offered would have required nurses to work five of six weekends.
Barbara King, a licensed nursing assistant, blames the excessive overtime on a shortage of staff. She said: "They have built no buffer in at all."