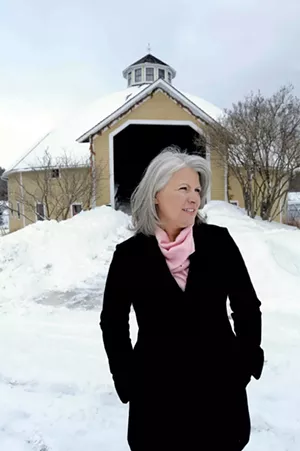 File: Jeb Wallace-brodeur
Anne Marie DeFreest
For more than 25 years, Waitsfield's Inn at the Round Barn Farm has been a cultural magnet and economic driver in the Mad River Valley. In 1986, Jack and Doreen Simko, longtime visitors to Vermont from Somerset, N.J., purchased the 19th-century farmhouse and 12-sided barn from local dairy farmers. After investing more than $300,000 in renovations, they opened the inn in August 1990 and began to host events. It soon became the Mad River Valley's preeminent venue and helped establish Vermont as a major wedding destination. The couple's daughter, AnneMarie DeFreest, took over the business in 1994.
But DeFreest developed cancer in her leg and struggled through treatments to manage the inn. The cancer "came back with a vengeance" as a brain tumor in July 2013, just weeks before DeFreest was supposed to go to court to dispute a back tax bill. Instead, she decided it was time to sell the inn. DeFreest sought buyers who could not only afford her price but shared her community-minded business ethos.
UPDATE: DeFreest found the buyers she was seeking: longtime friends Kim and Jim Donahue of Wayne, N.J. In fact, Jim Donahue was with DeFreest the first time she set foot on the property in the '80s, and he has stayed at the inn more than 100 times.
"I never, ever expected it would be these two people," admits DeFreest. The haggle-free deal closed in June for an undisclosed sum, and the Donahues contracted with DeFreest to manage the inn for three years to ease their transition.
DeFreest is excited that the couple plan to bring back many community events and activities that had fallen by the wayside due to her illness, including concerts, high school art shows, snowshoeing and cross-country skiing. Also in the works is a line of specialty foods, including Round Barn chocolates, a concept DeFreest cooked up with her longtime chef, Charlie Menard.
Best of all, DeFreest reports that her brain tumor has "stabilized."
"As long as I feel good," she adds, "that's all that matters."
The original print version of this article was headlined "An Iconic Mad River Valley Inn Has New Owners"