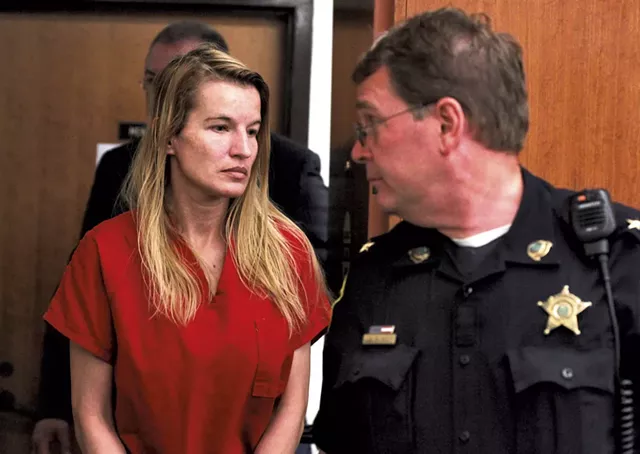 COURTESY OF TOBY TALBOT/ASSOCIATED PRESS
Jody Herring at her arraignment
Those still inside Barre City Place rushed to the windows to peer at the parking lot below. Lara Sobel, 48, a state Department for Children and Families caseworker, was on the ground, mortally wounded. A woman with a rifle stood nearby, yelling that DCF had taken her 9-year-old daughter. Police affidavits later identified the shooter as Jody Herring.
Bystanders, including Washington County State's Attorney Scott Williams, rushed over to try to help Sobel, and to restrain Herring.
Police say they later discovered that Herring had shot and killed her two cousins, Regina and Rhonda Herring, 43 and 48, and her aunt, Julie Falzarano, 73, in their Berlin home.
Herring, 40, of South Barre, has pleaded not guilty to first-degree murder charges in all four deaths.
---
UPDATE: Three DCF caseworkers quit as a direct result of Sobel's death, according to Commissioner Ken Schatz. In December, Gov. Peter Shumlin pledged to add 35 social workers and other staff in 2016. A major cause of the crisis: Drug-addicted parents are neglecting their children, forcing the state to take custody of an increasing number of them.
Meanwhile, DCF began to catalog threats against its workers in the wake of the shooting and has counted 109, Schatz said. "It is of great concern," he said. Some of those making the threats have invoked Herring's name, Schatz said. "That's the context in which people describe it. And that's awful," Schatz told a legislative committee in October, WPTZ-TV reported.
Shumlin's administration is assessing possible security changes for state offices, an issue that legislators say will be high on their agenda in January.
That same month, DCF workers will move from the Barre City Place offices, Schatz said, to the state court building just down the street, where visitors have to pass through metal detectors.
The department also plans to standardize its policies for social worker visits to clients' homes. In some circumstances, Schatz said, employees who once would have gone alone will be accompanied by another state worker and, in some cases, a law-enforcement officer.
Herring remains jailed without bail. Her case is scheduled for a status conference in Washington County Superior Court on February 24.