Amy Lilly
"Chain Rings 1" by Terry Zigmund
Last weekend, 1,900 mountain bikers descended on tiny East Burke for NEMBAfest, the New England Mountain Bike Association's annual bike-and-camp at Kingdom Trails. The event's attendees can pitch their tents on the gorgeous grounds of the Wildflower Inn in Lyndonville, and a maze of industry vendors — craft brewers included, of course — form a second tent city beside them.
With so much fun to be had, why not throw art into the mix? That was roughly the idea behind the first annual Upcycle Art Bike Competition, according to Tim Tierney, Kingdom Trails' executive director. Tierney and Jody Fried — ED at Catamount Arts in St. Johnsbury — hit on the idea together in April, says the mountain bike enthusiast.
Tierney's original idea was to "paint a few bikes and hang them on the light posts in [adjacent] Lyndonville" — which he did. The monochrome-painted frames help enhance the Northeast Kingdom's image as bike-friendly. But then Fried brought in Catamount gallery director Katherine French to jury a competition. "Katherine took it to a higher level," Tierney says with a chuckle.
The competition required only that the sculptures have some component of recycled bike parts. Works could be kinetic, functional or neither, and there was no size limit.
As it happened, though, five of the winning seven sculptures fit into the Wildflower Inn's octagonal garden pavilion. (The space had no signage and did the works no favors; fortunately, they are now being moved to storefronts in Lyndonville, where they'll be on display, and for sale, through October 15.)
Two stained-glass assemblages wound together with welded bike chains, by Winooski glass artist Terry Zigmund, enhanced the pavilion's stunning views. Below them sat a wooden chair with back spindles held in place by two seamlessly integrated chrome handlebars, by Vermont chair maker George Sawyer of Sawyer Made in Woodbury.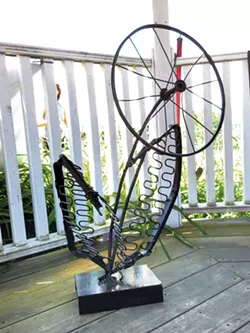 Amy Lilly
"Wheel Flower" by Madeleine Lord
Dudley, Mass., artist Madeleine Lord's "Wheel Flower," a two-foot-high scrap-metal flower sculpture with an antique-bike-wheel bloom, sat in the pavilion's shade. And at the center of the structure stood "Jasmine," a sculpture of a bear that seemed about to move, by Harlan Mack. The colorful work was made using tubular bike frames' existing curves and bends. Its ears are pedals, and one paw rests on a briefcase made of rusted chain rings. Mack is Vermont Studio Center's sculpture adviser and technician.
Like Mack, Newark artist Martin McGowan has a clear facility with welded-metal sculpture — something that upcycled bike art generally requires. His whimsical and funny "Fish on a Bicycle," positioned at the vendor tent city's entrance, is made entirely from oxidized steel, including old bike, motorbike and farm machinery parts. (The seventh winning work, by a Connecticut artist, never made it to the festival.)
French noted of the submission pool, "The range was striking to me." Now a Barton resident, the gallery director formerly headed the Danforth Art Museum\School in Framingham, Mass., where she also ran the New England Photography Biennial. She sees the competition as participating in a larger art-world trend of reusing old bikes.
That trend might be traced back to early bike upcyclers Pablo Picasso and Marcel Duchamp, who pioneered the use of mass-fabricated bicycle components in art between the world wars. Picasso's "Bull's Head" is a wall-hung racing bike seat with handlebars as horns; Duchamp's "Bicycle Wheel" consists of a bike wheel mounted on a kitchen stool.
Contemporary artists such as Ai Weiwei and Robert Rauschenberg, says French, pay tribute to those modernists in recent work, though with different aims. Weiwei's room-size political work "Forever," a circular, hut-shaped assemblage of stacked, welded bikes, just completed a three-month run at the Museum of Fine Arts in Boston. French also cites Rauschenberg's "Riding Bikes" in Berlin — two vertically mounted bikes outlined in neon-light tubing — and the innovative art bikes created for the Burning Man festival in Nevada.
"Right now, the whole gearhead, steam-punk culture — in New Zealand, China, Europe — it's that kind of thing [where] you think, Hmm, this is growing," says French.
For Zigmund, who commutes by bike to her Pine Street studio in Burlington, the competition was a well-timed opportunity to submit recent experiments. She had been working stained glass into the tiny spaces in bike-chain rings and wanted to try framing glass with chains. Zigmund collects her bike parts at Skirack in Burlington — the store has a recycling program for disused metal components — and has a professional welder create the chain frames.
The only artist with two winning works in Upcycle Art Bikes, Zigmund says that "Chain Rings 1" and "Chain Ring Landscape" were inspired by a mandala design and a Vermont landscape, respectively. "To me, biking is all about being outside. It's a Zen thing for me," she says.
Whatever the intent of its individual works, Upcycle Art Bikes has tapped into a convergence of pleasures: art, biking and keeping cool fabricated items out of the landfill.