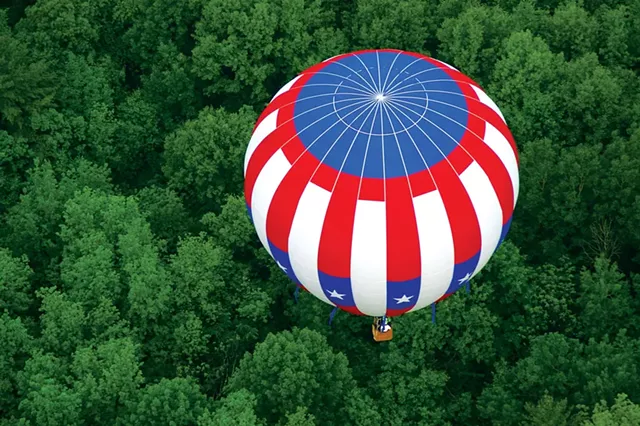 Millions of people visit Vermont every year, especially on summer vacations, to escape the reality of day-to-day life. For those wanting to truly get above the fray, and see most of the state, there's no better way than a hot-air balloon ride.
From a sturdy wicker basket suspended beneath a colorful canvas filled with hot air, you can enjoy the big picture of Vermont's landscape, stretching from the islands and bays of Lake Champlain past the suburban neighborhoods and farm fields to the rise of the forests leading to the Green Mountains.
Jeff Snyder, 38, of Jericho — 30 minutes outside of Burlington — has one of the best offices in all of Vermont. He's a certified hot-air balloon pilot whose livelihood is showing off his home state from his fleet of balloons. That includes the Essex, the largest balloon in New England, able to carry up to 14 passengers and the pilot.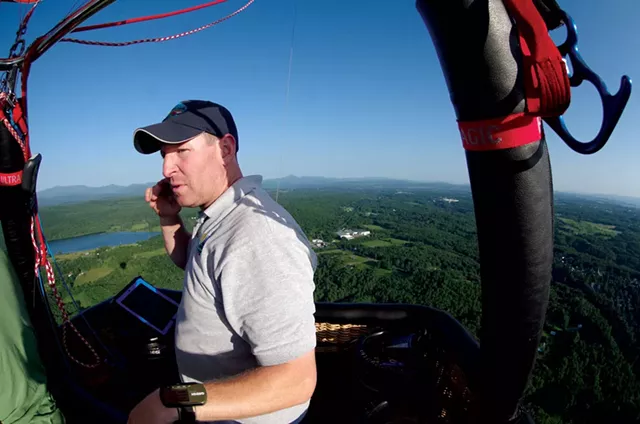 Stephen Mease
Jeff Snyder
Snyder's Champlain Valley-based company, Above Reality, grew out of a college internship in Arizona that fueled his passion for flying and running his own business. After working around the U.S. with the AmeriCorps National Service and flying balloons at amazing locations all over the world — from the Grand Canyon to the Philippines to New Zealand — he returned home to Vermont.
"I'd seen enough parts of the country to know that I wanted to start my business in the state where I grew up," Snyder says. "As much as I might be biased as a Vermonter, I also believe this is one of the prettiest and most unique landscapes in the country to go ballooning over."
His customers agree. One wrote in a Yelp review: "My wife and I could not have asked for a better ride, gliding over the city thousands of feet up, looking out over Lake Champlain while the sun set, and landing on a farm to enjoy a glass of Champagne. A wonderful little adventure you won't forget!"
No two flights are alike. Snyder encourages his passengers to keep a sharp eye out below for white-tailed deer, gray hawks, beavers on ponds, blue herons, black bears and even the occasional moose. Heading over a still-water pond, he'll often dip low for a splash and dash, encouraging everyone to look down and see the balloon — and themselves — reflected in the water.
Flights can also roam over suburban neighborhoods, where the loud whoosh of the balloon's propane burners draws kids and families out into the yard to watch and wave. On occasion, the wind has taken Snyder right over Burlington International Airport's runways. If conditions allow, he'll get radio clearance from the control tower to touch down briefly on the main runway. Hot-air balloons have the right-of-way over airplanes.
Stephen Mease
Breaking down the balloon
And on exceptionally clear days, it feels like you can see forever, with the Adirondack peaks to the west and the skyline of Montréal shimmering on the northern horizon in the distance.
Balloon flights lift off twice a day: just after sunrise, around 5 a.m., and in the few hours preceding sunset, Snyder notes. The winds are the calmest at those times. And don't shy away from early-morning flights: "They are quite enchanting and well worth the early wake-up call," says Snyder.
Typically, a hot-air adventure takes three to four hours, Snyder says, with an hour or so actually in the air. Passengers are welcome to lend a hand to the ground crew as they set up and inflate the balloon at the launch site, and then reverse the process and pack up after landing — but it's not required.
Stephen Mease
Above Reality Champagne toast
A balloon pilot never knows quite where the winds will take him, so Snyder comes prepared with an iPad loaded with GPS information for those landings. When he surprises someone by landing in their front yard or field, he honors a ritual that dates back to the earliest balloon flights, pulling out a bottle of Champagne to offer thanks.
One time, a landowner invited everyone up to her deck and brought out her best crystal flutes. "She hadn't used them in about 15 years but couldn't think of a better reason to celebrate," recalls Snyder.
Accepting the reality of solid ground once again might take a little time — but serendipitous connections like that one certainly ease the transition.
Ready for Liftoff?
Above Reality offers a range of balloon rides, starting at $275 per person for the Views of Vermont flight. Learn more at balloonvermont.com.
To make the most of your flight:
Schedule it for the earliest part of your visit. In the event of a weather cancellation, you'll have more chances to reschedule.
Dress in layers and wear sturdy shoes and pants for climbing in and out of the basket. Don't forget to bring a hat and sunglasses.
Bring your camera, and make sure you have a full battery and a spare. You don't want your phone or camera to die during this trip!
Balloon Festivals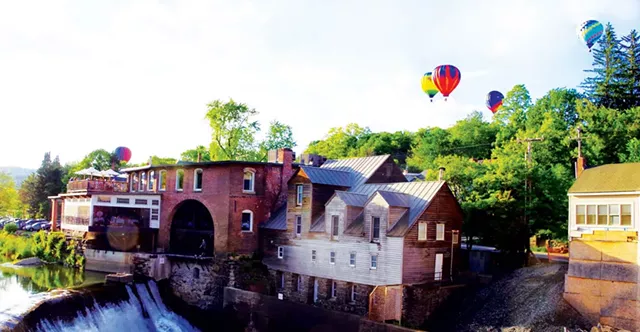 Stephen Mease
Quechee Hot Air Balloon Craft and Music Festival
Quechee Hot Air Balloon Craft and Music Festival
June 17-19 in Quechee. quecheeballoonfestival.com
Up to 20 balloons will dot the skies over Vermont's Upper Valley and New Hampshire at the longest-running hot-air balloon festival in New England. There are flights and tethered rides, as well as music, entertainment, craft artisans and commercial vendors.
Stoweflake Hot Air Balloon Festival
July 8-10 in Stowe. stoweflake.com/balloon
Let your spirits soar as more than 25 hot-air balloons fill the sky. Enjoy breathtaking launches and live entertainment while relaxing in the beer and wine garden. Hot-air balloon rides and tethered rides are available.
---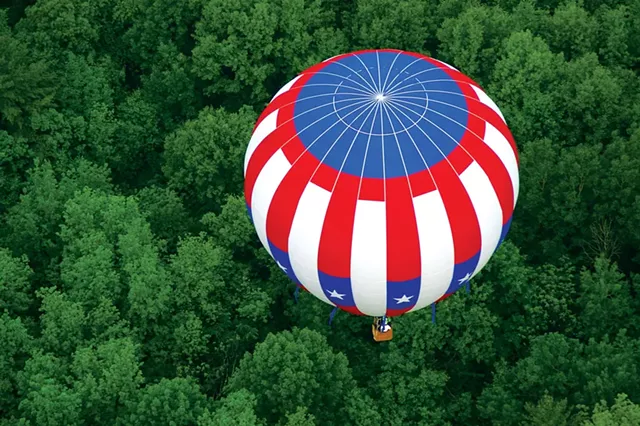 Partez à l'aventure en montgolfière au Vermont
Des millions de personnes visitent le Vermont chaque année, en particulier l'été, pour rompre avec leur quotidien. Pour ceux qui souhaitent s'élever et embrasser pratiquement tout l'État, il n'y a rien de tel qu'une escapade en montgolfière.
Dans une robuste nacelle d'osier suspendue sous un ballon multicolore rempli d'air chaud, vous pourrez admirer les paysages du Vermont, depuis les îles et les baies du lac Champlain jusqu'aux forêts qui mènent aux Montagnes vertes, en passant par les quartiers et les champs cultivés qui s'étalent autour de Burlington.
Jeff Snyder, âgé de 38 ans, est établi à Jericho, à 30 minutes de Burlington; son agence est l'une des meilleures du Vermont. Il est pilote de montgolfière accrédité et gagne sa vie à faire connaître sa région à bord de ses ballons. Sa flotte comprend le ballon Essex, le plus gros de toute la Nouvelle-Angleterre, qui peut transporter jusqu'à 14 passagers, plus le pilote.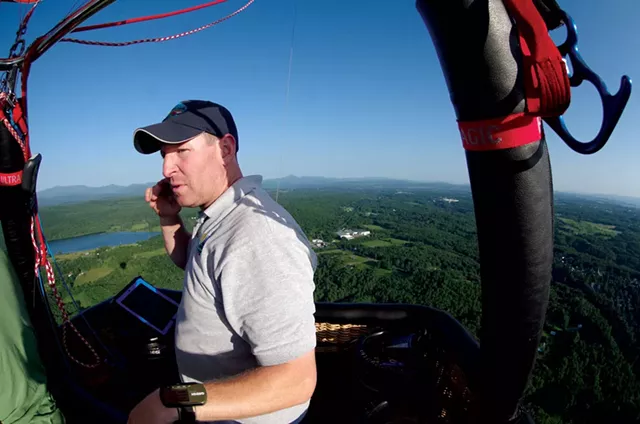 Stephen Mease
Jeff Snyder
La société de Jeff Snyder, Above Reality, se trouve dans la vallée du Champlain. Il en a eu l'idée lors d'un stage en Arizona où il s'est découvert une passion pour le pilotage. Jeff souhaitait lancer sa propre entreprise. Après avoir travaillé partout aux États-Unis dans l'AmeriCorps National Service et dirigé des montgolfières dans les endroits les plus spectaculaires au monde, depuis le Grand Canyon jusqu'aux Philippines en passant par la Nouvelle-Zélande, il est revenu dans sa région natale, le Vermont.
« Je connaissais assez bien tout le pays, dit-il, pour savoir que c'était là où je suis né que je voulais démarrer mon entreprise. Je ne suis certainement pas objectif, mais il reste que le Vermont offre des paysages du haut des airs qui comptent parmi les plus beaux et les plus uniques. »
Ses clients abondent dans son sens. L'un d'eux a fait le commentaire suivant sur Yelp : « Ma femme et moi ne pouvions rêver d'un plus beau tour en montgolfière... Nous avons pu admirer la ville à des centaines de mètres d'altitude, regarder le lac Champlain au coucher du soleil, puis nous avons atterri dans une ferme où on nous a servi un verre de champagne. Une petite aventure absolument inoubliable! »
Il n'y a jamais deux vols qui se ressemblent. Jeff encourage ses passagers à bien observer la terre et l'espace en dessous afin de repérer des cerfs de Virginie, des buses grises, des castors dans les étangs, des grands hérons, des ours noirs et même, à l'occasion, des orignaux. Lorsqu'il survole un petit lac paisible, il « plonge » souvent et invite les passagers à regarder le reflet de la montgolfière – et leur propre reflet – à la surface de l'eau.
Les vols peuvent aussi se dérouler au-dessus de zones habitées, où le bruit intense des brûleurs de propane attire l'attention des enfants et des familles, qui sortent pour regarder les gros ballons et envoyer la main aux passagers. Il arrive que le vent pousse Jeff jusqu'au-dessus des pistes de l'Aéroport international de Burlington. Lorsque les conditions le permettent, il obtient l'autorisation de la tour de contrôle et se pose brièvement sur la piste principale. Les ballons à air chaud ont priorité sur les avions.
Stephen Mease
Breaking down the balloon
Lors des journées extrêmement claires, on a l'impression de voir à l'infini, avec les sommets des Adirondacks à l'ouest et, au nord, la silhouette de Montréal qui se profile au loin, à l'horizon.
Les ballons décollent deux fois par jour : juste après le lever du soleil, vers 5 h du matin, et dans les quelques heures qui précèdent le coucher du soleil, comme l'explique Jeff Snyder. Les vents sont alors plus doux. Il ne faut pas hésiter à prendre le vol du matin : « Ce sont des moments magiques, dit-il, qui valent largement la peine de se lever tôt. »
Il faut habituellement prévoir de trois à quatre heures par vol, pour passer une heure dans les airs. Les passagers peuvent, s'ils le souhaitent, participer aux manœuvres au sol et aider à préparer et à gonfler le ballon à l'aire de lancement, ou bien à faire les opérations inverses après l'atterrissage.
Stephen Mease
Above Reality Champagne toast
Le pilote d'une montgolfière ne sait jamais précisément où les vents l'emmèneront. Jeff emporte donc toujours un iPad contenant toutes les informations GPS nécessaires aux atterrissages. Lorsqu'il prend quelqu'un par surprise en se posant sur sa pelouse ou dans son champ, il répète un rituel qui remonte aux tout premiers vols en ballon à air chaud et offre une bouteille de champagne aux propriétaires en guise de remerciement.
Une fois, l'une d'elles a invité tout le monde sur sa terrasse et a sorti ses flûtes de cristal. « Elle ne s'en était pas servi depuis environ 15 ans, raconte Jeff, et trouvait l'occasion tout à fait indiquée pour faire la fête. ».
Il peut être un peu difficile de retrouver le plancher des vaches après une telle expédition, mais les aventures heureuses comme celle-là facilitent la transition.
Prêts pour le décollage?
Above Reality offre tout un éventail de vols en montgolfière, à partir de 275 $ par personne pour la formule Vues du Vermont. Vous trouverez tous les détails à balloonvermont.com.
Pour profiter pleinement de votre vol :
Programmez-le au tout début de votre séjour. Ainsi, en cas d'annulation à cause du temps, vous aurez plus de chances de trouver un autre moment.
Portez plusieurs couches de vêtements et prévoyez des pantalons et des chaussures robustes pour l'entrée et la sortie de la nacelle. N'oubliez pas d'emporter un chapeau et des lunettes soleil.
Prenez votre appareil photo et assurez-vous d'avoir une pile bien chargée, ainsi qu'une pile de rechange. Ce serait dommage de ne plus avoir de pile sur votre téléphone ou votre appareil photo en plein milieu du vol!

Festivals de montgolfières

Stephen Mease
Quechee Hot Air Balloon Craft and Music Festival

Quechee Hot Air Balloon and Music Festival

Du 17 au 19 juin à Quechee. quecheeballoonfestival.com

Jusqu'à 20 montgolfières parsèment le ciel au-dessus de la Upper Valley au Vermont et du New Hampshire lors de ce festival, le plus ancien de la Nouvelle-Angleterre. Au programme, vols en montgolfière et en ballon captif, musique, spectacles, stands d'artisans et de vendeurs de produits divers.

30e édition annuelle du Stoweflake Hot Air Balloon Festival

Du 8 au 10 juillet à Stowe. stoweflake.com

Rêvez à la vue de plus de 25 ballons à air chaud disséminés dans le ciel. Assistez à des décollages spectaculaires et à des spectacles tout en sirotant une bière ou un verre de vin. Des vols en altitude et des vols captifs sont aussi proposés.