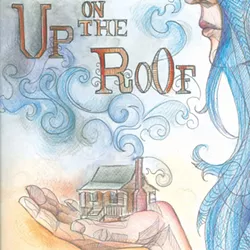 (Self-released, CD, digital download)
Five-piece Johnson jam-funk band Up on the Roof released their first EP in January, cheekily titled Greatest Hits Vol. 3. This spring, they followed up with a debut full-length album, Down in the Basement. This collection begins with the promise of heady funk. Unfortunately, it later stumbles with meandering tracks that insert some unusual instrumental indulgences.
Down in the Basement opens with the title track, a whirly, wiggly jam tune with moments of hard-rock guitar. Things groove along from there. "Evergreen" has some gratifying instrumental spots. Drums, trumpet and trombone all compete for attention, to pleasing effect. "Duzzi" is an enthusiastic, if predictable, party track built on snazzy saxophone.
These opening tunes are not exactly groundbreaking, but they would likely get a crowd dancing. But the album soon veers off the rails. A series of tracks designed as innovative tweaks instead sound prolonged, random or a bit silly.
For example, the eight-minute "Stars" begins as a routine groove, then devolves into pockets of warped synth and sluggish chanting. It plays like a lethargic trip through space, with momentary jolts of funk fuel.
Similarly, "Great Escape" starts strong but finishes with an unusual kick. Beginning with smooth guitar and steady drums, it's a hip-shaking number for the first three minutes. Then, in the last minute, sound effects akin to broken glass and warbled, underwater bubbles burst in. The experimentation feels forced and departs from the solid groove earlier in the track.
"Take the Stairs" has a twitchy section of high-pitched vocals paired with cascading, spooky keys. It purports to be ascendant and mystical but is too self-serious to be inspirational.
Nearing the album's end is "Slap the Monkey." The problem here isn't the thinly veiled masturbation references — because who doesn't love those? — so much as the obvious rhymes, faux bravado and wanky guitar solos.
With Down in the Basement, Up on the Roof seek to put a unique stamp on the funk-jam template. But numerous instrumental quirks leave many songs grating and overly drawn out. Not all is lost, however. Tunes such as "Gasoline" and "On the Rocks" are solid improvisational attempts and would find a welcome home at outdoor summer jams. And sometimes the band's mashups show promise, such as the clash of hazy, laissez-faire vocals and sudden slap drumming on "G String." Rather than overcrowding their songs, Up on the Roof might do well to simplify and highlight the instrumental tricks that work best.
Down in the Basement by Up on the Roof is available at soundcloud.com.