Matthew Thorsen
Gene Richards
Eugene "Gene" Richards usually arrives at Burlington International Airport about an hour and a half after the first flight takes off at 5:20 a.m. He was on the job at 8 on a recent Wednesday morning, when shafts of weak winter sun were piercing the gray skies as snowplows cleared a thin coating of snow off the runways. The airport's resident F-16s roared overhead, courtesy of the Vermont Air National Guard.
Inside the redesigned airport operations headquarters, Richards was showing off his treadmill desk — and a black Fitbit on his wrist. The aviation director was running third in the office fitness tracker contest, with 23,975 steps logged so far in the weekly challenge — not bad, considering he was suffering from shin splints.
The challenge appears to be about 55-year-old Richards getting in shape, but it's also a perfect metaphor for his efforts to keep the airport competitive — more like a tech company than a government entity — in a very difficult environment. Some factors are controllable; others aren't.
Once a cornfield, the 96-year-old airport is a crucial part in the engine that powers economic activity in northwestern Vermont, bringing tourists, students and business travelers to a state that is not especially accessible by car or rail. The $19 million operation is also an important income center for the City of Burlington, which owns the 735-acre property in South Burlington.
In the three years since he's been pulling the levers at BTV, Richards has been scrambling to replace revenue lost as a result of fewer travelers flying out of the small city airport. The number of boardings dropped from 747,559 in 2008 to 602,932 in 2014, according to the Federal Aviation Administration. Fewer passengers translate to less money for the airport, which collects $4.39 for everyone who climbs on a plane.
Predictably, revenue at the airport's parking garage is also down, by about $150,000 annually, to roughly $5.7 million. License plate counts suggest that about 15 percent fewer Canadians are parking in the garage, according to Burlington Airport Commission minutes.
Matthew Thorsen
Annual revenues at BTV's parking garage are down by about $150,000.
That has a lot to do with the declining value of the Canadian dollar, which has eliminated most of the savings Québecers once realized by departing from BTV. Further, those Canadians still willing to fly out of the U.S. are being lured by the budget fares and tropical destinations offered at the expanding Plattsburgh International Airport across Lake Champlain in New York. That airport started operating in 2007 on the site of a former Air Force base and is billing itself today as "Montréal's U.S. airport."
Richards has fought the trend by helping to secure direct twice-a-week flights between Burlington and Orlando, Fla., on discount carrier Allegiant Air, which started in February 2014. Last August, American Airlines started flying from BTV to Charlotte, N.C., a hub for transfers to warm-weather destinations. Richards also convinced United to fly larger planes into Burlington that are less prone to weather-, crew- and traffic-related cancellations.
When he's not trying to land airlines, Richards sweats the small things: customer service, amenities, vendor contracts, employee morale. With a combination of creative cost cutting, strategic deal-making and hands-on management, he's keeping BTV aloft.
Airport employees and passengers "see him crawling around in the baggage area late at night making sure bags are getting out," said Mayor Miro Weinberger, who appointed Richards as interim director in 2012 and made the job permanent in 2013. "I've heard stories of him standing there with a stopwatch at the TSA checkpoint, trying to hold them accountable for getting people through."
Richards has moved the airport's administrative offices, once a warren of rooms in the middle of the building, to the far south end and created an open, "collaborative" office. "This is my new space," Richards said of the "bull pen," as he calls it. "I don't want a little dictatorship. I want a team." The end-of-the-day Ping-Pong games are meant to build collegiality, in the same way the in-house tennis and mini golf do at local companies such as Dealer.com.
Matthew Thorsen
Marketing and advertising coordinator Erin Knapp
But there's a big difference: Richards is operating on a very limited budget. He's positively gleeful about the various deals he scrounged for the airport terminal, including the circular table in the center of the new office. "It was a $37,000 table that I got for $2,000," Richards proclaimed, dimples flashing.
In a sitting area elsewhere in the terminal, Richards pointed to the furniture — free from Lowe's — and to a player piano against one wall. "And how much did it cost?" Richards asked, referring to the piano. "Nothing," he answered, hands outstretched in a ta-da fashion. Referring to the airport's budget, Richards added cheerfully: "We have no money."
Mayor's Man
Richards was dressed for success that day in a charcoal-gray suit, a white Ralph Lauren button-down shirt and a purple tie. Small wire-rim glasses gave him a bookish air, but it was an illusion. At school in his native St. Albans, Richards discovered his brain didn't work in the same way as the other children's. He was later diagnosed with dyslexia. "It was awful," he said. "Absolutely horrible. The world doesn't understand minds that are different."
Like Gov. Peter Shumlin, who has the same learning disability, Richards found a teacher who helped him keep up with schoolwork and better relate to other students. Now, he said, "I've learned that it's my greatest gift — dyslexia."
Richards graduated from Otter Valley Union High School but did not pursue further studies. He wound up in Burlington, though, and came to realize the college town was a real estate gold mine. He worked at Merchants Bank as a teller before moving into collections, credit cards and mortgages — and bought his first house, on Buell Street, for $85,000. By 1995, he'd founded Spruce Mortgage. He also ran a rental property company, Champlain Apartments, which controlled more than 190 bedrooms, most of which he has sold off.
Richards started his career at the airport as a volunteer airport commissioner and commission chair. Weinberger, then a private developer, was also on the commission.
Both men were critical of how the airport was being managed under the administration of former mayor Bob Kiss. When Weinberger was elected mayor, he tapped Richards to serve as interim director, recognizing that it might be a stretch to plunk someone from the private-sector mortgage and rental world into a public-sector aviation administration job.
"I initially made Gene the interim general manager because I wasn't really sure how it was going to work," Weinberger said. "It was a pretty different role for him than when he had been a small-business person ... We had really candid conversations back then that it may only have been a short-term thing."
A year after the interim appointment, Weinberger was happy to make the $112,000-per-year post permanent. And he hasn't regretted it.
"I think Gene's doing an outstanding job. I think he has taken an airport that was in significant financial distress and turned it around," Weinberger said. Richards has worked to balance the budget and build up cash reserves that were nonexistent for years. In 2014, the effort paid off. Moody's Investors Service upgraded the airport's bond rating from "junk" status to "investment grade." This allowed the airport to refinance some of its debt and save on interest going forward.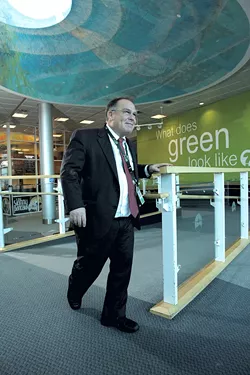 Matthew Thorsen
Gene Richards
Richards has also infused the airport with new energy and new ideas, Weinberger said. BTV was ahead of the curve when it installed a yoga studio, a Mamava booth for breastfeeding and locavore restaurants. It's now renting terminal space for weddings and fundraisers.
The mayor says he receives emails from passengers about the customer-service commitment Richards brings to the operation, and the aviation director pointed out examples on the tour. No detail is too small. As a custodian rolled by on a floor-cleaning machine, Richards explained that the soap dispensers, hand dryers and toilet flushing in the restrooms are now all touch-free, and staff wipes down the airport railings four times a day. Baggage carts are free.
"What we're saying to people is: 'Your business is important to us,'" said Richards.
Entrepreneur in Chief
When he sees room for improvement, Richards calls for it. And, despite his claims to be collaborative, the airport's entrepreneur in chief tends to dominate meetings. That's a recipe for conflict.
Specifically, Richards is pushing for economies in ways that challenge other city department heads. Airport commission minutes show Richards repeatedly complaining that the Burlington Department of Public Works contract to operate the airport parking garage is bloated. Richards has reduced the contract by $43,000 in the past two years, but the airport is still paying DPW a whopping $674,225 to operate the garage this year.
At a June 6, 2015, commission meeting, Richards said DPW has been put on notice that the airport will be operating the garage as of this July.
FAA regulations say municipal airports such as Burlington's are not supposed to be profit machines for the cities that own them. Going back decades, though, officials at Burlington City Hall would often imply that Burlington International Airport contracts for city services were good for the city's bottom line.
The fact that Richards is challenging the parking garage contract is a tricky move politically, but he appears to have the support of the mayor, who must sign off on the change. It's not a done deal.
"I'm sympathetic to Gene's perspective on this," Weinberger said. "I think he has been correct to say this is something we really need to look at and review. We're going to make a decision in the next month."
The mayor is less sympathetic to reviewing the airport's contract for city police services. It's driven largely by federal requirements, the mayor said. He doesn't see a lot of fat there.
But, again according to airport minutes, Richards has been making noise about the size of that contract, too. At a May 5 meeting last year, Richards said he was trying to talk the police contract down from $1,014,000 to $750,000. He's already managed to trim the contract by $128,000 since 2014. In an interview, Richards declined to get specific on any negotiations and said he's happy with the contract for now.
Airport commissioners have been generally supportive of his attempts to drive a bargain with other city departments. Bill Keogh, a commissioner and former Burlington city councilor, praised Richards for setting airport finances on the right track. Keogh said the garage management contract with DPW has been a problem for years, going back to the Kiss administration.
"The previous administration really had a financial drain on the airport for, we think, an exorbitant fee that we paid public works," Keogh said. "I think Gene's been able to whittle down that fee."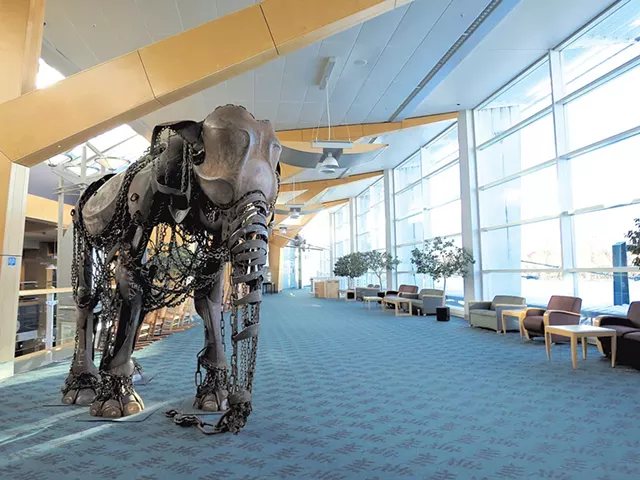 Matthew Thorsen
Elephant sculpture by Vermont artist Eben Markowski
Richards has been less successful winning over South Burlington's Chamberlin Neighborhood-Airport Planning Committee, which meets with airport officials about immediate impacts on the surrounding area. South Burlington City Councilor Meaghan Emery gives Richards credit for carefully managing the long-anticipated demolition of nearly 100 homes near the airport last year under a voluntary federal program that allowed neighbors to sell to get out from under the flight path.
But since the homes were torn down, Emery said, some remaining neighbors say the airport noise has actually gotten worse. They're also concerned about the sound impact of F-35 fighter jets that will one day be based at the airport.
Richards needs to meet more often with the neighbors and South Burlington city councilors, Emery said. She also recommends that he "listen" to neighbors who have complained at public meetings about increased noise — suggesting that he currently doesn't. "I think it would help resolve so many of the tensions and misunderstandings," Emery said.
Richards described the neighborhood group as "dysfunctional."
'We Have to Be Frugal'
Tom Hart had time to kill at the airport last Thursday before embarking on the first leg of a trip to California. Originally from South Burlington, the San Diego man sat in one of the rocking chairs in the second-floor breezeway, soaking up the sun streaming through the windows. "I think it's very well done," he said of BTV.
He admitted he doesn't do much comparison shopping on flights to Vermont to visit his 97-year-old mother. "I don't even worry about the prices," said the architect for the San Diego public schools. "I call my travel agent and tell him I need to go to Burlington and take whatever he gives me."
Also at the airport: veterinarian Karen Anderson, a Waitsfield resident returned from a convention in Orlando, Fla., who was waiting for a friend to pick her up. She said she almost always flies out of Burlington, even though she sees somewhat cheaper fares at other airports in the region. "I might have saved $50 to drive to Manchester," Anderson said of the New Hampshire airport north of Boston, but to her it's not worth the hassle. She likes the small size and the feel of BTV. "I think our airport is quite lovely."
Loyal passengers such as Hart and Anderson are important to the airport, but it's also vital that BTV reach more price-sensitive flyers. Plattsburgh has grown in large part because its location qualifies it for government subsidies that have helped the airport attract airlines.
"They have done incredibly well," Richards said of the competing airport across the lake. "They have started with nothing, and they basically are in the middle of nowhere."
Generous as that sounds, Richards refused to share the findings of a passenger "leakage" study that he commissioned last year. The report, completed by a private consultant, would help the airport's competitors should they see the document in full, Richards said. He and Weinberger denied a public records request for the full report, as well as an appeal. They shared a few pages but said the remainder constituted a confidential business record that is exempt from public view under state law.
Airline carriers look at population, existing flights and current boardings at a given airport to gauge what their loads might be. They like full planes, with the percentage of seats sold in the 80s and 90s, Richards said: "If you are less than that, they are going to have a problem with that."
Government airport subsidies also attract airlines, and a small state such as Vermont can't give out the kind of subsidies that New York does to its small airports. "Vermont has economic challenges," Richards said. "We have to be frugal over here."
And frugal he is: Richards has focused on containing costs and finding new sources of revenue for the airport. For years, an outside firm sold the digital ad space in the airport and took a large cut of the cash. The airport is selling its own ads now, in partnership with the Lake Champlain Regional Chamber of Commerce.
Those ad deals may be packaged with a designated parking space in the garage, close to the terminal, for corporate clients who travel a lot — or who want to share the spot with a client.
Richards has plans to add another restaurant, outside the security checkpoints, to complement the success of the three airport eateries run by Burlington-based Skinny Pancake. "It would be comfort food, much like Skinny Pancake," he said. "Vermont-sourced."
Longer term: He wants to reorganize and expand the terminal so there is one security checkpoint instead of the current two. Using a special marker, he draws a circle on the spot — at the southern end of the building — right on the conference table, which doubles as a dry-erase map of the airport property.
Richards is also seeking more bids from developers who would build and operate a boutique hotel over the parking garage. A request for proposals last year brought in only one bid, and Richards said it wasn't quite the right fit. Yet another goal is to increase the number of tenants on airport property, now at 35, and create more of an industrial park on the southern edge of the property, with access to Williston Road.
Richards exudes urgency, but unlike the customers around him, he's not going anywhere — at least not today. He and his wife, Julie, have a home and some investment properties in Florida, but Richards said he has no plans to retire to a warm beach — or to ever quit working. For now, he's happy moving forward in place.
Disclosure: Seven Days publishes BTV: The Burlington International Airport Quarterly.
Grounds Control
Being a landlord prepared Gene Richards for one aspect of his job as aviation director of BTV: managing tenants. Thirty-five rent space, including commercial airlines, car-rental companies and food purveyors inside the terminal, and at least a dozen of those tenants lease airport land.
The outside tenants repair private jets, teach people to fly and fix airplanes — and even sell RVs. Although they're less visible, these businesses are an important part of the airport's economic ecosystem. Some are on commercial property off the airfield; others have access to the runways.
Among the biggest players is Heritage Aviation, which offers fueling, catering and de-icing for commercial airline and repairs private jets that fly in from around the Northeast. The company recently announced that its 60 employees are buying the business.
Less visible tenants include Pratt & Whitney, which repairs plane engines, and headquarters for CommutAir, a United subsidiary that offers regional air service. Contact Aero, another tenant, installs radios and navigation equipment, and inspects and maintains private planes.
"Aviation education is another component that people don't probably think much about, but it's located right here on the airfield," said Ed Antczak, executive director of the Vermont Flight Academy and a former administrator in the Burlington Community & Economic Development Office.
His operation is the largest flight school in the region, with about 95 students, 30 employees and 15 planes, including two seaplanes. The Vermont Flight Academy offers a four-year degree in partnership with Vermont Technical College that trains students to be professional pilots and flight instructors. (See Work, page 37.)
Also on the airport grounds, the Burlington Technical Center operates a facility that trains high school students in airline maintenance.
The airport generates and supports many related enterprises, Antczak pointed out. To grow, they need more buildings for equipment, planes and parts — "more hangar space, for sure," he said.
Not counting the Vermont Air National Guard hangars, there are seven large hangars on the airport property and many smaller ones. At $3 million a pop, the airport won't be paying to build more anytime soon, according to Richards. The investment doesn't make sense, he reasoned, because the demand is seasonal.
With or without more space, Antczak believes BTV is in a good spot: "It's a huge asset for the region."