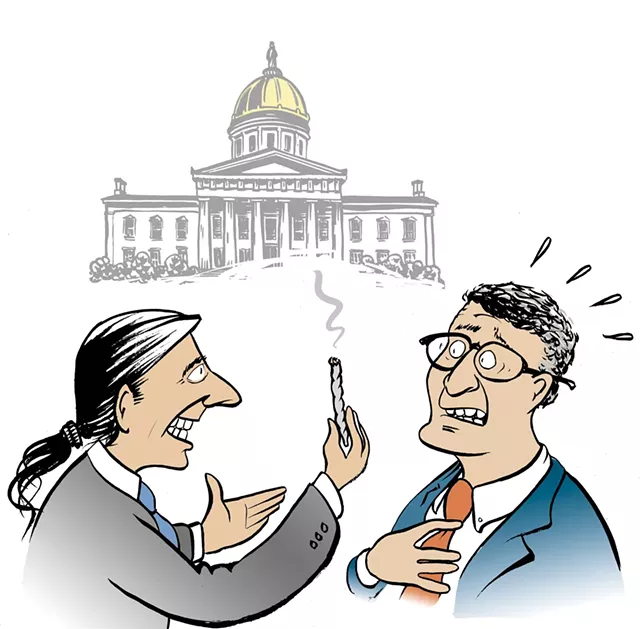 Vermont House Minority Leader Don Turner (R-Milton) and Lt. Gov. David Zuckerman, a Progressive and Democrat, don't agree on much. During a recent radio debate, Zuckerman voiced support for lefty policies such as a $15 minimum wage, paid family leave and new funding for clean water. Turner, offering himself as a conservative alternative, opposed each of those ideas.
Then, toward the end of the September 13 debate on WDEV's "The Dave Gram Show" they agreed — on weed. Turner said the state should legalize, regulate and tax retail marijuana sales, a policy Zuckerman has supported for years.
"From my perspective, as long as it's legal, we should be legalizing it the right way, and I firmly believe in a strongly regulated market," Turner said. "I opposed legalization for many years. Now it's the law," he added, referring to a newly enacted statute allowing adults in Vermont to use marijuana and grow small amounts.
Turner is a real estate manager, a fire chief, the Milton town manager and, for the past seven years, leader of the House Republican caucus. Politically, he shares Gov. Phil Scott's position that their party must prevent the Democratic majority in the legislature from making the state too expensive for residents. Turner, who resembles a father figure in a 1970s sitcom, says he never tried pot "because it [was] illegal."
Zuckerman is a ponytailed organic farmer who gained prominence advocating for marijuana reform. The first-term lieutenant governor told Seven Days he "smoked cannabis, probably too much, in college" but hasn't lit up in years. He portrays himself as an open-minded public official who works across party lines.
Given their stark differences, it was notable when, during the debate, Turner said, "I understand that we have to do something to strongly regulate [marijuana], and I have worked with Lt. Gov. Zuckerman on a plan to do that."
Zuckerman took exception to Turner's bipartisan brag and said Turner did work on a plan — then ruined it by backing out at the last moment.
"We did have a plan," Zuckerman responded, but "I'm not sure how working for six weeks to come up with an amendment that leadership from all sides of the House [supports] and then pulling back from that is, in the end, effective."
It's likely that few people outside the Statehouse had heard about Turner and Zuckerman's ill-fated plan to introduce a tax-and-regulate bill in April. But as the two men vie for the lieutenant governor's office, questions remain about the blown deal: Did Zuckerman come close to organizing a majority coalition in the House? Did Turner make a good-faith effort to find common ground? And what does the episode say about the two men's political abilities and leadership styles?
Legislators returned to Montpelier last January determined to do something to legalize weed. They quickly passed — and Scott signed — a bill that allowed growing and possessing pot for recreational use. Still, to many legislators, the measure fell short.
During the January debate in the House, Turner offered an amendment that would have set the state on a path toward a retail marijuana market. While he opposed legalization, he believed if it were to happen, the state should "do it right" by regulating sales and taxing the proceeds to offset the costs of public education and enforcement.
The Turner amendment failed — and some lawmakers took a skeptical view of his motives in offering it.
House Speaker Mitzi Johnson (D-South Hero) said Republicans knew that there was not enough support in the House — even among Democrats — to approve a retail marijuana market. She accused Turner of political maneuvering.
"They knew that if they got this particular proposal passed, the overall [legalization] bill would die," she said. "Have you ever heard of a poison pill?"
Others, however, suggested the minority leader's bid was genuine.
David Mickenberg, a pro-legalization lobbyist with the Necrason Group, said he spoke with Turner after the marijuana bill became law. He didn't get the impression Turner was trying to prevent legalization.
"He seemed very sincere in it," Mickenberg said of Turner's tax-and-regulate stance.
Rep. Janssen Willhoit (R-St. Johnsbury), a member of the House Judiciary Committee, advocated for a tax-and-regulate model in 2017. He said Turner called him before the 2018 legislative session and agreed that, with legalization seemingly inevitable, a regulated market was the best way to go.
"I had no doubt in my mind after the conversations with him after the Christmas break last year that it was what he believed," Willhoit said. "And it still is what he believes."
Later in the session, Zuckerman renewed his campaign to create a regulated marketplace, seeking support from Progressives, Democrats and the Republicans who had voted for Turner's January tax-and-regulate amendment. He invited those 32 GOP representatives to meet to determine which of them actually wanted to see the policy through.
"It was really great, open conversations," Zuckerman said, though he learned "maybe a third" of those Republicans were conservatives who had been trying to poison the legalization effort.
Turner, however, seemed to be serious about creating a tax-and-regulate plan, Zuckerman said. Their unlikely alliance was born as Zuckerman worked directly with the Republican leader, hoping Turner would wrangle his colleagues' support.
"I had some real hope, and I think others did, too," Zuckerman said.
Johnson, still skeptical about Turner's motives back in January, said Turner's approach in April was different. Instead of surprising Democrats by introducing the proposal on the House floor, Turner met with Johnson to run it by her.
"I wasn't quite sure if my ears were working correctly," Johnson said
This time, there was no legislation that Turner could "poison" with the proposal: The plan to establish a marijuana marketplace was in a standalone bill. To Johnson, Turner seemed serious.
"You could have knocked me over with a feather," Johnson said.
After consulting fellow Democrats, Johnson told Turner the proposal didn't have enough support. Even for reps who wanted a retail market in Vermont, she said, April was too late in the legislative session to do it right.
Despite the fact that the minority leader and the speaker spend much of their time openly defying each other, Turner gave in.
"He did say, 'If you're not going to support it, I know it's not going to go through, and I won't do it,'" Johnson said.
Zuckerman said he doesn't believe Turner suddenly decided to take orders from Johnson, even as he was working to defeat the Democratic majority on minimum wage and paid family leave legislation.
"It just seems a little bit strange to me that ... the night before we go forward with it [he] comes back and says 'Look, I don't want to piss off the speaker,'" Zuckerman said. "I mean, all you're doing is pissing off the speaker.'"
Johnson said that Turner put up less of a fight than usual. She still doesn't know what to make of their interaction.
"I don't know if it was a political stunt to sort of derail and distract at the end of the session, or if he honestly believes in his heart that a commercial retail marijuana system is the way to go," she said.
Turner said he backed out because Johnson told him the proposal was a bad idea. He said he showed her respect by dropping the issue.
"Being in the minority, it's always been my job to have to compromise," he said. "I'm not controlling the agenda, I'm just working with the majority to try to do what's best for Vermont. And that's what I did here. I did what I could."
Ultimately, Turner opted not to introduce the bill he and Zuckerman had drafted. Rep. Diana González (P/D-Winooski) sponsored the legislation instead. Without support from Democratic or Republican leaders, it failed in the House, 106 votes to 28. Turner voted with González, but not enough Democrats broke with their leaders to pass the bill.
Zuckerman said Turner single-handedly killed any chances of success by dropping his sponsorship. A tax-and-regulate law "could have been in place this year had my opponent continued to work with me on that," Zuckerman said.
So what does the episode tell us about the LG candidates?
Rep. Corey Parent (R-St. Albans), a proponent of a tax-and-regulate system, said Zuckerman read the House wrong. The LG didn't build a coalition powerful enough to be on the verge of anything, in his view.
"I don't think the legislature was willing to pick that fight this year," Parent said. "I think, in all honesty, it was a way for the lieutenant governor to ... try to raise his profile in a session in which, quite honestly, he wasn't that front and center."
Rep. Bob Frenier (R-Chelsea) is a staunch opponent of legalization and calls the tax-and-regulate scenario "a bad idea on steroids." He said the episode revealed weak leadership by Zuckerman, whose Progressive/Democratic affiliations couldn't turn the tide in the Democrat-dominated House.
Zuckerman "didn't appear to be at all influential in the House," Frenier said. "I didn't see him as a party leader. I saw him as a budding gubernatorial candidate."
As for Turner, the episode demonstrated that he takes a pragmatic approach to policy — even if that means breaking with conservative hardliners. That's according to Kevin Ellis, a lobbyist who spent the session working to a prevent tax-and-regulate system. Turner's support for it "just shows he's willing to take some intellectual risks or political risks by thinking things through," Ellis said. "That he's not an ideologue and he's willing to take some chances."
The Democrats who battle with Turner each session view him with more suspicion. Rep. Sarah Copeland Hanzas (D-Bradford), who worked with Zuckerman on the April proposal, said she's not sure what motivated Turner.
"He is and has always operated as a Republican political operative," she said, "and so it is sometimes hard to tell whether he is reaching across the aisle for compromise because he genuinely believes it's the right thing to do, or if he's looking for an opportunity to stick a finger in somebody's eye."