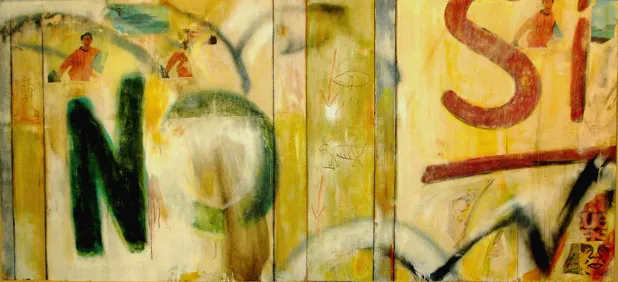 A detail of "Wall Soup" by Phil Herbison
The paintings and prints of Phil Herbison, now on view at the Vermont Supreme Court Lobby, seem to describe his artistic evolution. The works in his aptly titled "Urban Wallscapes" range from a Hopperesque vignette to photorealism and a large mixed-media abstraction. But everything here fits together seamlessly; it would be no surprise to learn that these works were created at about the same time and in no particular sequence. Herbison does reveal in an artist's statement that he produced his largest piece, the impressive 4-by-9-foot "Wall Soup," last.
Photographs gathered from around the globe were Herbison's point of departure. The simple digital print "Leaking Wall" has a shallow depth of field, focused on the rusty hues and corroded textures of an exterior metal wall. It's a detail, not a large expanse, so nothing draws our eyes from the three horizontal bands of gray stained by rust.
The color gray recurs in Herbison's work; indeed, it seems that the closer his paintings are to the initial photographs, the grayer they are. "The Ride" is a 60-by-72-inch acrylic bordering on photorealism that was almost certainly painted from a projected image. An identical 10-by-11-inch study for the piece is included in the show. Both versions seem like grisaille paintings yet to be glazed. (In that traditional technique, canvasses are executed in black, white and gray, then glazed with thin layers of hue.)
The starkness of both works suits their narrative. What looks like an empty 1970s Ford LTD stands parked beside a fire hydrant, with the driver's door inexplicably open. Heavy shadows oppress the scene.
"Coffee Break" is a 12-by-10-inch painting designated as a study. Though no larger version of it appears in the show, this small one is wonderfully painted. A man shown in profile sits in a diner, recalling a similar figure in Edward Hopper's "Nighthawks," albeit sans coat and fedora. His white shirt and pale flesh tone make him stand out from the nearly black background and gray foreground.
"Buttress" is a minimal 40-by-52-inch canvas based on an image snapped in Romania. Of all the sites Herbison might have noticed in that colorful land, he chose this inset corner wall bolstered by a triangular piece of masonry, with its muted, weathered-plaster hues. Herbison translated the architectural detail's mass in simple geometric terms. Yet his beige and gray tonalities are as rich as the shape described is sparse.
Brighter colors hold sway in "Mail Slot" and "Wall Soup." In his artist's statement, Herbison notes that exterior city walls are like unprimed canvasses ready to be defaced with graffiti, handbills and colorful ads. "Mail Slot" is a 40-by-50-inch trompe l'oeil rendition of a Montréal postal aperture surrounded by serendipitous doses of words and color. The image is crimson in the lower right corner, yellow ochre at lower left, with bits of pink and cerulean blue framing the tattered words and phrases around the mail slot at the center of the composition.
In his artist's statement, Herbison writes: "'Wall Soup' is my final painting of this series. In it, I break away from my photographs as references and invent my own 'wallscape' through the use of mixed media." The work on panel is a bouillabaisse of collage, graffiti, stenciled images and passages of painterly color that combine to evoke the sights, and practically the sounds, of an urban environment.
As they progress from inkjet prints of unembellished photographs, to paintings inspired by the photos' poetry, to a majestic "wallscape" distilling an aesthetic journey, Herbison's walls become much more than barriers between inside and outside. They're icons encouraging us to stop and find wonder in things we walk past every day.