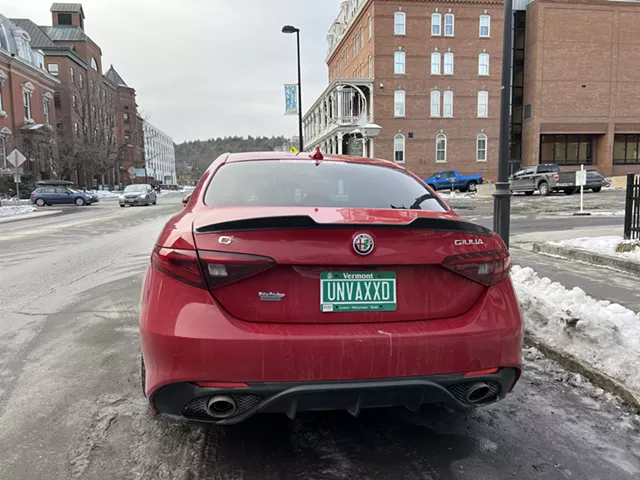 Courtesy of Kathy Hoffer
The Alfa Romeo was parked in Montpelier
Kathy Hoffer was in Montpelier for a lunch date with three friends on January 17 when she stopped to admire a shiny red Alfa Romeo that was parked on State Street.
Luxury Italian sports cars are rare in pragmatic central Vermont, where drivers tend to favor Subarus and pickup trucks, especially in winter.
"We all started saying, 'That's a really nice-looking car,'" Hoffer said.
The quartet looked closer and noticed that the car's Vermont license plate read "UNVAXXD," the term generally used to describe people who have foregone the COVID-19 vaccine or other inoculations. To the left of the plate was a small silver decal that read "White Privilege Edition."
The four friends started wondering about the car owner's motives and reflected on their own perspectives on vaccination, which became a political flash point during the pandemic. Approximately 80 percent of the U.S. population
has received at least one dose
of a COVID-19 vaccine. But for some of those who haven't, it's become a point of pride to let people know. Similarly, mask wearing has become a partisan issue of sorts.
The messages on the car weren't just about COVID-19-related concepts. The phrase "white privilege," which has become mainstream in the last decade, is often used to describe the unearned advantages of being a white person. Many on the left see it as a reminder of sometimes unconscious bias. But some of the right have derided the phrase, calling it "woke" or overstated.
"We began to think maybe this person was just making fun of everything we were so offended by," said Hoffer, who snapped a photo of the car and shared it with
Seven Days
. The four friends, she said, are vaccinated. She noted that there was also a "question authority" bumper sticker on the back window.
In a 2021 story, Seven Days wrote about the manual process of reviewing all vanity plate applications. In recent years, the DMV has rejected AZZKCKR, BOOBS, DEZNUTS, MILFYW and HELLYAH.
"There is no restriction [UNVAXXD] would fall into," said Shannon Fassett, chief of information and processing at the DMV.
The license plate and the "White Privilege Edition" decal demonstrate the way that Americans' partisanship has become more aligned with their identities, according to professor Bert Johnson, who teaches political science at Middlebury College. These days — as compared to the 1950s or 1960s — people are far more likely to say they'd be upset if their child married a member of the opposite political party, Johnson noted.
"People see threats to their party as threats to themselves personally, so in a way, it makes sense that they'd express themselves through vanity plates and decals, as with other such allegiances," Johnson said.
After noticing the Alfa Romeo, Hoffer and her friends waited for about 10 minutes to see if the owner would show up. They were curious to learn if their assumptions about the driver matched reality, she said. The driver didn't return in time, so the foursome went home.
If they had met the driver, "I don't know if we would have said anything," Hoffer said.