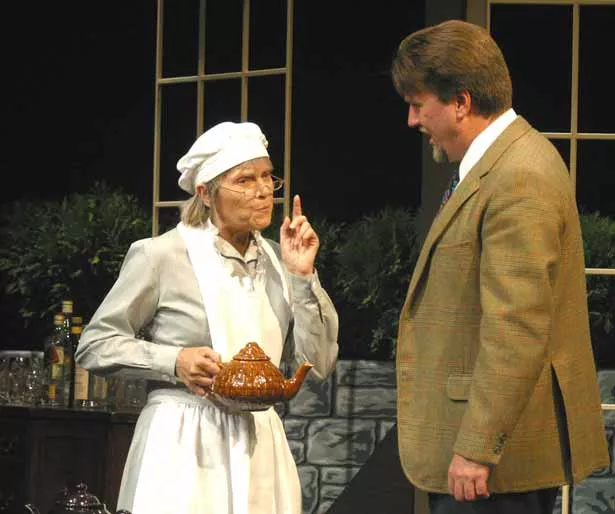 In class-conscious England, marrying for money is one way to get ahead. Murder is another. Janet Green unites these two unholy pursuits - Machiavellian matrimony and homicide - in her curious, little-known 1953 play, Murder Mistaken. George Pierce's Waterbury Festival Players took a stab at it, with mixed results: Some performances rose to the material's considerable challenges; others needed a little more steam to bring the drawing-room melodrama to its full potboiler potential.
The play is no Agatha Christie whodunit - the murder takes place on stage, in the first scene. Teddy Bare has married the much older Monica, heiress to her grandfather's mercantile fortune. They live in a sizable country house in rural Kent, served by Monnie's aged and slightly daft maid, Emmie. Teddy outwardly dotes on his oft-invalid wife. Of course, topping up her tea with Johnnie Walker probably isn't the best medicine. Teddy wants her to be comfortable, but doesn't focus on prolonging her life.
He doesn't think of ending it, either, until he comes home one day to find that Monnie has just met with her gruff lawyer, Philip. As Teddy's wife drifts into a boozy haze, she mumbles about changing her will. Teddy thinks he's about to be cut out, in favor of Monnie's sister Dora, who lives in Australia. He snaps, and quickly stages an "accident" scene for Emmie to discover, while making sure his alibi is airtight.
Monica was about to alter her will - to disinherit Dora and leave everything to Teddy. Because she dies before executing the rewrite, Teddy only gets a small monthly check from his wife's estate. Oops. Since he has no intention of returning to his working-class roots and getting a job, Teddy starts searching for a second wife.
Emmie has made out better, with a small lump sum from her mistress. Teddy cleverly manipulates the ancient servant into thinking Monica's bequest represents wages paid in advance, and gets Emmie to stay on for free. Meanwhile, he quickly snags his next nuptial target, Freda. His nerves, already frayed from mistakenly murdering Monnie, really short-circuit when he realizes he can't control the frank and frisky new frau.
When the even richer Charlotte literally crashes into the newlyweds' lives, the young, beautiful woman immediately piques Teddy's interest. Freda thinks her husband might throw her over for a "plumper bird." Bothersome barrister Philip keeps popping up to warn every woman within earshot away from the serial groom.
The madcap melodramatic dénouement has the subtlety of a freight train derailment: Storyline surprises and toxic emotions are strewn all over the place. In a Playwriting 101 class today, Ms. Green's teacher would pour a bottle of red ink all over the final scene. But there is a B-grade, film noir appeal to all the yelling, plot twists and stunning reveals. Masterful theater? Not really. Entertaining? Well, yes.
Comic relief is essential to a successful melodrama. The Waterbury production of Murder Mistaken gets it from Louise J. Mueller's performance as the doddering Emmie. Every time she set foot on stage, the audience laughed. She lent the shuffling, simpleminded servant a winsome charm that the other characters sorely lacked.
Mueller relieved dramatic tension with terrific comic timing and a repertoire of gestures and mannerisms that ranged from understated to deliciously over-the-top. She clutched absentmindedly at her apron and listened patiently with an aim-to-please smile, deferring respectfully to her superiors. But when Freda orders unwilling Emmie on a long car ride, Mueller convulsed with weeping and wailing to rival a 2-year-old's most tempestuous tantrum.
As Teddy, Michael LeMay had the meatiest and most difficult role. The playwright withholds most of Teddy's backstory until the torrential final scene. LeMay carried Teddy's unspoken emotions and conflicts convincingly throughout his performance. He used his eyes - sly, smiling, seducing, or furtive, fearful, fiery - to say what his dialogue did not. Particularly effective elements of LeMay's portrait included how palpably Teddy misses Monnie, how skillfully he manipulates Emmie and how energetically he takes control - and then loses it - during the climactic scene.
Of the trio playing Teddy's female targets, Monica Darrah, as Monnie, gave the strongest performance. Acting mostly from a chair, she showed both her character's "iron guts" and tender feelings for her husband. Darrah merely needed facial expressions - alternately hard and soft - to show Monnie dismissing her lawyer's insubordination or basking in Teddy's attention.
As Charlotte, Sarah Venooker cut a polished, if somewhat stiff, figure: tight chignon, square shoulders, jutting jaw. Although Venooker successfully made Charlotte's last-minute volcanic character shift, a flirtier, more relaxed initial portrayal would have produced more intriguing chemistry with Teddy and more believable jealousy from his wife.
Donna-Sue Hain's performance as Freda was a vast improvement over her grating, one-note Mrs. Otis in last year's Waterbury production of The Canterville Ghost. Unfortunately, Hain punctuated almost every line of Freda's dialogue with peals of garrulous laughter. This was particularly distracting in her Act I establishing scenes. In Act II, when Hain dialed down the guffaws, she showed Freda's steelier side. Silent actions carried more weight than words, as she cut into Teddy with cold, knowing stares and hot, unwelcome leers.
David Lagala played attorney Philip poorly. The lawyer knows Teddy killed his client; he's just waiting for the murderer to slip up so he can prove it. The paranoid role begs for a bit of campiness or scenery chewing. (We're in a 1950s English drawing-room melodrama, folks!) But Lagala read his lines flatly, and his stage presence reminded me of Steve McGarrett from "Hawaii Five-O" trying to function after being drugged by evil arch-nemesis Wo Fat. He looked sharp, but seemed inexplicably sluggish and dazed by his surroundings.
Director Pierce and crew, however, nicely rendered those surroundings. A pair of French doors, flanked by two large windows, opened onto a raised terrace with a low stone wall and evergreen hedge. This relieved the potential claustrophobia of a single-room, single-set play, and provided an additional route for entrances and exits. The drawing room was furnished simply - wing chair, settee, side tables - in warm burnt oranges and pale yellows. The costumes lacked the same thoughtful harmony of period, fabric and color, however. Particularly jarring were Charlotte's cotton jean jodhpurs.
The only production issue was the intrusion of traffic noise from outside. The playhouse sits on busy Route 2, and Pierce has planted trees to buffer the sound outside as he investigates acoustical options inside. Meanwhile, he has already made two substantial interior upgrades since last year's opening season: upholstered seats and heat.
The night I saw the show, hordes of muffler-challenged motorcyclists headed for Stowe did detract from Murder Mistaken's quiet, country-house tension. But not from Pierce's achievement: building a new theater from scratch, and bringing works with a twist to the stage.