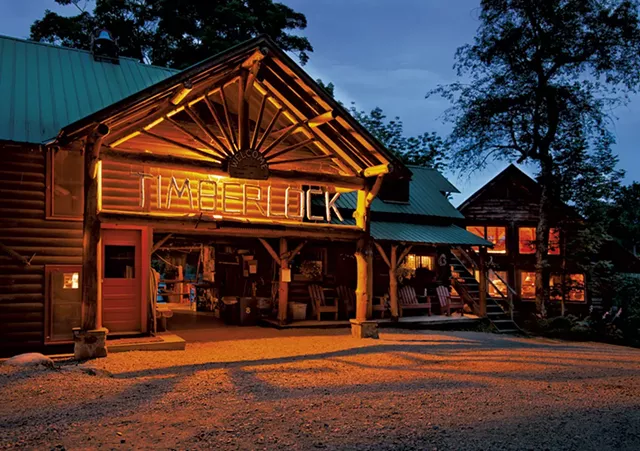 Courtesy Of Linked Ring Photography
Entrance to the Timberlock resort
I have a love/hate relationship with my smartphone. Oh, sure, my trusty iPhone XR is a grand and useful tool — basically a pocket-size computer with a badass camera that I use for everything from checking social media, news and weather to tracking my health, balancing my budget and, every once in a while, making phone calls.
But that's precisely the problem: I use it for everything. And I use it all the time. Just ask my girlfriend, who regularly needs to tell me to stop scrolling through Twitter at night and go the hell to sleep before my eyeballs rot.
Thanks to this borderline addiction, I find myself craving and appreciating phone-free moments, even as those moments become harder to come by. What I need are places where checking my email is simply not an option. Places like Timberlock.
Recently, said girlfriend and I ventured to the rustic resort in the heart of the Adirondack Park for a 24-hour getaway — and to meet Bruce and Holly Catlin, the Vermont couple who run it. The experience was, in a word, blissful.
Timberlock is among the oldest family resorts in the Adirondacks. The Catlins — including Bruce's parents, Dick and Barb, who bought the resort in 1964 and still help out when they can — are just the third family in 160 years to own the property. It's nestled along the southwestern edge of Indian Lake, surrounded mostly by preserved wilderness.
Shem Roose
Timberlock waterfront and lodge
While summer homes can be found miles away at the northern end of the lake, Timberlock's only neighbors on the south are a Quaker camp and the odd loon or bald eagle. It is quiet, remote and beautiful. And here's the best part: Aside from the main lodge, a sprawling structure of logs and stone, none of the accommodations at Timberlock have electricity ... or cell service.
That forced disconnect from the outside world is a selling point for the loyal guests who arrive in droves from places like Connecticut, Pennsylvania and New Jersey between late June and early October, typically booking weeklong stays at least a year in advance.
It hasn't always been that way. For most of its history, Timberlock lacked electricity simply because it was hard to run power lines that far. Only in the 1970s did the camp stop using an icehouse for refrigeration.
"It's sort of funny how that's switched around," Bruce said.
Timberlock suffers from no shortage of things to do. Traditional camp activities such as archery, horseback riding, tennis and hiking have always been draws, as have water sports such as swimming, sailing and water skiing. Yet, in recent years, the ability to genuinely "get away from it all" has become one of Timberlock's most important features.
"There just aren't many places left in the world like this," said Scott Dyer, a retired New York City lawyer and flight instructor who has been bringing his family to Timberlock for 30 years.
"It can be so hard to disconnect," Bruce explained. While he was speaking specifically of fast-paced life in the world beyond Timberlock, that rule holds true at the resort, too. Especially for newcomers, adjusting to a screen-free existence can take time, the Catlins said.
Vintage photo of Timberlock
Holly said kids typically struggle the most to adapt: "You'll see them be sort of fidgety for the first day or so, until they get acclimated and figure out that there's so much to do here."
Bruce disagreed. "I would say the kids seem to adapt quicker than their parents," he countered. "There's so much freedom here. The kids are our best salespeople." He's observed that adults often keep their phones with them the day they arrive, then wean themselves off by day three.
Though you can inquire about Timberlock via email, the Catlins — who live in Lincoln, Vt., in the off-season — only accept reservations by phone. "We like to talk to everyone first before they get here," Bruce said. "That way they know what they're getting into."
Even so, not every guest arrives ready to leave behind the luxuries of home.
Like most of the current staff, Liza Scher, a Colorado College student who runs Timberlock's social media feeds, has been working at Timberlock for several summers. She told a story of a past guest who struggled with submitting to the camp vibe.
Scher had gotten up early to prep breakfast. While puttering around the dining porch, she heard a strange whirring noise coming across the stone patio from the lodge — the only facility with electricity accessible to guests.
"I opened the door, and there was a very well-dressed woman blow-drying her hair," said Scher with a chuckle. "Her hair looked great, though."
My girlfriend and I had no such trouble letting go.
After some confusion about my car's navigation — even GPS is negligible around Timberlock, apparently — we arrived for our stay near lunchtime on a Friday. A friendly, college-age staffer loaded our luggage and cooler into a John Deere Gator and gave us directions to our cabin, where our gear would be waiting.
Dan Bolles
The view from the cabin
We followed a footpath from the lodge into the woods along the lake, past a string of other cabins and bathhouses. While some of the larger cabins have bathrooms (adult rate $1,380 weekly), most of Timberlock's 28 cabins and tentlets use shared "trail johns" ($1,032 weekly). Our small waterfront unit called Mallard had been recently built; it still had that piney "new cabin" smell.
It also had a comfy bed, a dresser, nightstands and an LED lantern — some cabins come equipped with propane lanterns and woodstoves. But the best feature was the screened-in porch, which afforded bug-free relaxation and views of the lake and distant mountains.
After settling in, we followed the call of the dinner bell to lunch on the historic open-air dining porch of the lodge. Guests receive three meals a day, prepped by longtime Timberlock chef Mary Benton Frasier and often featuring veggies from the on-site gardens. Two bells alert campers to each meal — the first is a 15-minute warning; the second signals it's time to eat.
After lunch, we explored and played. We plunged into a seasonably chilly Indian Lake via the rope swing at the end of a sprawling dock, then hung out on the large water trampoline that dominates the swimming area. As we lounged, two young children, a brother and sister, used the trampoline in a manner more in line with its intended purpose: gleefully trying to push each other off.
We dried off in the sun on two of several Adirondack chairs dotting the tiered lawn along the waterfront. We took a stroll to visit the horses, volleyed a ball back and forth on the tennis courts, and chatted pleasantly with other guests and staff. One group was a Vermont family celebrating a reunion — a common occurrence at Timberlock, we learned.
Bruce accompanied us on a leisurely late-afternoon cruise, telling us about the man-made lake's timber-industry history. As we trolled down a long, narrow inlet, I was struck by just how remote the area is. It reminded me of canoeing as a kid in Maine's Allagash Wilderness, another part of the country where moose and loons outnumber people by a significant margin.
When we returned to shore, it was just about cocktail hour. Drinking is allowed in cabins but generally discouraged in common areas, so we retreated to our cabin porch for chilled sparkling wine and a few hands of gin rummy. From the sound of it, we weren't the only campers with that idea. As my girlfriend trounced me at cards, we could hear idle chatter and clinking glasses from several nearby cabins.
Friday dinner is a big deal at Timberlock. It's the last night for most guests, so Frasier went all out with grilled steak. The staff presented cheeky awards to campers on paper plates, honoring them for everything from improved horseback riding to making it back alive from a long hike. The whole affair was jovial, if cut with the unmistakable melancholy of the last night of camp.
We ate with a group of longtime Timberlock guests, including Dyer and his family, who were honored that night for their 30-year run. But their tenure paled in comparison with that of another of our tablemates, Peter Spalding. The retired engineer might well be the camper with the longest history at Timberlock, even longer than Bruce's. Spalding has been coming, both as a guest and a staffer, since the 1950s; he still helps out with camp maintenance.
There's a second camp record Spalding probably holds, though it's unlikely to come with a paper-plate award. He met his first wife at Timberlock. After they raised a family and divorced, Spalding met his second wife at the camp, too.
"You could say I have a rather special connection to Timberlock," he joked with a bashful grin.
He's not the only one. Though we were only there for a day, my girlfriend and I were welcomed as though we'd been coming to Timberlock for years. The camaraderie and friendship of campers who meet up there year after year, then return to their separate lives, is well in evidence.
That warm feeling is mostly due to Timberlock itself, a marvelous throwback to a simpler era. But it might also be because of what happens when we unplug from the virtual world: We make real connections.