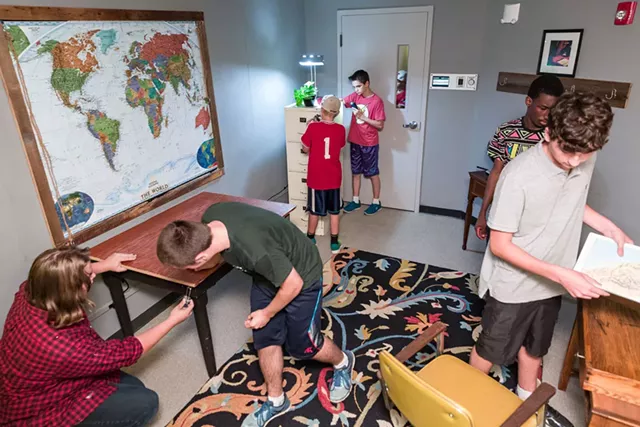 Oliver Parini
A group of students trying the Esc4pe room in Burlington
My palms are sweating. My pits are sticky, and my heart is racing. I'm in a Burlington basement holding a black light. There are ropes and rings, locks and keys, and riddles wrapped in mysteries. I strip off my gray sweater, anxiously eyeing a timer on the wall.
The color of my cardigan aside, this is no Fifty Shades of Grey fantasy. It's reality at 4 p.m. on a recent Friday afternoon on College Street, at one of Vermont's first-ever "escape rooms." (The other one is Escape Room 60 in Williston.) Called Esc4pe, the Burlington business promises a "live-action puzzle game" that traps players in a 250-square-foot room with a series of complicated, espionage-inspired riddles they must solve in 60 minutes to get out.
"It's a unique combination of a maze, a scavenger hunt and a play where you're the actor, but you don't know the plot yet," says Mike Garber, the 42-year-old entrepreneur who opened Esc4pe on June 10. "When some people first hear of it, they aren't sure what to think, but after people play, everyone gets it."
Invited to experience Esc4pe, I have no idea what to think, either, but I know which friend to recruit: my former adventure-racing partner, Tyler. We once spent 26 hours lost in the Sierra Nevada mountain range and still managed to cross the finish line in second place. If we could get ourselves out of that mess, I figure, we can escape the Esc4pe.
Our game begins at 3:45, but we show up a few minutes early to sign waivers and descend into a dungeon-like space where we meet our team: a gang of four 14-year-old boys celebrating a birthday. They're even more excited than I am, wearing beanies and bouncing off the walls of the darkened entryway.
"You guys are going to make a good mix," Garber says, "because you and Tyler are going to bring a different set of skills to the room than these guys."
My skill set, I will soon discover, is seriously lacking. But first, Garber ushers the six of us into a bank vault that serves as the waiting room and post-escape photo booth. Dimly lit and decorated with black wallpaper patterned with safe-deposit boxes, it's been set up to "increase the anxiety" before a game of Esc4pe begins, jokes Garber.
The escape-room craze began in Japan and raced across Eastern Europe before crossing the pond to the States. Garber, who grew up in Vermont, was living in Raleigh, N.C., when he first got wind of it. "Ten minutes into my first game, I was hooked," says the former project manager. "I had gone in by myself and was matched up with eight strangers, and we were all working together frantically, having the kind of fun I remember from recess in grade school."
Setting up the Queen City's only recreation venue that rewards brains over brawn or beauty was a no-brainer for Garber. He's quick to credit the involvement of the creative minds at Burlington's Generator maker space, who helped him find makers to build the first room, offered advice and inspiration on building the lobby, and spread the word about the opening.
The second escape room in Williston has helped raise the profile of both venues in Chittenden County. Social media has also given Esc4pe a boost; Rich, the father of birthday boy Felix, says Twitter tipped him off.
Rich isn't playing, but he and his wife, Bella, linger to watch an introductory video with us. "You are about to enter the Gauntlet," says a creepy voice from the screen, then it warns us not to touch electrical outlets, fire alarms or security cameras mounted in the escape room. "The only muscle you need is between your ears. The door is not locked. If you need to exit, feel free to do so. Please do not have a panic attack. Do not give away specifics."
So I can't give away specifics. But I can say that the six of us soon find ourselves in a room filled with maps and spy-related encrypted communications. And we all immediately have panic attacks, bumping into one another as we start ripping the place apart for clues. I even find myself turning into a 14-year-old boy as my competitive side kicks in and I envision us escaping in record time.
"OK, guys, before we start tearing the room apart," says Tyler, the voice of reason, "let's organize our thoughts."
Bingo. With a loose plan formulated, we find our first clue with 55 minutes left on the clock. Black light in hand, a boy named Ramsay pipes up: "We learned this in social studies last year!"
His nimble mind continues to serve us well over the course of the hour, while Felix and Enzo use their height and hyped-up energy to discover more hidden pieces of the puzzle in odd places. The fourth boy, Declan, monitors the clock, urging us to push a button that will display a hint on a small computer screen. It's a scenario that suggests a meeting of "Lost" and the lifelines on "Who Wants to Be a Millionaire?"
Our spirits inflate and deflate faster than birthday balloons as we discover red herrings and dead ends. Forty-two minutes remain, then 33. I decide my puzzle-solving abilities are locked back in my car or somewhere else I can't find them. So when I spy a tiny cigar case from Cuba, my clue to the next riddle, and know the answer, I'm euphoric. Tyler puts on 3D glasses, and we all have a laugh at his appearance.
There are 11 minutes left on the clock — and then two! We're wringing our hands in frustration, still unable to finalize the code that will release us from the room. I'm wondering what will happen next.
Without spoiling the surprise, I'll reveal the best part: Garber's kind words as he greets us afterward. While we didn't manage to release ourselves, "You guys brought a lot of energy, a lot of good teamwork and great communication to the Gauntlet," he says. Garber adds that the record time for solving this particular room, of the 150 groups that have tried so far, is 34 minutes — with no hints.
"It takes the whole spectrum of intelligence," says Garber, who crafts the puzzles himself. "The processing power of five or six human minds working in sync is something to behold. But I've had MIT graduates in here who couldn't escape because they were overthinking everything. I've had families three generations wide, all playing together and acting in interesting ways together; Grandpa remembers the war, and kids are wandering around finding the clues. Everyone seems to like it."
Indeed, the six of us are elated after the experience, all agreeing we'll come back to try Esc4pe's two other rooms, which are currently in development. I ask Felix how Esc4pe compares with his past birthday parties.
"Well, I went bowling once," he says. "This was way more fun."
Adds Declan, "This is definitely not chillax like bowling."