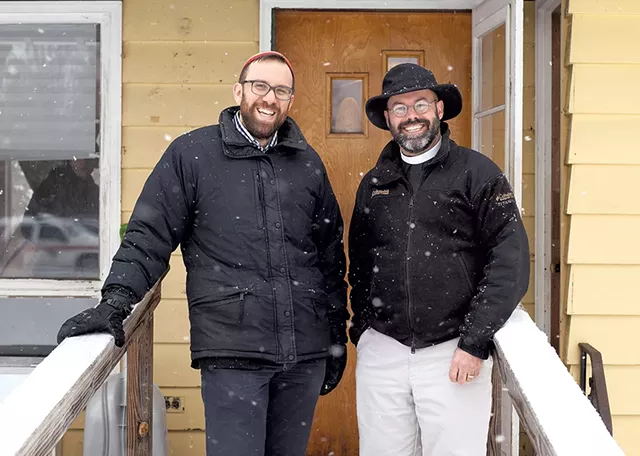 Jessica Ojala
Rabbi David Fainsilber (left) and Rev. Rick Swanson
An improbable alliance of religious leaders, law enforcement officials and volunteers quietly opened Lamoille County's first homeless shelter. The sheriff's department owns the Yellow House in Hyde Park, and a band of volunteers and sheriff's deputies has been staffing it since the first frozen weeks of February.
The shelter isn't getting any government funds or charitable donations; in fact, it hasn't been officially "approved" by the town. But the Yellow House has hosted a steady stream of guests this winter, proving what shelter organizers have been saying for years: Lamoille County, which includes the tony town of Stowe, has a significant homeless population that needs a safe place to stay in the winter.
The number of people without housing in Lamoille County swelled from 22 in 2016 to 64 in 2017, including 34 children, according to an annual survey by the Vermont Coalition to End Homelessness. But the closest shelters were more than an hour away, in Burlington and Vergennes.
Organizers tried without success for three years to open a permanent shelter in nearby Morrisville. They concluded that it's easier to beg forgiveness than to ask permission and opened the Yellow House with little public notice.
"It's a 'Let's just do this' approach. Enough is enough. There simply can't be families and individuals out in the cold anymore," said Rabbi David Fainsilber of the Jewish Community of Greater Stowe. "I appreciate all the questions and concerns people may have. And yet, at the end of the day, I personally have to ask myself, Did a family stay out of their car and have a warm place to stay?"
Organizers such as Fainsilber envisioned Yellow House as a winter-only endeavor. The Hyde Park planning and zoning offices gave the shelter temporary verbal approval before it opened, according to backers, but will spend the coming months mulling over whether to grant official permits. No hearings have been scheduled.
"I'm hoping it's not a battle. But if it is a battle, I'm committed, because the interfaith community is, too," said Sheriff Roger Marcoux Jr., a key backer of the project.
The Lamoille Valley Housing and Homelessness Coalition had long sought to start a shelter in Morrisville; the largest community in the county, it already offers some social services. But in various public meetings, residents expressed concerns that a safe haven for homeless people would attract outsiders and alcoholics, harm downtown revitalization efforts, and pose a threat to a nearby childcare center.
"It's definitely been a struggle," said Sherry Marcelino, a manager with Lamoille County Mental Health. "It's been pretty frustrating trying to educate the community on what the real need is. It goes back to people not being fully aware of the problem and not wanting it in their backyard. People tend to see the face of homelessness as a drug addict or a dirty person."
Part of the problem is the nature of rural homelessness, according to shelter advocates. In Burlington, the itinerant people who congregate downtown are highly visible. But the homeless in Lamoille County tend to live out of sight in an unheated camp in the woods, or in cars, so residents don't appreciate the size of the population. On the coldest nights, they rely on Vermont's emergency housing voucher system, which pays for overnight stays at participating motels and hotels. But empty rooms are in short supply, especially during peak ski season, and the program makes it difficult for children to stay enrolled in the same school for any length of time.
Backers finally abandoned their effort to open a homeless shelter in Morrisville near the end of last year. Then, in late December, temperatures plummeted to minus-25 degrees, and Rev. Rick Swanson of Saint John's in the Mountains Episcopal Church heard that people were sleeping in tents in the woods.
Swanson opened the doors to his Stowe church. One man came in from the cold and spent several nights sleeping inside, by the altar.
The brutal temperatures were forecast to last for days, and Swanson knew others were at risk. So he began calling area religious leaders for help, and an ad hoc, movable shelter network was born. The United Church of Johnson, the Second Congregational Church of Hyde Park, and the Jewish Community of Greater Stowe all took turns housing people.
But most of their facilities lacked showers and bathrooms. The advocates needed a lasting solution.
Religious leaders reached out to Marcoux, the longtime sheriff, who is elected to his post and enjoys broad discretion in setting program and budget priorities within his jurisdiction. Marcoux wasn't just cooperative; he offered to host the shelter.
The Yellow House is part of a complex of abandoned buildings across the street from the Lamoille County Sheriff's Department in Hyde Park village. The department bought the cluster in 2014, and Marcoux turned one building into his department's garage and storage room. He had contemplated leasing another — a 2,600-square-foot home with yellow siding — to a law firm or accounting shop but hadn't yet secured a tenant.
The heat was on and the water running when Marcoux offered it, free of charge, as a winter refuge for Lamoille County's homeless. To head off any potential community concerns about safety, he pledged on-duty deputies would regularly stop by. The sheriff acknowledged the potential conflict created by sending cops to assist homeless people who might be in legal trouble. But Marcoux said he doesn't plan to conduct background checks or to arrest any guests.
File: Stefan Hard
Sheriff Roger Marcoux
"I'm in the business of protecting the public, and I feel like I'm doing that," Marcoux said. "Why are people living in cars when I've got a house I'm heating?"
The shelter project is related to another of Marcoux's unlikely initiatives. As Seven Days detailed in 2016, Marcoux hired "high risk" sex offender Tim Szad as a contractor. The sheriff saw an opportunity to keep an eye on Szad, who was homeless after his release from prison, and help him readjust to society. Szad helped rehab the Yellow House.
Hyde Park residents don't appear to be complaining. When Marcoux gave a brief overview of the independent initiative at Town Meeting, he received a sustained round of applause, according to several accounts.
With the building and security in place, the religious groups — seven have signed on — set out to find volunteers. At least one individual hosts anyone who shows up in the evening, an average of about six guests per night. Others drop off dinner and supplies. Guests have to leave by 8 a.m. but can eat a hot breakfast, prepared by other volunteers, a short drive away at the United Community Church of Morrisville.
On a snowy evening last week, cots and blankets lined the walls of the Yellow House. Toy trucks were parked on the floor. A table with a red-checked cover offered mounds of baked ziti with meatballs — and salad.
Malcolm Manning peered out a window waiting for a family of five to arrive. Before they came to the shelter, the couple and their three school-aged kids had been living in their Chevy Suburban, according to Manning. They'd already stayed a few nights.
Manning, a retired contractor, said he learned about the Yellow House from a friend of a friend. Although he's not affiliated with a church group, he said he had extra time on his hands and wanted to do something meaningful. He started volunteering one night a week, then upped it to three.
Manning, 66, said he spends most of his shifts reading historical novels. But he occasionally chats up the adults and tries to play with the kids who stay over. When some guests complained about a weak wireless internet connection at the house, Manning dug into his own pocket and bought a wireless booster.
"I try not to talk about what their problems are," Manning said. "But to do it with kids ... I just don't know how they do it."