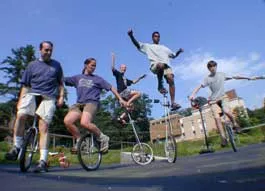 Everybody loves the death-defying, sword-swallowing unicyclist who juggles flaming torches as he glides across a tightrope. But only a select few freaks want to be that guy.
Esoteric skills attract me like a turbo-charged tractor beam. And unicycling, unlike some of my other quirky pursuits, results in an impressive array of scrapes and bruises. They make me look tougher than I am while serving as convenient conversation starters.
Imagine the following interaction, which actually took place: "Wow, Cathy, what happened to you?" A passing acquaintance had noticed the streaky red scrape on my right knee. "Oh, nothing, really, I was just out riding my unicycle and I fell…" "You ride a unicycle? That's so cool!"
Of course, the people who think you're really cool for riding a unicycle are also the ones who think you're cool if you speak Klingon or play competitive Scrabble. But if these are your people, as they are mine, you might want to try unicycling.
You can certainly learn to ride on your own — many people do — but it's quicker and less frustrating if you find a more experienced unicyclist to teach you.
Trouble is, it's not easy catching up with the one-wheelers. I found only a handful of unicycles in bike shops scattered around northern Vermont, and even fewer people who knew much about them. I called the Burlington YMCA to ask if they had classes. The guy who answered the phone laughed. I tried Circus Smirkus but was politely informed that they only teach kids. "How old are you?" inquired the receptionist, "if you don't mind me asking."
I checked the Fletcher Free Library — no books about unicycling. Searching the Web, I found a Williston Unicycle Club, but for some inexplicable reason they don't meet in the summer.
The Web site for the Uni-cycling Society of America turned out to be the most useful resource around. It offers advice on how to learn to ride, the pros and cons of different brands and a history of the unicycle. It is most likely a descendent of the penny-farthing bicycle of the 1800s, with one large and one small wheel.
The site also lists an informal, incomplete list of daring unicycle feats. Unicyclists have parachuted out of planes, bungee-jumped and rode down the stairs of the Eiffel Tower. One couple, Sem and Teresa Abrahams, rode unicycles during their wedding, along with the best man, maid of honor, father of the bride and the officiator.
The USA site also provides a handy state-by-state unicycle roster. I registered, wrote a few introductory e-mails to local unicyclists, and waited for a response.
Meanwhile, I bought my first unicycle, a Tiawanese Savage, with a 20-inch wheel. The USA recommends a 20- or preferably a 24-inch wheel for beginners, but a 20-inch was all they had at Ski Rack in Burlington. Most bicycle shops apparently stock one or two unicycles, just in case some wingnut like me comes looking for one. Remar-kably, most of the local cycleries were sold out. Those less pressed for time can special-order a uni, or pick one up on the Internet.
Walking out of the bike store onto Main Street, I marveled at my $100 purchase. The black plastic seat felt firm yet forgiving. The chrome frame sparkled. The yellow pedal reflectors flashed in the afternoon sun as if to say, "Someday you may be able ride this unicycle in nighttime traffic."
Shortly after bringing my uni home, I received an e-mail from Joe Crosby of Burlington. A 45-year-old IBMer, he started riding a uni after his kids bought him one for Father's Day four years ago. He doesn't do many tricks, but he can juggle — on solid ground, that is. Mostly he rides for exercise, tooling around on the bike path and Ethan Allen Parkway a few times a week.
"I get a big kick out of hearing various questions and comments," Crosby says, "the most common being, 'Hey, what happened to the rest of your bike?' Or 'Aren't you missing something?' One kid asked me quite frankly, 'Wouldn't it be easier with two wheels?' 'Yup,' I answered, 'but that would be too easy!'"
After I set a uni date with Crosby, a friend suggested I contact Kienan Novak. Novak is a 15-year-old sophomore at Mt. Abraham Union High School in Bristol who is renowned for riding his unicycle around town and in the school hallway between classes.
Novak was psyched to participate in a uni jam session with me and Crosby. He asked if he could bring Torrie Round, his teacher, and Jesse Smith, a 15-year-old Bristol uni pal who likes to buzz through his campus at Proctor Academy in New Hampshire.
The link to Novak turned out to be a lucky one. Our session took place on the tennis courts behind Rock Point School in Burlington. When the Bristol three arrived, each rode a 20-inch unicycle down the grassy slope toward the tennis court. This alone is a difficult feat, but each of them was also pushing a second uni. Novak and Round brought two six-foot-tall unis, and Smith pushed Novak's 28-inch "distance cycle." Within minutes, Novak was riding one of the big ones. Round sat on Novak's shoulders juggling three multicolored clubs while Smith did laps on the distance cycle.
Crosby had arrived earlier and was giving me pointers. But when the other three arrived, I noticed a funny gleam in his eye. Like me, he has only one 20-inch uni. When Round started giving me a lesson, and Smith took a turn on the six-footer, Crosby hopped onto the 28-inch and flew around the tennis court.
Novak nodded his head. "Cruise, man!" he yelled. Crosby's voice Dopplered as he passed us by. "I love this!" he exclaimed. "This'll be my next one!"
After almost a week of mounting and falling off my uni, I was ready for a lesson. Round claimed he learned how to ride a unicycle in 15 hours and could teach most people in three. Wiry and energetic, the 30-year-old unicycle instructor trotted alongside me like my own little Yoda while I wobbled along the pavement. I steadied myself by resting my left hand, palm down, on his right hand, palm up. He didn't offer much balance, but it helped to have him there.
After a short while he assured me that I would be fine on my own. He was so encouraging that I almost believed I could stay aloft by will power alone. "You don't even need me," he said. "Just let go and ride."
Bolstered by his confidence, I lifted my hand from his. Almost immediately my foot slipped on the pedal and I lost my balance. My unicycle flew forward. I toppled backwards in slow motion like a drunken college freshman and landed on my ass.
Round seemed genuinely surprised. "That hardly ever happens," he told me before suggesting we try again. Then he offered some advice: "You're not getting off soon enough," he said. "There's a point where you're just not gonna be able to stay on. You have to hop off."
Despite my ugly fall, I was eager to climb back on. With Round's help, I actually rode more than a few feet before falling.
Round, it turns out, teaches unicycle classes through the Bristol Recreation Department, and sometimes goes by the name of Cracker the Clown. He and Novak also do workshops in schools. An athletic kid who works construction in the summer, Novak seems able to perform almost any trick that Round suggests.
Uni riding has an official 10-level rating system. Level One riders, for example, should be able to mount the uni unassisted, ride 50 meters and dismount gracefully with the uni in front. Novak can do everything on the Level Five List — demonstrate five types of mounts, ride one-footed in a figure eight, go forward by walking with his feet on the wheel for 10 meters while sitting on the seat, etc.
The one stunt he hasn't perfected is riding the uni in a circle slanted, with the seat to the side. "How do you do that?" he asked incredulously. "Let's work on it!" said Round, and I get the sense that Novak is not far from Level Six.
I identify with Crosby — what he likes most about unicycling is the challenge. "Every time you get on it, you feel like you can do better," he said. "It's a sense of accomplishment. There's no limit to what you can do."
That same sense of possibility roused me as I lay sprawled on the asphalt after my fall. Even though my right wrist was sore and my ankle painfully bruised, I got up, brushed the tire tracks from my shins, and got back on the unicycle. I want to be one of the guys. I want to zoom around like an idiot on a one-wheeled contraption that could conceivably get me killed.
And if this doesn't work out, there's always competitive Scrabble.