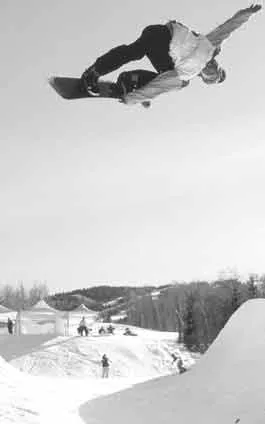 My shallow breathing shows I'm nervous. Maybe not "waiting for a medical diagnosis" nervous. More like "blind date" nervous. I have been snowboarding for a few years, but this is my first time in a halfpipe, nevermind a Superpipe. I'm facing my day at the new Killington facility with a head full of waffling thoughts, starting with Maybe this was a bad idea…
I attempt to gain some focus as I watch a kid pendulum down the 17-foot transitions from side to side. He pumps his legs through the flat section to gain speed, then propels himself airborne into a 540-degree spin, landing backwards with relative ease. (Maybe I should have worn a helmet…) The longer I sit here at the top looking down, the less likely I am to go. (My ass is freezing…) I sit on my mittened hands to delay the inevitable. The 540-degree kid has now finished and hiked back up again. I swear he has ridden and hiked three times since I got up here.
"Any pointers for a rookie?" I ask him.
"You gotta stay low, man. And speed is your friend," he replies.
I mutter something about feeling pretty low already, and needing to find new friends, as I squirm to regain sensation in my squished hands. I close my eyes and try to muster some courage.
Killington, dubbed the "Beast of the East," began this winter season by swelling their traditional halfpipe into what the riding realm calls a Superpipe. Both are shaped, as the name subtly suggests, like the bottom half of a large pipe cut in two. The Superpipe is simply a big-daddy version of the original. While old-school pipes are generally 12 feet high, a Superpipe stretches 15 feet, boasts a quarter-radius of 17 feet — known as the "transition" — and generally extends about 400 feet in length. Basically, it offers an arena for riders to mimic the action of a slippery bar of soap in a well-rounded bathtub.
Generally credited with the invention of the first larger-than-life pipes a few years ago, Canadians Allan Clark and Greg Todds apparently felt the tricks being attempted in Whistler were beyond the scope of their current pipe dimensions. Killington joins Okemo, Stratton, Mount Snow and a few other Vermont resorts in staying au courant with the snowboarding scene. Top riders will only compete on Superpipes nowadays. Professional snowboarders — like world-class Vermont rider Ross Powers — now need more speed and space to execute their tricks. The new, bigger pipes offer more potential to land super-dupers like 900s (three rotations) and Rodeos (inverted spins).
Right now, I'm struggling just to make myself get into the thing. I try to breathe deeply as I stand up and enter the monster pipe. (Stay low, speed's your friend…) My speed increases suddenly as my board drops sharply into the belly of the beast. I quickly cross the flats. My snowboard careens up the opposing wall and my body drops to a perpendicular position. Adrenaline courses through me. The top of the 15-foot wall curls in slightly, as do my toes in anticipation of the unknown. Before I know it, I'm heaved into the air — with a dizzying assault on my equilibrium. For an instant, I'm hovering horizontally above the lip of the pipe wall, my back to the ground.
Truth be told, I don't usually take risks without a little research. I had taken a ride earlier in the Snow Cat with Eric Webster, Killington's Snowboard Program Manager, to learn more about what I was getting myself into today. He told me about their new Bombardier HPG-17 as he pushed more snow into place. The new $60,000 Pipe Dragon "grinder," Webster explained, was purchased to help maintain the Superpipe. I drifted off into a reverie, imagining this mammoth mechanical dragon as an X-Wing Fighter from Star Wars. Snowboarders turned into Stormtroopers, speckling the winter landscape, equipped with backpacks full of gear and thin land speeders, used with cold precision.
Webster tugged me from my daydream. "A common misconception is that Superpipes are tough to ride and are geared toward riders with highly specialized skills," he explained. "In actuality, most halfpipe riders can reap benefits from the Superpipe." The huge walls and open transition offer more safety features as well as speed, according to Webster. The extended walls create a larger "sweet spot" for landing, and greater space to ease the falling rider. Killington will shovel out an additional $40,000 in machine time, wages, fuel and manmade snow to sustain Superpipe integrity. The 120 machine hours of "snow farming" create piles of potential for seasoned veterans and newbies alike.
Which gets us back to my transition phase. Here I am, "floating" in the sun, feeling anything but warm and light. Waiting for a reaction from my body, my thoughts hurl ahead: I am going to fall. This is going to hurt. My head and my feet are at about the same level, creating a lack of awareness — sport gurus call it "proprioception" — of my position in space. I'd call it "inaproprioception" right about now. My shoulder turns slightly in the right direction to avoid disaster. My snowboard somehow finds its way around to point down the transition. My hands, feeling a little helpless, begin to reel — a phenomenon riders aptly call "rolling down the windows." My gaze turns back down the pipe slope as my gut tries to find its place. That "blind date" anxiety has now turned to "first kiss." (It looks so easy on TV…)
With a final jerk, my body comes into alignment. I'm on solid "ground," my feet underneath me and all appendages in good working order. Just like that, I've done it. My whole body fires with exhilaration. The next wall looms straight ahead.