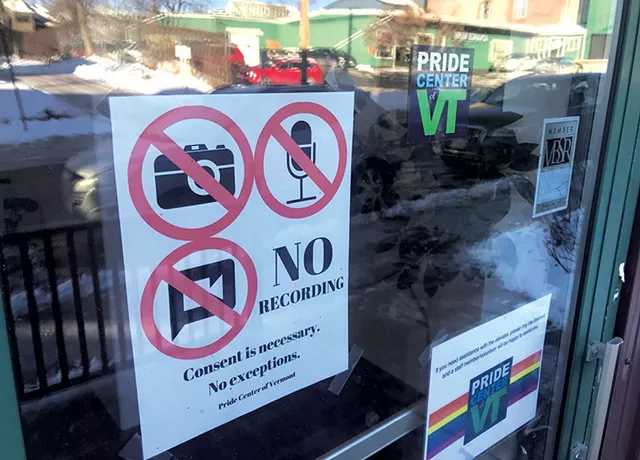 Taylor Dobbs
Sign on the door of the Pride Center of Vermont
Marcus wasn't expecting to go viral when he showed up to an October meeting on transgender health care at the Pride Center of Vermont. But in the months since, hundreds of thousands of viewers have seen his face — and those of a dozen other transgender Vermonters — in a searing video attack posted online by a conservative provocateur.
The video has Marcus and other attendees fearing that they could be outed against their will to family, friends and coworkers — imperiling their livelihoods and, perhaps, their safety.
"Who's going to know, and what they're going to do with that information, you have no idea," said Marcus, a trans man who declined to provide his last name for fear of jeopardizing his career. "Being exposed like that, the only word I can really use is 'devastating.' It shakes you to your core."
The 14-minute video includes footage shot surreptitiously by right-wing activist Steven Crowder, his wife and two associates, all of whom posed as members of the LGBTQ community to infiltrate the meeting at the Pride Center's Burlington headquarters. Titled "UNDERCOVER: Transgenders ACTIVELY Targeting Children and Medicaid!" it uses selectively edited clips to establish an unsubstantiated narrative that transgender activists are improperly using Medicaid to pay for gender reassignment surgeries and other treatments.
"This whole meeting is about how to get taxpayers to pay for their surgery. Most of these people are completely unemployed," Crowder says in an enthusiastic voice-over. "Free hormones, breasts and vocal coaching? What's next? Demanding taxpayer-funded electrolysis?"
While Crowder isn't exactly a household name, the 30-year-old Canadian American has established himself as a prominent culture warrior since landing a gig as a Fox News contributor at age 21. After parting ways with the network in 2013, he turned his attention to online screeds with such titles as "REBUTTAL: Bill Nye's 'Gender Spectrum' Bullcrap!"
His show, "Louder With Crowder," is available through the subscription-based conservative video network CRTV, and his free YouTube clips reach 1.1 million subscribers. The video he filmed at the Pride Center has racked up more than 700,000 combined views on YouTube and Facebook.
Crowder did not respond to repeated requests for an interview.
"Some of his stuff is funny, some of it's not, but he's got his shtick, and he's got an audience," said Bradford Broyles, a Republican operative and filmmaker who splits his time between Vermont and Los Angeles. "This is red meat for his audience, where he's gonna go, 'Look at these transgenders up in Vermont.'"
True to his brand, Crowder's narration describes the Pride Center meeting in a harsh, mocking tone. He makes no apparent effort to follow ethical standards of filmmaking or journalism. Crowder's sensational title isn't supported by the footage, which mostly consists of participants discussing how transgender individuals can access the American health care system.
Perhaps the closest he comes to revealing anything untoward is a brief interaction between his wife — posing as a cisgender lesbian seeking Medicaid coverage of breast-enhancement surgery — and Pride Center interim executive director Rex Butt.
In the video, Butt suggests to Hilary Crowder that she see a "trans-therapist" about her situation, "'Cause they know how to finagle what they write in the way of a script, saying, 'This is what's needed, and here are the reasons why.'"
In an interview with Seven Days, Butt said he would have chosen his words differently had he known his response was being recorded, but he said he was simply trying to help someone who approached him seeking support.
"If you're talking to people who are struggling to try and understand how they can get what they need in the way of services, you speak in ways that matter to them," he said. "The bottom line is, what I should have said is, 'The way the diagnosis is presented is what provides the possibility of coverage.' That's true of any diagnosis."
As for the underlying premise of Steven Crowder's video? "The argument that trans people are trying to defraud anyone is an absolute joke," Butt said.
One attendee who asked not to be named, citing fears of being outed, said Crowder's stunt was far more sinister than its ostensibly lighthearted tone would suggest.
"He wants us to be afraid to come together and learn and help each other. He wants us to be afraid to exist," the attendee said. "He's just trying to bully us out of the public."
The Pride Center has long prohibited the recording of meetings and events, specifically so that no one seeking services or support will be outed for doing so. That policy didn't stop Crowder, and, according to the Vermont Attorney General's Office, the Pride Center has little leverage to do anything about it.
Vermont is a "one-party state," meaning it's legal to record a conversation with the permission of just one participant — in this case, Crowder.
"The video was obviously objectionable, and it was inappropriate, but ... we didn't identify any criminal laws that were broken," said Assistant Attorney General Julio Thompson, who directs the AG's civil rights unit. "From the video, it appeared that all of the conversations were in a public setting, so we didn't identify any public statute that would outlaw those recordings."
The only remedy, Thompson said, would be for Vermont to require all parties to a conversation to consent to its recording, as is the case in roughly a dozen states.
"It's unfortunate and ... inappropriate, particularly when we're talking about communities that, for a long time, have struggled to gain dignity in our society and equal recognition in our society," Thompson said of the video. "People can talk about political viewpoints without being deceptive or resorting to personal ridicule."
Having no apparent legal recourse, the Pride Center reported the video to YouTube as a privacy violation and requested that it be removed. But that process can be slow and only addresses one of many online platforms.*
Crowder's video is part of a larger trend, popularized by the conservative agitator James O'Keefe, of using heavily edited hidden-camera footage to "prove" some form of wrongdoing and discredit individuals and institutions. Notable targets of such attacks have included the community organizing group ACORN, Planned Parenthood and, most recently, the Washington Post.
Local organizations such as Planned Parenthood of Northern New England have taken steps to protect themselves from such tactics, according to Lucy Leriche, the organization's vice president of public policy for Vermont. She would not reveal precisely what those security measures entail.
"I can just say generally that this is something we've been forced to examine internally and to think about putting processes in place to help ensure that whatever information is going out there about Planned Parenthood, that we do everything in our power to make sure that it's accurate," she said.
Leriche acknowledged that hidden cameras have been used to reveal true wrongdoing and have led to accountability and positive change, but she said videos such as Crowder's cross a line.
"The distinction [in] my mind is deception," she said. In the videos targeting Planned Parenthood, Leriche added, "The intent there was to fabricate a story, fabricate images, fabricate a reality that did not exist."
Since Crowder's video went viral, the Pride Center has contacted each person who attended the October event, Butt said. The organization has also reinforced and formalized its no-recording policy. A new sign posted prominently on the center's front door informs visitors that recording of any form is prohibited inside. Event facilitators at the center are being trained to avoid similar incidents in the future.
The key, Pride Center members say, is to balance that response with the need to remain welcoming.
"We don't check people's trans cards at the door," said the participant who requested anonymity. "We can't go full George Orwell and just police our attendees, because that would defeat the entire purpose of the event."
Though hundreds of thousands of people have viewed Crowder's Vermont video, it has received little attention within the state — and the Pride Center hopes to keep it that way. The organization protested Seven Days' decision to write about the incident.
"Anybody can google this video, watch it and see the people who were there," Marcus said. "And I hope the readers of Seven Days respect us enough not to do that."
He said the video's publication in November was painful enough as it was. "Then to tear open that wound again, and be exposed in a way that I did not think I was going to have to be exposed, is pretty devastating," he added.
Despite Marcus' objections to further publicity of the video, he said he hopes the incident will foster a better understanding of the problems transgender Vermonters face every day.
"I want people to understand that this can be prevented," he said. "Maybe not this specific kind of [hidden-camera] event, but if you quash transphobia, if you quash trans-misogyny in its tracks, then my community — no matter how small you think the reaction is — my community benefits from it."
While Pride Center members fear Crowder's sting could drive transgender Vermonters underground, a subsequent event in November drew a large turnout.
"We are moving forward and doing the best we can to power through this terrible situation," the unnamed participant said. "We're not sitting around shaking about what happened. We are making plans to keep existing — keep helping other trans and gender-nonconforming people exist — and we're not going anywhere."
*Update, December 20 at 10:36 a.m.: Shortly after this story went to press, YouTube complied with the Pride Center's request and removed the video, writing that it violated the company's terms of service.