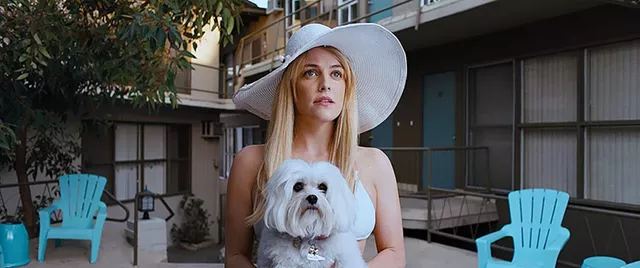 BARK CITY Keough plays the dog-loving object of a wannabe sleuth's obsession in Mitchell's hyperreal LA noir.
We ran short of theatrical releases last week, so I opted to see a streaming movie that never hit Vermont multiplexes. And we have a theme. If Once Upon a Time ... in Hollywood memorializes a bygone Los Angeles, Under the Silver Lake (now on Amazon Prime and other platforms) is about LA right now. At the same time, this third film from writer-director David Robert Mitchell is about every LA noir movie ever made.
Mitchell broke out with It Follows (2014), a restrained, artful horror film about paranoia. His follow-up, which premiered at the 2018 Cannes Film Festival, is rambling, overlong (at 140 minutes) and decidedly not a horror film. Starring Andrew Garfield as a deadbeat attempting to solve a nebulous mystery, Under the Silver Lake suggests The Big Lebowski without a likable protagonist. It drags. Viewers willing to stick it out, though, will be rewarded with at least one award-worthy setpiece and a weird-ass denouement that's hard to forget.
Garfield's character, Sam, lives in a Silver Lake apartment from which he's on the verge of being evicted. Two running jokes tell us most of what we know about him: First, every acquaintance he meets asks if he's "working," yet the most work we ever see him do is scoping out girls from his balcony. Second, he stinks — literally, thanks to a skunk encounter, and often figuratively.
Sam rouses himself from his torpor long enough to pursue a stunning neighbor, Sarah (Riley Keough), who is shot and scored to recall the dangerous blonds of Vertigo and Body Double. She teases him, then vanishes. Convinced that Sarah's fate is linked to the enigmatic death of a billionaire (Chris Gann), Sam lurches into conspiracy theorist mode. But the more clues he chases, the more the mystery spirals outward, soon encompassing a reclusive zine maker, a dog killer, a naked assassin in an owl mask, a band called Jesus and the Brides of Dracula, and a character who introduces himself as "the Homeless King."
Mitchell sets an absurdist, quasi-parodic tone early on with a scene in which a squirrel goes splat on the pavement before Sam's eyes; a dolly zoom conveys his horror with comic overkill. Vintage noir pioneered these tropes, David Lynch and Brian De Palma painted them with an ironic '80s gloss, and now Mitchell puts the conventions at a second remove and gives them a millennial spin.
Topher Grace plays an unnamed friend of Sam's who sums up his problem: "Narcissism and Entitlement 101." Sam's conspiracy obsession makes him a Thomas Pynchon hero updated for an age when everything is performative and nothing is private. The two friends converse earnestly about the paranoia of the digital age even as they use a drone to watch a far-off stranger undress. Grace delivers the movie's thesis line: "We crave mystery 'cause there's none left."
Is Sam really solving a mystery, Sam Spade-style, or is he just another cultural consumer, obsessing over trivia to make himself feel important? In an amazing sequence involving a character known as "the Songwriter" (Jeremy Bobb), Mitchell explores a possible endpoint of this line of thinking with delirious verve.
The ultimate shaggy dog story, Under the Silver Lake features a wealth of actual dogs and arguably not a single character who's compelling as a human being. Visually enthralling, it shamelessly embraces the tinselly dazzle of its setting. Yet it's no empty creation, achieving unlikely moments of poignancy when the absurdity somehow seems to make all the sense in the world.