Chances are, it's happened to you: the experience of unwrapping a fruitcake or a garbage can of stale, flavored popcorn, surrounded by watchful relatives. The well-meaning but clueless loved one knows you're a food lover. You nod with an awkward smile, then take a bite and feign satisfaction.
But your loved ones don't have to be part of the problem. Luckily for them and you, Vermont entrepreneurs are venturing far beyond maple candy and preserves these days. We talked to the owners of four fledgling food businesses to learn more about their stories and their appetizing gift ideas. Even confirmed do-it-yourselfers are bound to find something to like among their uncommon products. And if you really miss that fruitcake, you can always make one yourself.
*****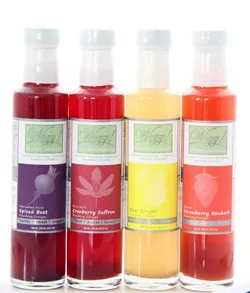 For the Culinary Tourist: Wozz! Kitchen Creations, Hardwick. wozzkitchencreations.com
Ever wondered how Prince Albert of Monaco and Rupert Murdoch eat on their private yachts? Warrick "Wozz" Dowsett knows, because he made the fare himself. Dual passions for sailing and cooking led him to the nomadic life of a seafaring private chef. And it took serious ingenuity for him to mimic the five-star fare he had cooked at Sydney hotels on the high seas.
"I was in a position where I had to do interesting, real food. [But] sometimes it can be three months straight [at sea]," explains Dowsett. "It helps to have a couple of condiments and small things prepared. These saved my butt a little bit. They're all designed to be multipurpose and real food."
Now Dowsett has applied that same inventiveness to his product line, Wozz! Kitchen Creations, for sailors and landlubbers alike. As he puts it, the large collection is "not your traditional blueberry jam." Dowsett's wares include dressings, condiments and vinegars, all designed to be versatile in the kitchen. They're available online and at a growing number of markets and co-ops around the state, including Healthy Living, the Woodstock Farmers Market and the Northeast Kingdom Tasting Center.
Take, for instance, Wozz's North African Chermoula dressing. The aromatic combination of cumin, coriander and lemon is great on salad, but on his website, Dowsett also tells cooks how to use it as a marinade, as braising liquid for lamb or folded into couscous or other sauces.
Other eclectic flavors include Vietnamese green-tea-and-mint dressing, goji-berry-and-miso dressing and Indian-spiced beetroot relish. Many of the products originated when Dowsett and his wife, Ashley, were living in Australia. When they moved to the States last year to be closer to her native New Hampshire, Dowsett decided to focus on keeping his ingredients as regional as possible.
It didn't hurt that the couple settled in Hardwick, home of the Vermont Food Venture Center and some of the state's best farms. Despite the presence of many tropical fruits in his creations, Dowsett has largely succeeded in localizing them. Even the miso paste now comes from a Massachusetts company.
One group of items Australian fans never got to taste is Dowsett's salsas. There wasn't much demand for salsa in the Southern hemisphere, he says, but "here, it's the first thing people ask me for." And it's no surprise, when the staple is as addictive as Wozz's puckery kiwi-lime salsa verde. It's a fresh taste of summer that anyone would appreciate stuffed in their stocking.
*****
For the Tree-Hugging Snacker: Squirrel Stash Nuts, Burlington, 413-427-0104. facebook.com/SquirrelStashNuts
Burlington Farmers Market regulars may recognize the fresh faces of Meag Bergeron and Brad Mahan; the young couple sold their wares at this year's South End Art Hop, too. But chances are, whether or not you recognize the people behind Squirrel Stash Nuts, before long you'll know the crunchy, cinnamon-maple-glazed nuts and the mustachioed squirrel on the logo.
Currently, the 2011 University of Massachusetts grads work as a nanny and an engineer, respectively. But Mahan says the goal of their food business is to go national, or beyond. "We'd like to be coast to coast and spread the stash everywhere," he says. If their product catches on, Bergeron says she'll use the money to get a nutrition degree and work in that field. Mahan plans to remain an engineer.
For now, the two, who have known each other since they were 12, roast the almonds, cashews, peanuts and pecans themselves once a week. Customers can grab the sweet treats at the Burlington Winter Farmers Market, where Squirrel Stash is a regular vendor. The snack is also available at Healthy Living, Outdoor Gear Exchange, Sterling MotorWerks and Magic Hat Brewing Co. "We like their beer, their style and the way they present themselves," Bergeron says of the brewery, with which she hopes to partner. "It's pretty close to how we want to expose our nuts."
"The nut jokes never get old," adds Mahan.
Neither does the concept of adding an organic line, one of Bergeron's dreams. For now, the couple helps the Earth with biodegradable packaging for 4-, 8- and 16-ounce bags and a reusable tin for the sampler of all the nuts. "We want to be an example to other companies," Bergeron says. They're already paragons of good taste.
*****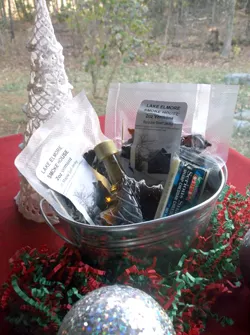 For the Rugged Foodie: Lake Elmore Smokehouse, Morrisville, 888-7487. bigmanpierre@gmail.com
"Everyone's got maple and regular and four pepper. I'm a foodie. I've never seen chipotle-cilantro jerky." So says Pierre Mesa, owner of Lake Elmore Smokehouse. At least, he hadn't seen any until he started making it himself. The same could probably be said for jerky flavored with Madras curry and coconut, or with carne asada seasonings and lime.
In the summer of 2012, the Culinary Institute of America grad closed his Winooski eatery, Don Pedro's Taqueria. Dejected, he recalls, Mesa returned to his country home to reassess. He spent his slowed-down days exploring some of his culinary passions, including making his own jerky. Mesa also ate a lot of other people's jerky, but didn't think it compared to his own. "Some of them were so artificial," he remembers. "I was looking at them thinking, Why is there so much weird stuff in beef jerky?"
Mesa researched and began preparing what he refers to as "cowboy jerky" — meat that's cured naturally, then smoked over Vermont maple wood with no added chemicals. When Mesa began sharing his handiwork with friends at a local bar, it quickly caught on, and requests to buy the beef started coming in.
Realizing he'd hit on something, Mesa worked with the Vermont Food Venture Center to gain ServSafe training and USDA approval. At this point, he isn't ready to mass-produce, he's just focused on turning out the five beef jerkies most popular among the local barflies he's polled. Customers will have to wait for Mesa's goat jerky and bacon candy.
The Lake Elmore Smokehouse website will launch in upcoming weeks, Mesa says. Until then, hungry meat lovers can order via phone or Facebook.
*****
For the Sophisticated Sweet Tooth: Vermont Flan Company, Montpelier. vtflan.com
With less than our fair share of Latin American restaurants in the Green Mountains, it's not often we're lucky enough to come across flan. And, according to Vermont Flan Company owner Vanessa O'Neill, when people see her sign at the Capital City Farmers Market, they're often visibly appreciative.
"People who know it are like, 'Wow! Flan! I haven't had flan for a while,'" O'Neill says. "It's fun to see their faces when they see it."
Since she debuted the business in 2011, it's become a whole lot easier to get the smooth, creamy dessert, at least in the Montpelier area. O'Neill recently changed her packaging to sell the custards in individual foil cups that can be turned upside down for an elegant circle of flan. She uses a family recipe passed down by her Puerto Rican grandmother that results in a light, vanilla-kissed dessert.
O'Neill made her first stab at flan just after her son, Pablo, was born; now, she says, the little boy helps her prepare her product. Let's hope he doesn't help himself to too much of the coffee she adds to one of her most popular flavors.
Other varieties change with the seasons. Around Thanksgiving, O'Neill sold a pumpkin-spiced flan. For the colder months, the cook is working on a more traditionally Puerto Rican coconut custard.
For the full Latin experience, diners can head to O'Neill's own restaurant, Mamas' Melting Pot in Plainfield Hardware, for savory treats along with cups of flan. They can also take home the sweet from the farmers market and Hunger Mountain and Buffalo Mountain co-ops, or indulge along with dinner at Positive Pie in Plainfield and Willy-B's Tavern in Randolph.
You could bring your favorite holiday hostess some of your home-baked cookies. But who are you kidding? She's sure to prefer a sweet taste of the tropics.