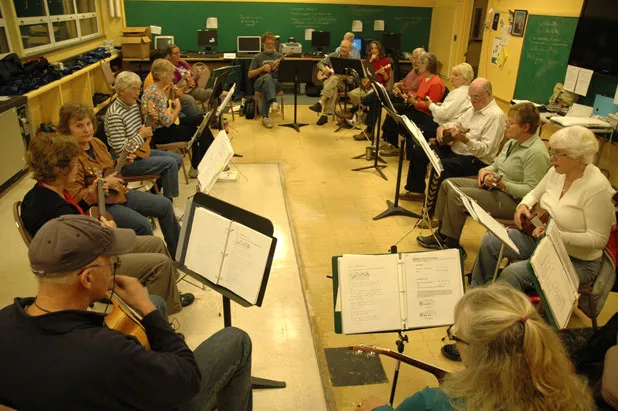 You could call it a hootenanny, à la the 1960s, or a Hawaiian-style kanikapila. Or, more simply, a whole lotta ukeing going on.
It's a Thursday evening in Montpelier, and 19 ukulele players are strumming and singing away on the 1959 ballad "Sea of Love." There are some missed notes and a touch of confusion.
"OK, let's start over," interjects Bob Barrett, the informal and low-key conductor of this twice-monthly uke fest that happens in a stark, fluorescent-lit room at the downtown senior center. He talks about starting on the right beat, then looks out at the players, arrayed in a large oval with music stands at each chair, and asks, "Do we have a kazoo?"
"I've got mine," says Bob Sassaman of Calais, reaching into his shirt pocket and pulling it out. Two others have kazoos, as well.
Barrett signals the beat, and the group starts again. This time they're all together, the pretty tune compensating for the insipid lyrics: "Do you remember / When we met? / That's the day I knew you were my pet."
The sound of all these four-stringed baritone, soprano and tenor ukuleles is heartwarming and surprisingly multitoned, at once silly and mellifluous. On the last verse, the kazoos take over for the vocals, and this odd little orchestra seems to spread happiness through the room.
"It really is surprising when everybody gets together and starts strumming and singing. It really is a lot of fun," says Barrett, who calls the diminutive ukulele "a social instrument" that can't help but bring folks together.
And that's what it's been doing in the state capital.
The ukulele phenomenon has been growing for years around the country and the globe — including Vermont, although, typically, the state is late to the party. Players gather regularly in both Montpelier and Bristol, and hold other impromptu sessions around the state. An Upper Valley group practices in Hanover, N.H.
The Montpelier band got rolling last spring following a screening of Mighty Uke at the Green Mountain Film Festival. The entertaining 2010 documentary about "the amazing comeback of a musical underdog" inspired a lot of nascent ukuleleists. Barrett, who had musical experience playing guitar and studying harmony at the Summit School of Traditional Music and Culture in Montpelier, connected with Lucinda McCloud, then director of the senior center, about using the facility for rehearsals. With an email list some two dozen strong and expert help from Fran Broughton — a music teacher and the director of the Bristol group, as well as of the Vermont Ukulele Society — players began to meet and strum away. Sort of.
"Many people in the group have never played a musical instrument before," says Barrett. "We started from scratch with a lot of folks." For an introduction, they brought in a ukulele instructor.
Now the players gather every other Thursday at 7 p.m. to work through songs and build a repertoire from "The Daily Ukulele: 365 Songs for Better Living." The playbook includes gospel ballads, Tin Pan Alley tunes, jazz, Hawaiian classics, and even rock and roll.
The wide appeal of the ukulele hardly surprises Kevin Crossett, owner of the musical-instrument store GuitarSam in Montpelier and a uke aficionado.
"You can't play it or listen to it without smiling a bit. It tickles your smile muscles," Crossett says as he stands beside a rack of the instruments in his store. You can buy a ukulele for as little as $30, or a nicer one for $100. They're easy to carry around and easy to learn.
The uke has indeed been mighty for GuitarSam, which carries a couple dozen models in different sizes and all kinds of wood, some painted in bright colors. Crossett sells at least one a day at the store and ships more around the country from his website.
He pulls down an instrument and plucks a riff from the Beatles' "Here Comes the Sun." Crossett notes that George Harrison, who wrote the song, was a big uke fan.
The instrument's lineage can be traced back to Portugal in the 1880s. Portuguese immigrants brought it to Hawaii, where it was adopted, modified and popularized. In the 1920s and '30s, the ukulele was "the most popular instrument" in the U.S., Crossett declares. That was before blues, rock and roll, and jazz took off, along with the guitar as a lead instrument.
Then, in the 1960s, along came eccentric Tiny Tim, whose infamous uke and falsetto voice made him a cult sensation — and turned the ukulele into an object of some ridicule.
"He really turned the ukulele backward as an instrument," says Crossett. "We had to wait 'til people outgrew his memory."
Consider it done.
Today, YouTube is filled with boundary-breaking uke players who are doing for the instrument what Béla Fleck did for the banjo and Yo-Yo Ma did for the cello. They include the Hawaiian virtuoso Jake Shimabukuro, doing Harrison's "While My Guitar Gently Weeps"; Brittni Paiva playing Dave Brubeck's "Take Five"; and John King plucking the Prelude from Bach's Cello Suite No. 1.
Crossett counts the uke's simplicity as a strength. It may be easy to learn, but as players advance and try to expand on the instrument's possibilities, the ukulele requires them to think more about chord structure and theory, he says.
Back at the senior center uke group, Sassaman explains that he got turned on to the instrument one night when he was driving and heard on the radio "a song I've known all my life done completely differently, and it was just amazing." The song was "Somewhere Over the Rainbow" performed by the late Hawaiian singer and ukulele player Israel Kamakawiwo?ole. "IZ," as he was known, was morbidly obese, but he had a golden tenor and a cherubic face. One of his performance videos has had more than 55 million hits on YouTube to date.
Though Sassaman had long played guitar before trying the ukulele, he says the former would sit untouched for months at a time. After seeing Mighty Uke, he was inspired to pick up a ukulele and now plays several times a week.
"I think people always say, 'I'm too old to play an instrument,' [but] the uke is not one of those things that's hard to play," Sassaman says. And there's just something so catchy about it. On a boat off the coast of Maine recently, Sassaman pulled out his uke to play, and soon the boat captain was leaning over the rail to listen, he recounts.
Sue Riggen was a rank novice when she joined the Montpelier group. She wanted an instrument she could sing along with, and the simplicity of the uke appealed to her. "I tried teaching myself guitar a while ago, and my kids asked me to stop," Riggen says with a laugh. She and other members are now working on refining their vocal harmonies.
When Barrett launches the group into the country-gospel standard "Oh, Come, Angel Band," Riggen and Kay McLaughlin of Randolph — who met in the Montpelier Community Gospel Choir — strike up a sweet harmony. Riggen's husband, Robert, joins in, and the group stops strumming to sing the last refrain a cappella.
The plaintive words hang in the air, and then smiles break out around the room.
The mighty uke has done its thing, once again.