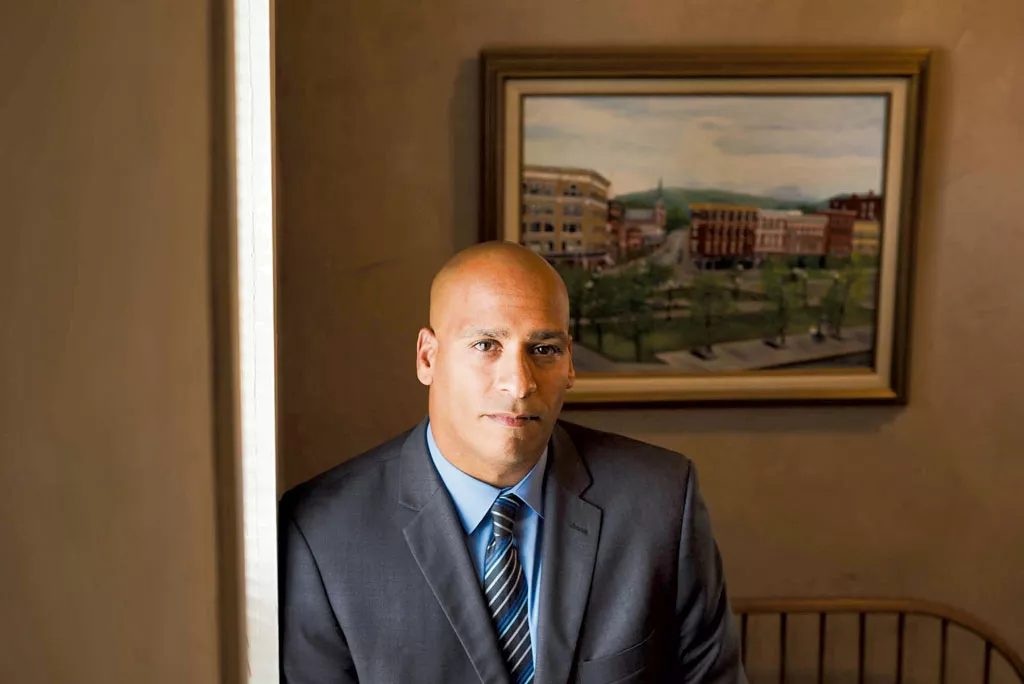 Caleb Kenna
Andrew Todd
In April 2012, former Rutland police chief Jim Baker announced that an internal investigation into the conduct of two of his officers had turned up "no evidence to support any kind of criminal conduct." Though Baker refused to specify what prompted the inquiry, his prepared statement went on to say that Sgt. John Johnson was retiring and officer Earl Frank Post had resigned.
The news was quickly forgotten, perhaps because the report that the investigation generated was never released to the public. Neither Rutland Police Commissioner Larry Jensen, tasked with overseeing the department, nor Rutland Mayor Chris Louras ever bothered to read it.
More than three years later, that report and its explosive accusations have surfaced in a lawsuit brought by Andrew Todd, formerly the city's only black police officer, that is heading for trial in Rutland Superior Court. It alleges that blatant racism created a hostile work environment for Todd. He resigned in 2012 and is now a Vermont state trooper.
Former Vermont public safety commissioner Tom Tremblay, who is also a former Burlington police chief, authored the report that documented some of Todd's allegations, many of which are supported by fellow officers. A redacted version is now part of the court file in Todd's suit, allowing reporters first-time public access to the information. Only some Rutland officials have permission to see a complete copy at city hall.
The court file is also packed with depositions containing allegations that go beyond racial profiling and racism. Witnesses described rogue Rutland cops operating outside the rules of conduct, including drinking and having sex on the job. In sworn testimony, they said ranking cops failed to investigate complaints against the offending officers.
Word of the allegations is spreading in Rutland, which has been trying to clean up its police department for years. Last week the mayor, city aldermen and members of the police commission met for a closed-door briefing on the suit. The same folks are trying to hire a permanent replacement for Baker. The former chief left in November after a three-year stint trying to fix a department that had endured a previous scandal — over workplace pornography.
"Rutland residents should rightly be alarmed at what happened with Johnson and Post in 2010 and 2011," Louras acknowledged.
The court documents paint an alarming picture indeed. They allege that Johnson, Post and other officers on the force repeatedly used the term "nigger" in Todd's presence. Tremblay's report says that Johnson referred to the Amtrak between New York and Rutland, where officers did drug interdiction, as "the soul train."
"Many officers interviewed repeated concerns about his arrest record and treatment of black suspects in general," Tremblay said of Johnson. Tremblay's review led him to say that "it can be and is being suggested that Sergeant Johnson was specifically targeting black offenders while ignoring possible white offenders."
Tensions mounted after it became known that Todd had complained about Johnson's behavior, the plaintiff reported. Post got involved when somebody left a newspaper clipping in his mailbox about officer misconduct in another city. Assuming it had been Todd, Post threatened to hit him and called him a "black son of a bitch" in front of another officer, according to one of Todd's affidavits. Todd also said Post threatened his life. Other officers took Post's threat seriously enough that they began patrolling Todd's home, according to court documents.
The impending trial has prompted U.S. Attorney Eric Miller, the Attorney General's Office and Rutland County State's Attorney Rose Kennedy to launch reviews of the officers' conduct — three years after Baker announced there was no evidence of criminal wrongdoing.
"We will do everything we can to ensure public confidence," Kennedy said.
"It's a really sad commentary on people not doing the right thing," said John Paul Faignant, the attorney who represents Todd. "Todd is trying to get back some of the dignity they took from him in the nine years he worked there," he said of the lawsuit.
Brian Monaghan, the attorney for Johnson and Post, declined to comment for this story. Ditto Baker, now working at the International Association of Chiefs of Police in Washington, D.C., and Tremblay, an Burlington-based independent consultant.
Todd, a Massachusetts native, began working for the Rutland department full time in 2004. Soon after he started, he heard Johnson, Post and others in the department using racial epithets. Specifically, they jokingly referred to black suspects who were subjected to force getting "Rodney King-ed." Todd worked the night shift with Post and Johnson, who was his supervisor.
"I was a newlywed, a probationary police officer, and the only African American employed with the RPD," Todd wrote in court papers. "I was certain if I spoke out about this accepted conduct and culture I would be targeted and I feared not being able to provide for my wife and losing a career I worked hard to obtain."
Todd didn't complain until 2006, he said in a sworn affidavit, when he witnessed Post performing illegal traffic stops and stealing items such as clubs and knives that he confiscated from the cars.
Over the years, Todd said, he observed numerous instances of racial profiling. Johnson routinely let white drug users go free, he said, but searched and charged black suspects.
Todd told Tremblay he filed a written complaint about Johnson with Lt. Kevin Geno, the sergeant's supervisor, in 2010. But Geno claimed he never received it, according to Tremblay's report. After additional complaints from Todd and Rutland Sgt. Matthew Prouty, Geno and a captain launched an internal investigation in 2011. They cleared Johnson of wrongdoing.
But Todd kept forcing the issue, and eventually, the city's law firm hired Tremblay to conduct a new inquiry. He interviewed officers, informants and other police staff and summarized his findings in detail.
For instance, Tremblay reported that Johnson had an arrangement with a local car-rental company. Employees there would tell him when they leased vehicles to black male customers "from New York and other areas in the region." Johnson would then pull over the cars and search the men.
In one instance, Johnson stopped a car with three men inside. Two white men were never searched. A black man, Mark Allen, was strip-searched. He did not have drugs.
Allen, of New York City, sued Johnson for a civil rights violation. While it was pending, Johnson and Post conducted a drug investigation targeting Allen, which Todd suspected was retaliatory, he explained in court documents. Johnson went to a longtime female confidential informant and said, "You need to help me get this guy," according to Tremblay's report.
Johnson denied those allegations in an interview with Tremblay, who concluded there was insufficient evidence to determine whether the investigation was retaliatory.
Allen settled his lawsuit against the police department for $30,000 in 2012.
Sgt. Prouty told Tremblay that he suspected Johnson had an "inappropriate relationship" with at least two female confidential informants — including the one he asked to help him set up Allen.
In a recorded interview with Tremblay, the same woman confirmed she had a sexual relationship with Johnson while serving as an informant. Sometimes, she said, they had sex while he was on duty. Once, she said, it happened inside city hall.
"He doesn't genuinely care about me, why should I care about him?" she told Tremblay. "He's always trying to get me to have sex with him, and he's always making sexual comments to me. In the desperation of me being as high as I was all the time and the disease of my addiction ... I really feel it's inappropriate for him to prey upon women that are sick like that."
Also in the court documents: Todd said Post used to "shock" police dogs for no reason.
Other allegations involve a high-ranking current member of the department: Lt. Geno. Instead of taking Todd's complaints seriously, Geno allegedly launched a retaliatory investigation against Todd, according to the lawsuit.
Todd also alleged — and other officers backed him up — that Geno "often smelled of alcohol while on duty," including at crime scenes, according to court documents.
Geno and his attorney, James Carroll, did not respond to a request for comment.
In March, attorneys representing the officers and the city asked Judge Helen Toor to dismiss the lawsuit, arguing there wasn't enough evidence.
But in August, Toor handed Todd a significant victory — his lawsuit, she ruled, merits a jury trial. She dismissed Johnson and Post as defendants, however. The city, which is liable for the officers' actions, is the sole remaining defendant.
Alderman Sharon Davis said the public should remember that none of the accusations has been proven. "They're all troubling to all of us," she said.
The timing, too, couldn't be worse for the city. In 2010, Vermont State Police busted a Rutland sergeant for viewing pornography on his work computer and removing a pornographic video from the police evidence locker. After he accepted a plea deal and was fired from the force, Rutland aldermen urged the police commission to dismiss the man in charge: former chief Tony Bossi. Commissioners refused; Bossi resigned in 2012.
Under Baker, who replaced Bossi, the department won praise for its participation in an alliance of nonprofits and community groups, known as Project VISION, to fight drug problems.
This week, a search committee is scheduled to interview five finalists for the chief's job, hoping to find somebody to further that work. The successful candidate will replace former Vermont State Police commander David Covell, who has served as acting chief since December.
"The Rutland City Police Department is an entirely different department in 2015 than it was in 2011," Louras said. "The culture has completely changed. The department has established a level of legitimacy in the community that I know to be a model for a rest of the state."
Why didn't he, Davis or aldermen president William Notte feel compelled to read the Tremblay report, when it was issued three years ago?
Louras said he knew he would be a potential witness and didn't want to taint his testimony. Notte and Davis said they have relied on media reports.
But that may finally change.
Notte said Rutland's attorney has offered to let aldermen visit city hall to read the unredacted version of Tremblay's report, which is off-limits to the press, on the condition that no one makes any copies. He said the city attorney has advised restricting public access, to protect Rutland from further legal action.
Said Notte: "We have enough lawsuits as it is."