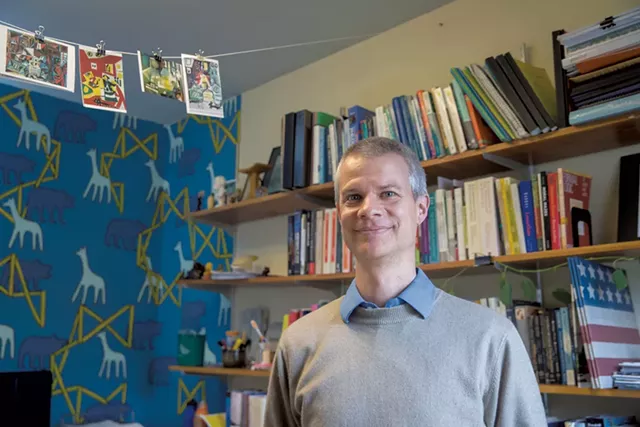 Name: Tyler Doggett
Town: Burlington
Job: Associate professor of philosophy, University of Vermont
Tyler Doggett likes to ask questions — many of them questions that people have pondered for millennia. "For me, this is a great thing about philosophy," said the University of Vermont associate professor, 41. "It puts me in touch with thinkers from all over the world and all over history."
The Ohio native didn't set out to have a career in philosophy, but he enjoyed his classes in the subject at Princeton University enough to pursue a philosophy PhD at the Massachusetts Institute of Technology. Though he initially wasn't sure how he'd use the degree, at MIT Doggett decided, like many of his fellow students, to become a professor. That way, he could continue to think about it.
He's not alone in that kind of reflection, he believes. "That's why, I think, movies like The Matrix strike a chord," Doggett said, "because it does occur to people that ... this is all some sort of illusion or hallucination or dream."
Last year, to bridge the gap between philosophers and the general public, Doggett organized the inaugural Public Philosophy Week. Academics and non-academics together discussed issues such as children's literature, immigration and egotism.
This year, once again, academics and other community members will lead 15 discussions at locations as varied as Archie's Grill in Shelburne, Three Chimney Farm in Charlotte and College Street Congregational Church in Burlington. Topics include the use of behavioral prediction algorithms in criminal justice, philosophical and psychological debates about the treatment of animals, and issues surrounding consent.
Public Philosophy Week is intended as an exchange in which laypeople ask questions and philosophers share ideas and possible answers, explained Doggett. Seven Days caught up with him to learn more about his discipline and the event.
SEVEN DAYS: When you meet new people, what do you say your job is?
TYLER DOGGETT: When I was in graduate school, on my website I said I was a philosopher. I got this angry email from a man in Greece who said it was presumptuous of me, a 24-year-old student, to call himself a philosopher. Like that should be reserved for Aristotle or Descartes. So I'm always a little reluctant to say I'm a philosopher. I do say I'm a philosophy teacher, sometimes philosophy professor.
SD: How do you grade papers?
TD: You can get a really good grade in my class if you have an answer that I believe is the wrong answer, as long as you come up with a compelling argument for it. It's more important to me that students are building up their skills developing arguments than that they're coming to conclusions that I believe are the right ones. A lot of my intro-level classes, though, [students] aren't coming up with their own ideas. They're just graded on their skills in discerning arguments and texts, and then explaining them clearly and precisely.
SD: You've taught philosophy to second graders, undergraduates and graduate students. Who make better students?
TD: There's something really liberating about teaching very young children. They're so much more uninhibited in telling you their really creative ideas. Young kids can be really sophisticated. I was blown away by this one particular conversation I had with a second grader, how he came up with this idea that took [adult academic professors] a lot of time to get to. Of course, there are some things that adults offer [that are] much better, much more satisfying.
SD: Do things get heated during class discussions?
TD: I teach a class about the morality of killing different things. We talk about abortion. At UVM, it's not a huge deal to talk about abortion. I wish we had significantly more pro-life students in class. Every once in a while, you have quite outspoken pro-life students, so that can be quite heated. In America, you identify as being pro-life or pro-choice. So when someone criticizes your ethical view about abortion, it's hard not to hear that as a criticism of yourself, which leads to people being defensive.
SD: How do you maintain civility?
TD: One thing that's important with these discussions is, you can only have them once you've built up a baseline level of trust in class. That helps people to not feel they personally are being attacked. Another thing that's really important is to encourage people to attack the position rather than the position holder. Each of us, we know there's a very good chance we're wrong. That encourages you to be more modest about your own views and to be more understanding of these mistakes that you think other people are making.
SD: How did you persuade your colleagues and Burlington Police Chief Brandon del Pozo to participate in Public Philosophy Week?
TD: The police chief is always interested in talking about philosophy. My colleagues really like talking to other people about philosophical questions. In the future, I would really love to have more and more people who are not professional philosophers leading sessions, and we're definitely moving in that direction.
SD: Do you have any occupational hazards?
TD: If we were sitting at a baseball game, I wouldn't ask you what you thought the meaning of life was. I've been socialized enough to know the vast majority of my friends want no part of any conversation like that. My wife sometimes does get frustrated with me doing what she calls "philosopher mode," where she thinks I'm putting on an act, acting like things are really puzzling and demanding that she explain things clearly to me. That's a bit of an occupational hazard. I'm good at not doing it with my friends. I just save that for the love of my life.