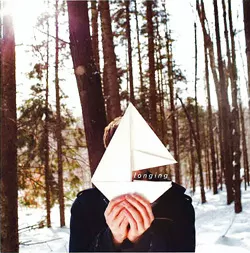 (Kat Kat Records, CD, LP, digital download)
A few months ago, the local scene was abuzz with news that a Burlington musician had cracked Alternative Press magazine's annual list of "100 Bands You Need to Know" for 2013. Tyler Daniel Bean, formerly best known for his work in local screamo outfit Ghosting, somewhat sneaked up on the larger scene, whose general reaction to the national media fawning was roughly, "Um … who?" But it turns out that AP was right. Bean is an artist local audiences would do well to get to know.
His solo debut, Longing, came out late last year on a small, Philadelphia-based imprint, Kat Kat Records. AP gushed over the album's brutal honesty, likening it to an amalgam of David Bazan, Kind of Like Spitting and Sufjan Stevens. (Cue: "One of These Things Is Not Like the Other" from "Sesame Street.") The curious inclusion of Mr. Stevens aside, there is some validity in that assessment. Bean's gruff delivery and emotionally heavy wordplay does indeed bear some resemblance to Bazan's, while his penchant for fuzzed-out, insistent hooks dripping with indie pathos isn't entirely dissimilar to KOLS. But such comparisons only tell part of Bean's story.
On opener "Flowers at My Feet," Bean introduces the album's titular theme: longing. "I still see your eyes as I stare into the snowfall / In the faces of the people as they fall / Head over heels. / For that feeling we call home," he sings, his fractured growl flattening the melody. He crafts a stark atmosphere with fingerpicked acoustic guitar and fleeting electric accents that evoke a wintry chill. That is, until the song explodes in a blizzard of distortion at the penultimate line, "If there is a heaven, I hope you're having a good one."
Bean's acute sense of song construction belies his tender years — he's currently a senior at Burlington College. Throughout the record, he artfully crafts arrangements that augment his emotionally forthright poetry. Songs expand and contract at precisely the moments when such devices will have their greatest impact. But he never seems too taken with his own cleverness. Rarely does Bean offer any more or less than is needed to get his point across. His arrangements are lean and efficient.
That's largely true of his lyric writing, as well. Though occasionally prone to emo-ish overexposition, Bean generally avoids that genre's maudlin tendencies. Instead, he tempers such instances with a dry, subtle wit and delicate poetic streak that delivers his musings from sad-sack navel gazing.
Bean is said to be working on a follow-up album, likely to be released once he's finished school. In the meantime, we'd strongly advocate getting acquainted with Bean and his sparkling debut, Longing, because it may not be long before the rest of the world knows him, too.
Longing by Tyler Daniel Bean is available at tylerdanielbean.bandcamp.com.