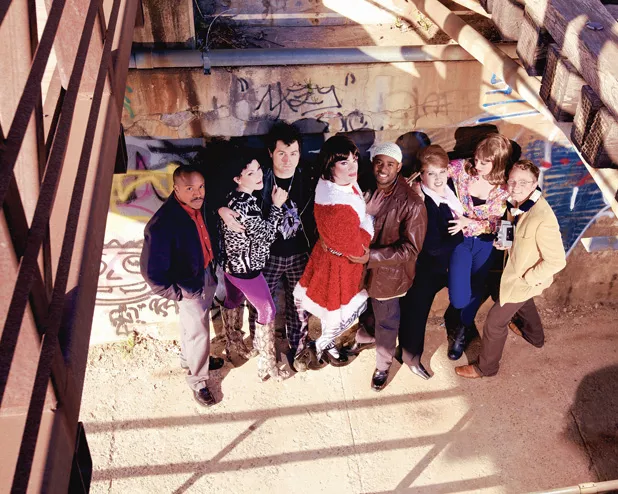 It's not often that actors who have made it on a national stage feel compelled to return to their roots in community theater. When it's for Jonathan Larson's rock opera Rent, however, the stakes are different.
Sara MacDonald of Burlington's Lyric Theatre Company directs the award-winning show, which opens on November 8 at the Flynn Center for the Performing Arts. MacDonald's cast features a mix of newcomers and seasoned actors. Regardless of experience, she says, Rent requires them "to bring a level of honesty and vulnerability they may never have had to convey on stage before."
For two Vermont natives in the cast — Kelly Teal Goyette and Justin D. Quackenbush — that's saying a good deal. Goyette, from Williston, has been a soloist on the national tour of Shrek: The Musical; Quackenbush, an Essex native, starred in The Beggar's Opera at Manhattan's Medicine Show Theatre and performed in the Metropolitan Opera's Aida. The thespians traveled from the Big Apple to star as Rent's Joanne Jefferson and Angel Dumott Schunard, respectively.
Set in the early 1990s in Manhattan's Alphabet City, Rent tells the story of an intertwined group of artists and musicians plagued by the AIDS epidemic. Producer Erin Evarts says the intense subject matter "resonates because it is real and gritty and honest."
Goyette echoes Evarts' sentiment, saying that Joanne — a Harvard-educated lesbian lawyer — is "the most 'real,' true-to-life character I've ever played." A marked departure from her larger-than-life roles in Shrek, Joanne requires Goyette to be "stripped down to minimal makeup and street clothes," she says. With no extremes of personality or appearance to rely on, Goyette embraces the challenge. She digs deep to portray Joanne as one of two headstrong women "not seeing eye to eye in their unfolding relationship," she continues. "It's been a blast getting to explore the entire emotional spectrum."
Quackenbush also finds himself immersed in a complex character, but one very unlike the grounded, cerebral Joanne. He says playing the drag queen Angel pushes him "to explore and magnify some of the more flamboyant aspects of my public persona." While the role involves heavy makeup, a playful wardrobe — including high heels — and singing falsetto, Quackenbush also sees Angel as "the character that smiles at fear." He's "the one that eases the tension when things get dicey," Quackenbush says, as things often do in Rent.
For both actors, seeing Rent for the first time was an artistic turning point. Goyette recalls, "Maureen and Joanne's show-stopping 'Take Me or Leave Me' was the most amazing thing I'd ever seen." She credits Rent as "the greatest influence on my musical career and my choice in moving to New York City in the first place." Similarly, seeing Rent as a college student "was like a sucker punch" for Quackenbush, he says. "I decided that day I needed to change the trajectory of my life, and I left school and moved to New York."
Later, when he was contemplating taking a few months off from his big-city career, Quackenbush says, learning that Lyric was doing Rent was a deciding factor. Acting in the show, he says, has "been one of my dreams for a long, long time."
Though they've lived parallel lives in New York for the past 10 years, Goyette and Quackenbush first met on the set of Lyric's Rent. Both actors say their nuanced experiences of the city inform their performances, but they're also quick to praise the Vermont residents in the cast. "This cast is so incredible that it makes it easy for both of us to bring our 'A' game to every rehearsal," Quackenbush says.
Speaking to their connection — Goyette and Quackenbush are now close friends — and to that of the cast as a whole, choreographer Kate Whalen says, "It will be very clear to the audience that these people truly care for each other and support each other."
"Rent" by Jonathan Larson, directed by Sara MacDonald, produced by Lyric Theatre Company, at the Flynn MainStage in Burlington. Thursday and Friday, November 8 and 9, 7:30 p.m.; Saturday, November 10, 2 p.m. and 7:30 p.m.; Sunday, November 11, 2 p.m. $21-33. Info, 658-1484. lyrictheatrevt.org