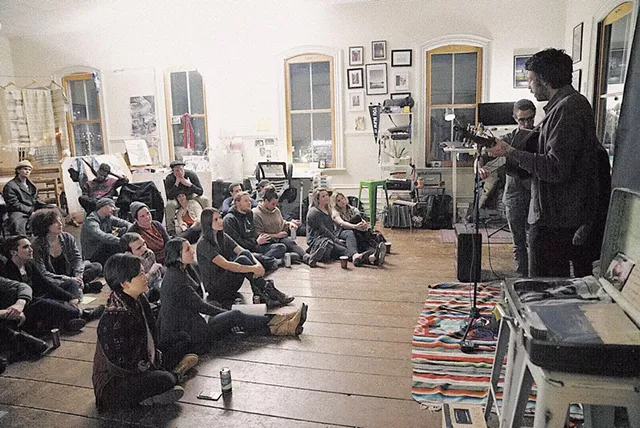 A Box of Stars performing at Wishbone Collective
Given the constant reminders of a bitterly divided nation, the scads of scandals and investigations, it was refreshing to visit a pair of Vermont arts venues last weekend that actively welcome people. Though they're at different stages of development, both have positive community engagement in mind.
The Milton Artists' Guild has been around for more than 30 years with a mission of supporting members' creative endeavors. In 2011, the group finally organized as a nonprofit. And it didn't stop there.
In the spring of 2017, MAG leapt from having no physical home to occupying a 6,270-square-foot space carved out of a former Hannaford at 199 U.S. Route 7. It had been empty for four years, since the supermarket moved into larger quarters in the sprawling Milton Square. Ernie Pomerleau, president and CEO of Burlington-based Pomerleau Real Estate, agreed to give the art center a rent-free year in its new space.
"The first year was a trial to see if the community would support us, and it did," said MAG board president Gisela Alpert. "At the end of that year, we met with Mr. Pomerleau to see if we could extend that another year." He did.
The financial break and an active board have helped MAG strengthen its foundation, as has a steady flow of visitors, community events and art classes. In 2018, the erstwhile all-volunteer organization hired three part-time employees. Members, who pay $50 a year, now number nearly 200 and come from around the state.
At first, Alpert said, she wondered how they would fill the cavernous, high-ceilinged room. She needn't have worried. About 100 nonjuried artists now rent sections of various sizes in which to display and sell their work. Though neatly organized, the collection presents a merry, invigorating jumble of color to a visitor. Handily, the St. Albans-based Village Frame Shoppe & Gallery rents space there, too, ready to accommodate the framing needs of artists and art buyers.
Earlier this month, MAG hired its first-ever executive director, Jessie Swétel. Alpert revealed in an email that applications for the position came from as far as California. But the most suitable candidate was right under the board's nose.
"Jessie was hired for her marketing skills, her energetic character and likability; she is a charismatic people person," Alpert wrote. "We are fortunate to have her undertake this important leadership position, further fostering MAG's ambition for unprecedented growth in 2019."
Swétel, 31, was not only a member of MAG but chair of the center's Workshop Committee, which manages classes and teachers. She'd volunteered on a task force that surveyed the school district to assess barriers to the arts and art education and devise more creative opportunities.
Swétel has a business background: Her family owns Vermont Awards & Engraving in Colchester, which she has helped run for nearly a decade, becoming involved in organizations such as the Women Business Owners Network.
"That experience grew me to the point that I felt I had a lot to offer when I applied for the [MAG] position," Swétel said.
Her "office" at the art center consists of a wrap-around desk with rows of colorful origami cranes strung up on a partial wall, each representing a guild member. Her seat faces the big room, an area with tables and chairs for meetings and classes, and seemingly an acre of artwork.
Swétel was eager to discuss MAG's accomplishments and future plans. In 2018, as membership and class offerings grew, sales at the art center more than doubled over the previous year, she said, attributing the change to increasing traffic and "repeat customers."
Even so, "a lot of local people still don't know we're here," Swétel lamented. "We're going to be launching an ad campaign to tell people who and what we are."
In addition to MAG's engagement outside the center, enticements to come inside include weekly social events with live music. And Swétel noted another plan to serve the community — literally.
"We're in talks with a local coffee roaster and [considering] whether we can set up a coffee shop to create a space for people to bring in clients," she said. "A lot of people really want an actual sit-down café type of space."
The group already has a name: Maggie's Café, a play on MAG.
Though the center's rent-free status ends in April, Alpert noted that, once again, Pomerleau has been supportive, offering the nonprofit a reduced rent through spring 2020. "If not for him, we would have found something else, but it would have been a fraction of this," she said. "[Pomerleau] gave us this huge canvas, and we've filled it."
In December, Winooski's Wishbone Collective marked its first year by throwing a party with live music and pizza. It was a typical community-oriented event in the group's capacious third-floor space above Mule Bar. Though the collective consists of seven artists who pay a monthly rate for studio space, one of Wishbone's raisons d'être is to host such gatherings.
Photographer Daniel Schechner, who shoots professional portraits against the backdrops hanging at one end of the largest room, showed a reporter around last week. Joining him was Alex Kerrigan, who facilitates and organizes events at Wishbone. A year in, Schechner said, he wanted to share what the collective members have been up to.
For starters, they've been instrumental in launching monthly First Friday art walks and pop-up markets around the city's traffic circle. For the debut event in October, Schechner said, Wishbone put out an open call to show artwork in its space and got 47 submissions. At a Halloween party later that month, the studio offered a photo booth for spooky picture taking. On another occasion, local kids were invited in for a painting session.
"We're trying to give children a chance to show their art," noted Kerrigan, adding that even her twin boys, age 3 and a half, showed work. "An art teacher at [Vermont Day School] brought her students. They were thrilled to see their work on display."
As a studio collective, Wishbone already runs counter to the notion of artists hunkered down in isolation. Here the members work in open spaces. And the overtly social aspect of the enterprise is what sets it apart. On Wishbone's website, events often come with the word "social" appended, from a chess club night to the biweekly figure-drawing session. A full moon celebration last fall presented a menu of options for connecting: yoga, body painting, portrait photography and tarot readings.
"In the future, we want to have even more events," said Schechner, noting that acoustic music sessions are coming soon. The public can access all events by donation.
Wishbone's most unusual regular happenings are arguably the "death talks." A variation on the Death Café events held nationwide, the twice-monthly sessions are open to any community members who want to explore topics around death and dying. Kerrigan, who is trained as an end-of-life doula and "trying to finish a social work degree," facilitates the sessions. On one recent evening, she said, "we had a 95-year-old man come and basically tell us his life story."
From engaging young children in art making to pondering the end of life, Wishbone seems to embrace an all-ages model of community engagement. The venue is just the platform, Kerrigan clarified. "Our mission in general is to bring people together."
Correction, February 14, 2019: An earlier version of this story misstated the school that visited Wishbone Collective. It was Vermont Day School.