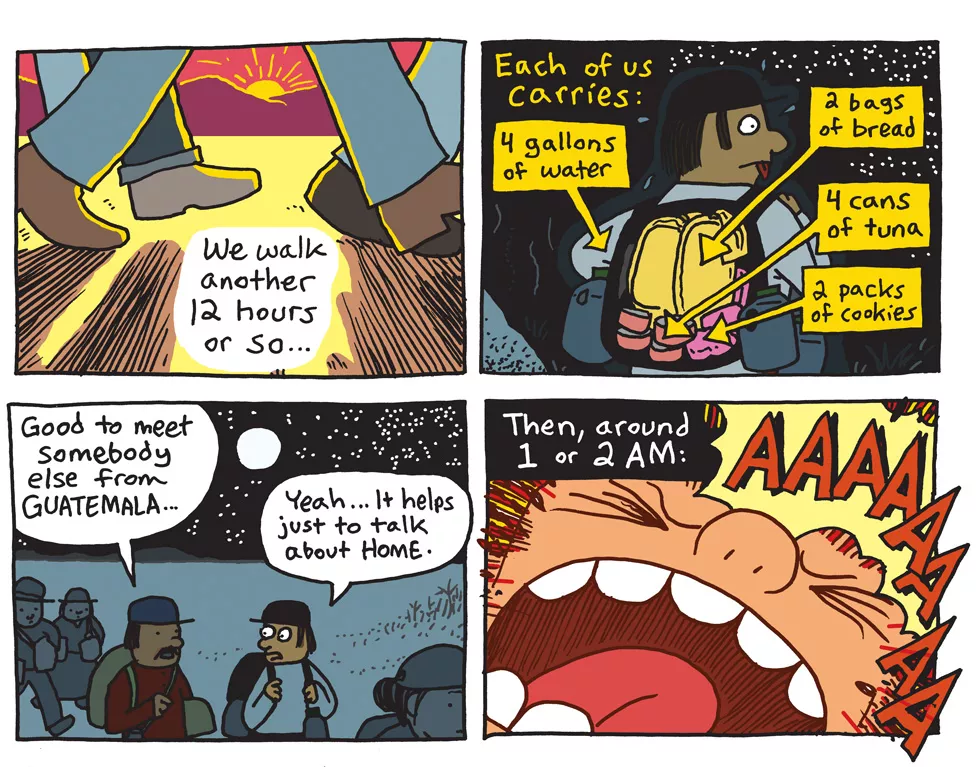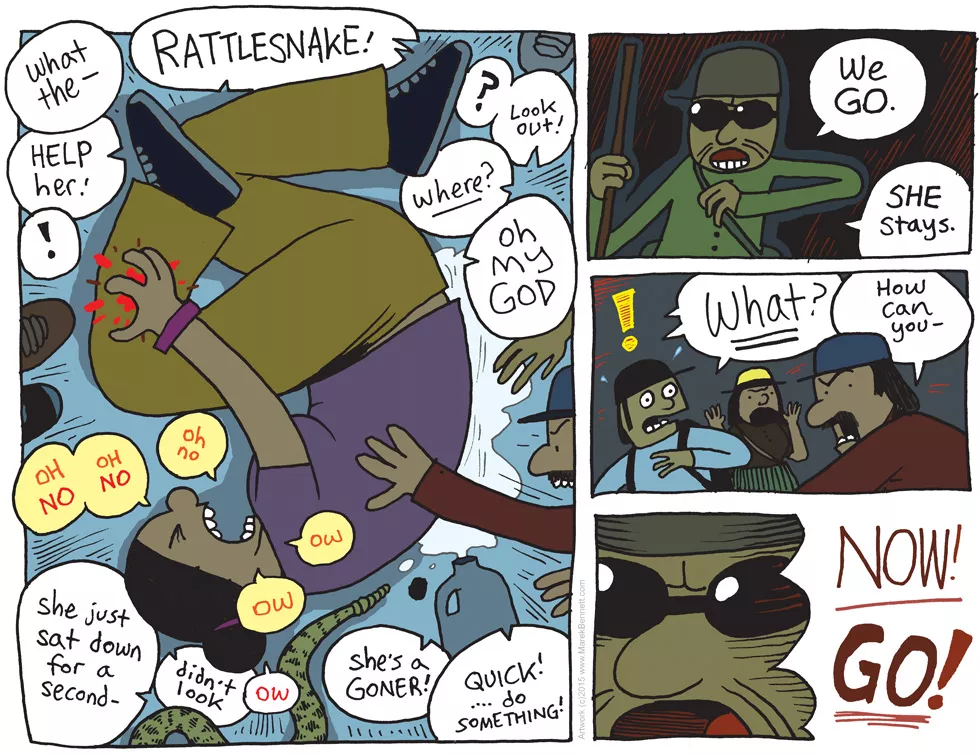 Story by José / Art by Marek Bennett

Excerpted from "El viaje más caro/The Most Costly Journey: Jose's Journey: 'Painful to Remember'"
Cartoons are visually appealing and communicate quickly and accessibly — and not just to kids. A couple of ambitious adult projects in Vermont are currently using the compelling qualities of cartoons to tell the stories of people who might otherwise be voiceless.
In White River Junction, two institutions central to the culture of that town — the Center for Cartoon Studies and the Veterans Affairs Medical Center — have teamed up on the Cartoonist Veteran Project. Meanwhile, in Middlebury, the Open Door Clinic and the Vermont Folklife Center are working with local cartoonists to convey the experiences of migrant farmworkers in Vermont. That project is called "El viaje más caro/The Most Costly Journey."
Funded in part by a $15,000 grant from the National Endowment for the Arts, the Cartoonist Veteran Project allows for a rare crosstown collaboration. Several CCS students are currently at work illustrating the stories of local veterans. The project began in February, when CCS invited vets to meet cartoonists, learn about the language of comics and participate in the process.
CCS students J.D. Lunt and Kelly Swann — who wrote and illustrated, respectively, the in-progress comic excerpted on page 23 — will edit a volume that results from the project. Ultimately, about half a dozen vet-cartoonist teams will produce autobiographical comics that will be exhibited at CCS on South Main Street.
Lunt and Swann interviewed "their" veteran, Kevin, this spring. "He was very generous with his story and really wanted to tell it," says Swann. She's now turning that narrative into a six-page comic executed in ballpoint pen — an unconventional medium that Swann hopes will convey both realism and a sense of the story's "shakiness."
"There's a lot of talk about 'the troops' or 'the veterans' as this big, abstract group," Lunt says. "To be able to put faces to that, to be able to tell people's actual stories ... it's a really powerful thing to get to do that."
He adds, "We're hoping to make something accessible and valuable, so that people can see the complexity of this population that is a huge part of life in our country."
Retired Air Force captain Madge Morris settled in Vermont after a military career that began in 1973. She now works as a secretary at the VA Medical Center and has shared her story with CCS students Sandi Getbamrungrat and Joe Davidson. Morris did not see active combat; her experience is interesting for another reason: In the early '70s, the Air Force did not count many African American women in its ranks.
"Even today, there are not that many black female officers in the military," says Morris. "I felt like I had a different aspect, since I was coming from a different point of view: being female, being a person of color, being retired."
Morris has also taught first graders in far-flung locations including Kuwait and Angola. "I know the value of comic books, as far as getting information across and making it more palatable to people who normally wouldn't read," she says.
These days, Morris is reading an illustrated biography of 19th-century black abolitionist Harriet Tubman to her neighbors' young children. "They're really interested," she says. "[Comics] don't have to be 'Archie.' They can be based in fact and reality."
The cartoon stories in "El viaje más caro/The Most Costly Journey" are designed for a specific purpose: to relay health care information to a non-English-speaking population. Project manager Julia Doucet is an outreach nurse and case manager at the Open Door Clinic, a nonprofit whose volunteer medical professionals provide free health services to the uninsured. In 2009, Doucet says, about 10 percent of the clinic's patients were migrant farmworkers. Since then, that percentage has climbed to about 60.
Excerpted from Kelly Swann and J.D. Lunt's comic
Doucet says migrant workers commonly report ailments that have no traceable physical cause, being mental in origin. She says the cartoon program's operating question is "What are we going to do to treat the anxiety and depression that is, by nature, present in this population? ... The isolation, the loneliness; your family is far away and your culture is far away."
It compounds the challenge that, in some of the migrant workers' native cultures, mental illness is "not something that is openly discussed," Doucet says.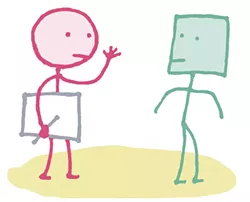 After she learned about CCS on a public radio show, Doucet began to think about the communicative potential of comics. "What better way to transmit a message than through visual means?" she says.
"El viaje más caro/The Most Costly Journey" has support from the University of Vermont Extension's Bridges to Health. One of its goals, according to migrant health coordinator Naomi Wolcott-MacCausland, is to ensure that everyone involved in farmworkers' health care — even the pharmacist — can provide info in Spanish.
The "most costly journey" could be said to describe American health care. In addition, its delivery and insurance systems are so byzantine that even native English speakers can have difficulty navigating them. That's a good reason to use comics as a guide. By summer's end, says Wolcott-MacCausland, "El viaje" will have produced six Spanish-language pamphlets and distributed them to migrant workers. After that, she and Doucet will write grants for the funds to create up to a dozen more.
Contributors to the project include cartoonists Tillie Walden and Iona Fox, whose comics also appear in this issue. Marek Bennett illustrated a story related by a farmworker he knew only as José, excerpted on page 22 in English translation. Its unexpected coda highlights the tenuousness of migrant farmworkers' lives in Vermont. José has since disappeared.
Not all migrants' stories are so troubling. Alegria Pérez came to Middlebury five years ago from Querétaro, Mexico. The 35-year-old mother of three works as a housekeeper and makes and sells Mexican food on local farms. Her tale is being illustrated for "El viaje."
"My experiences in Vermont have helped me realize that, with hard work, things get better," Pérez writes to Seven Days via Spanish-language text message. (Her comments have been translated.) "It's not important how and where you have to work, but to move forward and complete your tasks and never give up."
Someday, Pérez writes, she would like to open a Mexican restaurant in Middlebury.
Correction: "El viaje más caro/The Most Costly Journey" was originally identified as having support from the University of Vermont Extension's Farming Across Cultures Communication Project. It is in fact provided support by the University's Bridges to Health program. An earlier version of this article also neglected to credit Marek Bennett in four images.