File: Sarah Priestap
Kuya's Sandwiches + Kitchen's Filipino bánh mì
Kuya's Sandwiches + Kitchen
made a splash with its stellar sandwiches and Filipino flavors when it opened in Randolph in late February 2021. Now, owners Patty and Travis Burns have moved their growing business down the block into the former corner home of
One Main Tap & Grill
.
Kuya's at One Main
opened today at 2 Merchants Row, offering a menu of grab-and-go lunch items from 11 a.m. to 2 p.m. and dinner service from 4 to 10 p.m. The restaurant will follow a
soft opening schedule
over the next few weeks and will be open Tuesday through Saturday for lunch and dinner starting on October 18.
One Main Tap & Grill closed earlier this month after an eight-plus-year run. Owners Shane Niles and Josh Niebling announced their partnership with Kuya's on September 4. The Burnses' last day at their 29 North Main Street location was September 13.
"[Niles and Niebling] are active community members and creative, business-minded people, and they gave us this beautiful opportunity when we're just starting to be successful," Patty said. "It was an offer we couldn't turn down, and we made the decision immediately."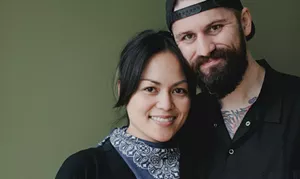 File: Sarah Priestap
Patty and Travis Burns
At the original shop, Kuya's sandwiches included classic Italian, veggie, Reuben and French dip, as well as the flavors and ingredients of Patty's native Philippines, from pork belly marinated in pineapple barbecue sauce to roasted chicken with yellow curry and bananas.
Fans will find familiar offerings on the new lunch menu, though they'll be in longer-lasting wrap form to accommodate quick grab-and-go service, Patty said. Lunch also features soups, salads and rice dishes for dine-in customers.
"Our dream has always been to have a full restaurant," Patty said. "The sandwich shop was the perfect place for us to get our feet wet and practice and prepare."
At night, the new spot will build on chef Travis' dinner specials from the original Kuya's, serving small plates full of Filipino and Southeast Asian flavors using local ingredients. The restaurant will also offer salads, a kids' menu, gluten-free and vegetarian options, and global dishes such as Italian pastas and Baja-style fish tacos.
Kuya's bestselling
Filipino bánh mì will be on the menu, along with an entrée version of the sandwich's grilled pork belly — called liempo in the Philippines — served with rice and tomato-cucumber salad.
And, thanks to One Main's well-equipped kitchen, they'll finally be able to offer much-requested Filipino spring rolls, Patty said.
"We didn't have a fryer before, and I always had to let people down when they asked for lumpia," she explained. "So I'm really happy about that."
File: Sarah Priestap
Filipino sans rival cake made with buttercream, cashew meringue and crushed cashews
For dessert, Kuya's at One Main will serve Patty's sans rival cake, fried banana turon, and chocolate pot de crème. Eventually, the Burnses plan to add Saturday brunch.
Expanded bar offerings feature cocktails made with Vermont spirits and fresh juices, such as the Empress — a twist on sangria with juice from local apples, cabernet sauvignon, fresh fruit and sparkling water — and Harvest Moon, a martini riff with Barr Hill gin, lime and cucumber juice finished with Tajín on the rim. A rotating selection of local beers will fill the 24 taps.
Kuya's at One Main will continue the Burnses' efforts to showcase work from local artists. The larger space — which seats roughly 60, 46 more than the previous location — means that multiple artists can be featured at once, Patty said. The restaurant also has a built-in stage and will host weekly open mic nights on Wednesdays.
"It's a community space that has a built-in clientele; people already love coming here," Patty said. "And we all have the same goal, which is to provide something good for our town."