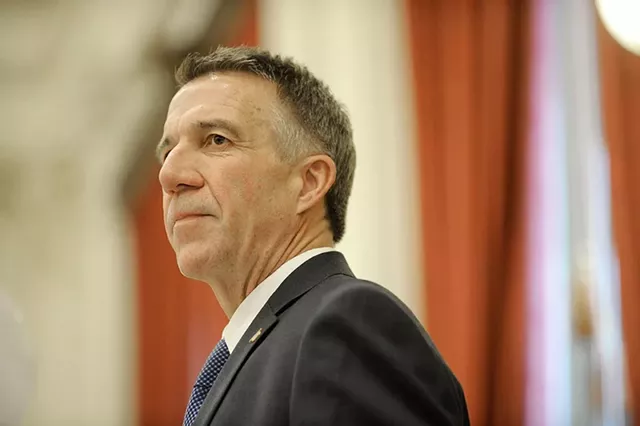 File: Jeb Wallace-Brodeur
Gov. Phil Scott
At an early December press conference, Gov. Phil Scott hammered on a familiar theme: Education property taxes are out of control. He pointed to Vermont's "lowest-in-the-nation" staff-to-student ratio of 4-to-1 and asserted that, if the ratio were increased to 5-to-1, the state would save $100 million.
But when asked if he was calling for cutbacks, his answer was evasive.
"I'm looking for consensus on what we can do," he said, adding that any cuts could be done by attrition over time.
The exchange displays a persistent duality in Scott's governorship: warnings of imminent crisis followed by incremental proposals.
Scott spokesperson Rebecca Kelley has a different take. "The administration has been engaging stakeholders and working on this issue for months," she wrote in an email.
OK. Let's credit him for activity, but there's certainly no firm movement.
In his inaugural address last January, Scott used the word "crisis" four times, and "challenge" or "challenges" 11 times. Among the issues he cited: affordability, aging demographics, a shrinking workforce, the cost of K-12 education, opiate addiction, the mental health care system, waterways cleanup and climate change.
Affordability is No. 1 on Scott's hit parade. At every opportunity he rails against high taxes. But while his first budget called for no new taxes or fees, it wouldn't have made a dent in Vermonters' tax bills. His only sustained effort to lower taxes was a proposal to save up to $26 million by negotiating teacher health care coverage on a statewide basis. That was eventually trimmed to $13 million, but it appears that those projected savings got lost in the weeds of contract negotiations.
Drawing the line on taxes is a noteworthy accomplishment. But if Scott sees an affordability crisis, he's taking an awfully measured approach.
"Phil is a decent guy," said John McClaughry, vice president of the Ethan Allen Institute and a longtime advocate for low taxes and small government. "He's an honest, public-spirited Vermonter. As a creative force, he has a long way to go."
"He does not have an ambitious agenda, that's for sure," said Brian Shupe, executive director of the Vermont Natural Resources Council. He points to an administration working group tasked with proposing a long-term funding source for a federally mandated water cleanup program. "They studied it and said they need to study it more, and called for borrowing money in the short term."
Kelley provided a long list of accomplishments and initiatives. The top item under water quality is Scott's support for state Treasurer Beth Pearce's two-year plan that relied entirely on borrowing to create breathing space for the state to craft a permanent funding mechanism. That time is half gone, and Team Scott has yet to propose a long-term plan.
Scott frequently decries the human and economic toll of the opioid crisis, but his actions have been consultative, not decisive. He hired a drug czar, set up an interagency council and convened a statewide summit on substance abuse treatment. But he has shied away from novel approaches such as safe injection sites, as proposed by Chittenden County State's Attorney Sarah George. "I have a hard time contemplating how this might help reduce addiction," he said at a November press conference. But the purpose of safe injection sites is not to reduce addiction. It's to prevent overdoses and life-threatening infections.
Dr. Deb Richter is a proponent of single-payer health care who practices addiction medicine in Burlington. "I see patients going back to jail, even for minor offenses," she said. "That's more expensive than treatment." But Kelley's list doesn't include any mention of alternatives to incarceration.
To some, the relative lack of action isn't a concern. "For the governor to be identifying the issues we face, I say 'Good!'" said Rep. Laura Sibilia (I-West Dover). "We can't take action on a problem unless there's agreement that it's a problem."
On many issues, Scott has established study groups, task forces and commissions. Those panels, as Kelley noted, "have been working incredibly hard ... It would be unfair and misleading to dismiss their hard work and service before their recommendations and reports have even been put forward."
Point taken. On the other hand, Scott arrived in the corner office with 15 years of experience in state government as a senator and lieutenant governor. If anyone should have been ready to hit the ground running, it would be him.
Another point for Scott: He is hemmed in by Vermont's tight finances.
"He's confined by money. There's never enough," said Rep. Peter Fagan (R-Rutland), vice chair of the House Appropriations Committee. For Fagan, that confinement is more blessing than curse. "The governor is definitely a very careful steward of people's money and the State of Vermont."
Which encapsulates the governor's political appeal: People trust him to be a careful steward. The caution may be irritating to some, but, to others, it's a welcome respite after the go-go years of his predecessor, Peter Shumlin.
"When he served in the legislature, he was thought of as collegial, nonpartisan," McClaughry said of Scott. "There's something to be said for that." McClaughry points to a persistent yin-yang in the corner office: the activism of Phil Hoff followed by the reticence of Deane Davis; the energy of Tom Salmon followed by the fiscal caution of Dick Snelling. In this case, Scott's reticence follows Shumlin's activism.
True enough. Still, there's a contradiction between the two Phils: the cautious steward and the sounder of alarms. He may be trying, as Sibilia suggested, to build the broad consensus needed to address big problems. But given his record in state government, one has to question whether he will ever take the kinds of dramatic action needed to tackle his extensive list of crises.
Action, Maybe Sometime
One of Scott's many study groups is the Vermont Climate Action Commission, created by executive order in July. The panel is nearing the end of its first major task: recommending at least three policy ideas for the 2018 legislature.
Its members came up with a total of five at a meeting last week, although they're not quite in final form. "We agreed on ideas and concepts. There is still some writing to do," said cochair Peter Walke, deputy secretary of the Agency of Natural Resources. He will complete that writing along with cochair Paul Costello, executive director of the Vermont Council on Rural Development. Then, before the end of the year, the rest of the panel will sign off on the recommendations.
One relates to Vermont's $18.7 million share of a national fund set up by Volkswagen to settle charges of cheating on diesel emissions tests. The money must be used to limit pollution from heavy diesels, not personal vehicles. ANR is collecting public comment until January 13 on how to spend the money. One bone of contention: Should it be used for electric vehicles or new, cleaner diesels? Some environmental groups are calling for the purchase of electric school buses; Scott has hinted at a preference for clean diesel.
The climate commission recommends electrification, but it has no direct influence on the VW settlement decision-making process. "The commission's voice is a strong one, but every Vermonter should have a say," Walke asserted.
He declined to discuss the panel's other policy recommendations. But commission member Johanna Miller, energy program director for the VNRC, provided an outline.
First, the panel will support state-issued bonds to provide funds for weatherizing buildings, a proposal from Burlington Electric Department general manager Neale Lunderville. He has proposed a $100 million bond. "We suggested the governor explore the idea, but perhaps different funding levels," Miller said.
Next, the panel will recommend additional support for the state's commitment to "advanced wood heating," which Miller cited as homegrown renewable energy. It will also recommend tax incentives to support the development of Vermont's climate economy.
And finally, the bugaboo of climate politics: carbon pricing, aka some sort of carbon tax. Scott is fiercely opposed to the idea, but the commission will ask him to support a comprehensive "study of economy-wide carbon pricing," Miller said.
Wow, a commission recommends a study. Groundbreaking. And don't forget that all of this must be approved by the governor and legislature.
One subject the commission has not addressed is possible changes to Act 250, Vermont's land use law. There was no taboo on the subject, according to Walke. "We've been intensely focused on getting specific recommendations to the governor by the end of December," he said.
Act 250 and other issues will be tackled in the New Year, he said, when the commission works toward its ultimate charge: creating a climate action plan by the end of July.
Media Notes
A bit of turmoil at New England Newspapers, the Massachusetts-based owner of the Berkshire Eagle and three southern Vermont newspapers: the Brattleboro Reformer, Bennington Banner and Manchester Journal. Publisher Alan English is taking a new job as communications chief for the Military Officers Association of America. Replacing him is company president a retired judge who, until he and his partners bought the company, had never worked in the newspaper business.
Rutberg did not return calls for comment. The Eagle quoted him as saying the past "three years" have made him "ready and qualified" to be publisher. (His group bought the newspapers a year and a half ago, but Rutberg is counting the time he spent putting the deal together.) If I'd had the chance to speak with 72-year-old Rutberg, I would have asked about preparations for the future — a succession plan to ensure that the papers are secure for the long term.
That question becomes more vital with the news that one of Rutberg's co-owners, prominent New York City banker Robert Wilmers, died on Saturday night at the age of 83. Another co-owner, Stanford Lipsey, died in November 2016.
The new owners have inspired hope in the four home communities that their local papers might survive or even thrive. Rutberg has now put even more of that burden on his own shoulders.
Finally, a friendly face has departed from our television screens. Gib Brown, longtime meteorologist for WPTZ-TV, has stepped down after a remarkable 37 years at the station. For the last 27 years, the Plattsburgh, N.Y., resident was the regular weekend weatherman on Channel 5. That's a long tenure in a part-time gig, but it complemented his weekday job as a teacher.
Brown says he wanted to slow his pace a bit, partly because of family considerations. He will continue teaching, but he'll have weekends free.
"This was the first time in 27 years that I had a beer and watched a football game on Sunday," he said.