Matthew Thorsen
A memorial for Jesse Beshaw
Chick's Market owner Pam Vezina had just stepped outside her business on Hickok Street in Winooski when she saw a police cruiser tear down the road on September 16. A city police officer hopped out of it behind the O'Brien Community Center.
That's roughly when Vezina heard the shots.
A few hours later, she realized that she was acquainted with both the shooter, Franklin County Deputy Sheriff Nicolas Palmier, 31, and the man he killed — Jesse Beshaw, 29.
Both men lived in the neighborhood just off the Winooski traffic circle. They frequented the convenience store in which Vezina sells deli sandwiches and snacks.
"I had some anger at both of them at first," Vezina said. "But we can't stand here and judge people. It has to be hard on Nick."
Vezina said she was concerned in the days immediately after the shooting that Beshaw's local friends might start trouble at Palmier's nearby home on Hickok Street. It's within sight of the spot where Beshaw was gunned down. But nothing unlawful has happened.
Meanwhile, neither the Vermont State Police, which is investigating the shooting, nor the Winooski police, whose officers were involved in the incident, has fully explained what occurred. State police have said that three Winooski officers spotted Beshaw, who was wanted for burglary, enter a home on Union Street. When they tried to surround the residence, he fled on foot, whereupon Palmier intervened and caught up with him. Beshaw advanced on the deputy with a hand hidden behind his back, and Palmier opened fire, hitting him with seven shots, police said. Beshaw was not armed.
Court documents reviewed by Seven Days reveal more about Beshaw's recent history with city police and may shed light on why police were wary of him.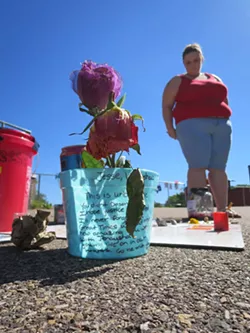 Two weeks before the shooting, a man called Winooski police to report that he could hear two men outside his first-floor home on East Allen Street talking about kicking in a second-floor door, according to a Winooski police officer's affidavit filed in Chittenden Superior Court. One of the men had a gun strapped to his waist, the caller reported.
Winooski police raced to the home. They climbed the stairs to a second-floor apartment and saw that the deadbolt and front door were damaged, but the door was closed.
So the police went downstairs. Suddenly, Beshaw opened the door to the upstairs apartment, according to the affidavit. In his left hand, he held a gun.
Beshaw spotted police and ducked back inside the apartment. He broke through a window, jumped to the ground from the second story and ran away.
Inside the apartment, police found 50 pills, empty heroin bags, needles and the overdose-reversing drug Narcan, according to the affidavit.
Police did not catch Beshaw that night. Later, following up on a tip about a running man who paused at a dumpster on Barlow Street, officers found what they believe was Beshaw's gun inside it.
The gun, a revolver with a wooden handle and long silver barrel, matched the descriptions of a weapon used in three recent bank robberies in the Onion City: The Merchants Bank on Main Street was robbed on August 10; the TD Bank branch on East Allen Street was hit on August 18 and again on August 25. Each time, a masked man with a revolver made off with various amounts of cash.
Police have not charged anyone with those crimes and declined to say whether Beshaw was a suspect.
Beshaw had a criminal record that included convictions for burglary and escape from custody. He served at least three stints in prison totaling more than three years, according to Chittenden Superior Court records.
His mother, JoAnne Lewis, died in 2001, and his father, Arthur Beshaw, died in February 2016. His older brother, Michael Lewis, was sentenced to prison for 22 years in 2009 after leading police on a car chase that ended in a crash that killed two of his passengers and injured four others — including Beshaw — in South Burlington.
"I think that's what started his problems," said Winooski resident Trisha Bell, who described herself as a longtime Beshaw family friend. "He had nobody. His family was gone. He was by himself. He did a lot of soul-searching, trying to fill a hole that couldn't be filled. He was trying to change."
Palmier wound up in Winooski via a different path.
He served in the U.S. Marine Corps from 2003 to 2007 and did two tours in Iraq, in 2004 and 2005, according to the Marine Corps Manpower and Reserve Affairs unit.
Burlington Free Press wrote about him in a 2008 story about a Vermont visit by the secretary of veterans affairs. In it, Palmier expressed concern that his experiences in Iraq could make it more difficult to find work as a cop.
"He said after he saw a buddy die, he saw a mental health counselor," the Free Press reported. "Subsequently, when home on leave, he had to check in daily with his sergeant. Now that he's a civilian, he worries his mental health record could prevent him from getting jobs."
Ultimately, it didn't.
Palmier has been a certified law enforcement officer in Vermont since 2010, according to Rick Gauthier, the executive director of the Vermont Criminal Justice Training Council. He was hired by the Winooski Police Department in November 2009 and worked there for a year, Winooski Police Chief Rick Hebert said. He declined to provide further details.
From Winooski, he joined the St. Albans Police Department, where he stayed less than a year, from May 2011 to March 2012, according to that department. He joined the Franklin County Sheriff's Department in 2015, according to media reports. Franklin County Sheriff Robert Norris did not return phone calls about Palmier.
When Seven Days knocked on Palmier's door, nobody answered.
But several people who lived around the deputy sheriff had plenty to say. Most of them are angry with the police.
Anne Weber, who said she saw Beshaw running from Palmier, said it was obvious that Beshaw was unarmed: He was wearing basketball shorts and a tank top, she said.
"What are the Winooski police hiding?" Weber said. "I don't get it; it's frightening. Why couldn't they Taser him? He could have shot his knees. Why did they shoot to kill?"
Several neighbors said they knew Palmier lived in the area, but they had little interaction with him. Rene Gombar, a Hickok Street resident, said Palmier has kept a low profile in the neighborhood.
"I've never seen him in three years," Gombar said. "He's not involved in the community at all. This is his only incident — he goes out and empties his magazine."
Why was a Franklin County sheriff's deputy participating in a bust in Winooski?
Hebert said that he believes Palmier was either leaving for work or arriving home when he heard about the attempt to arrest Beshaw on the police scanner.
"I think he was just trying to be a good fellow officer and help out," Hebert said of Palmier. "If we're on our way to court and we see Burlington police wrestling with someone in the road, of course we're stopping. It's normal."
Hebert declined to discuss the shooting, citing the ongoing investigation. The three Winooski officers involved in the incident have been questioned and are back on active duty, Hebert said.
Both the Chittenden County State's Attorney's Office and the Vermont Attorney General's Office will review the shooting to determine whether Palmier's decision to fire was lawful. In recent history, those reviews have almost always exonerated the officer.
The law generally gives great discretion to police officers when they use deadly force. The Vermont Police Academy teaches officers that they are allowed to open fire if they "reasonably" believe themselves or others to be at risk of serious injury or death, according to Gauthier.
"In general, the officer doesn't have to be fired at or have a weapon brandished to take action," Gauthier said.
Officers are not trained to shoot with the intention of wounding, which is far more difficult to achieve than is widely believed, he said.
"We don't use 'shoot to kill.' We use 'shoot to stop,'" Gauthier clarified. "What we tell people is, if you fire and you miss them, but they stop doing whatever it is that caused you to fire, you're done firing. Likewise, it might take multiple hits to stop them."
Palmier and the three Winooski officers were wearing body cameras, and the shooting was captured on video, state police said. However, both the Winooski police and Vermont State Police have declined requests from Seven Days and other media outlets to release the footage. They have cited an exemption in Vermont's public records law for ongoing criminal investigations. Both the American Civil Liberties Union and the New England First Amendment Coalition have urged authorities to make the footage public.
"At this time, when we're talking so much about rebuilding the trust between police and the community, the police are showing an utter lack of trust in the public," Vermont ACLU staff attorney Lia Ernst said.
The Winooski shooting occurred on the same day that police officers in Tulsa, Okla., opened fire on an unarmed black man as he walked back to his vehicle with his hands in the air. Three days later, Tulsa police released cruiser camera footage that captured the fatal shooting, resulting in a manslaughter charge against the officer.
The very next day, police shot 43-year-old Keith Lamont Scott outside an apartment complex in Charlotte, N.C. When law enforcement initially refused to release the video, the victim's wife offered up her own, in which she's shouting, "Don't shoot him. He has no weapon" and "He doesn't have a gun. He has a TBI."
The Charlotte police department has since released some — but not all — of its video.
In Winooski, an impromptu memorial has grown around the bloodstained patch of pavement behind the O'Brien Community Center. Dozens of people have left their thoughts on scraps of paper tied to a fence, on a dumpster pocked with bullet holes and on a poster pinned to the spot where Beshaw died.
"I'm sorry to hear of this it was so uncalled for I hope the cop that done this has to think about this for the rest of his life," one reads.
"What about social injustice?" says another.
Also: "Fuck the police. Murderers. Eye for an Eye."
Last Friday evening, 50 demonstrators descended on the Winooski traffic circle at rush hour. With two Vermont State Police squad cars parked nearby, they demanded the release of the body camera footage and decried "killer cops." At one point, a "black lives matter" chant erupted.
The crowd was a mix of Beshaw's local friends and veteran activists.
About 20 minutes into the demonstration, Beshaw's girlfriend, Winooski resident Kristina Ellis, arrived. She stood in front of the group, closest to the passing cars, and held aloft a handmade sign that read "murder is illegal."
"He needs justice," Ellis said in a brief interview. "It's not right."