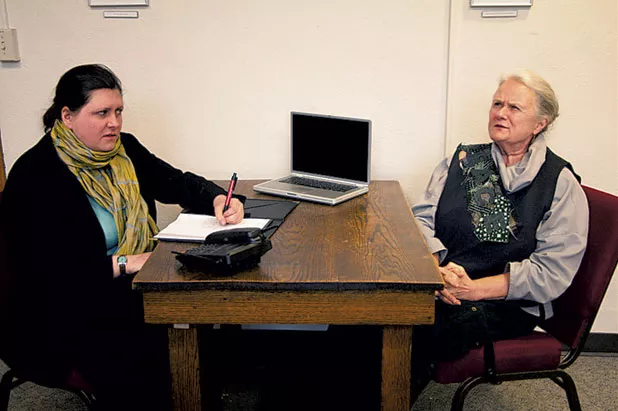 "You're missing the point — my thought, the way I think, has changed," says Hannah, an 82-year-old woman perhaps suffering from dementia. She's a character in Intake, one of two original plays by Vermont playwrights that will be showcased at Lost Nation Theater's ninth annual Winterfest this month.
"Let's do something to determine the loss of your thinking," replies Dr. Grey, Hannah's psychiatrist.
"There may not be a loss," Hannah insists. "There may just be a difference."
When audiences encounter these two characters, one a by-the-book psychiatrist and the other an aging woman whose mind is slipping, their first impulse may be to start analyzing the patient. That impulse is likely to be exacerbated by the playwright's revelation of a pair of canine housemates that Hannah relates to as human peers, and by her seven-minute monologue at the end of Act One that culminates with, "You can't commit suicide if you have a dog."
But to psychoanalyze Hannah, says Marshfield-based playwright Margot Lasher, would be to miss the point.
"Older people are sometimes misunderstood," she says. "As you age, your brain does change, but not necessarily for the worst. That can happen throughout your life, now I think about it. You're not in touch with the dominant narrative, so you're marginalized."
For Lasher, whose "Hannah" is a composite of herself and an elderly male acquaintance with a strong distaste for the medical profession, the point is to validate the voice and unique wisdom of aging individuals — and of animal lovers. (Her most recent stage experience is a one-woman monologue called Stay, about her relationship with her dogs.)
"It's not meant to analyze," Lasher says of Intake. "If you're an audience member close to your own dog, I think this is validating."
Directed by Joanne Greenberg and produced by Liz Snell, Intake is a labor of love by the three retirement-age women who shaped what was originally a one-act by Lasher into a full-length production. Greenberg and Snell saw a staged reading of the one-act in Rutland several years ago and encouraged Lasher to develop the second act of the play. "We loved its affirming vision of the aging process, of the wisdom and humor that can come with growing older," writes Greenberg in her director's statement. "In a youth-worshipping culture that tends to treat its older citizens as either jokes or burdens, Intake offers a refreshing alternative perspective."
The snappy, comedic dialogue in the first encounter between Hannah (Emme Erdossy) and Dr. Grey (Alison Goyette) shaped Intake's original single act; that interaction deepens with the play's more recent material. Whether Lasher intends it or not, her script gives everyone — shrink, actor and audience — plenty to chew on, perhaps even more than her director's "refreshing alternative perspective" implies.
Intake makes its debut on the second weekend of Winterfest, with performances from February 13 to 16. Eve Ensler's The Vagina Monologues, directed by Lost Nation Theater's staff, takes Winterfest's first weekend, February 6 to 9. The festival closes with Adapted From Samuel Beckett, a one-man show from local performer and puppeteer Ellis Jacobson that runs February 20 to 23.
Jacobson, a longtime collaborator with Bread and Puppet Theater who gained international recognition for his papier-mâché puppets, is hesitant to say much about Adapted From Samuel Beckett. In fact, in a recent phone interview, he initially sticks to giving the same line LNT put on the program: "Ultimately it is about art, society and life itself."
But when pressed, Jacobson reveals that his one-man show will include clowns, flashing lights, lots of movement and absolutely no puppets or masks. "You wouldn't know it from the title, but it's a comedy," he says. "And even though it's about Samuel Beckett, a person can go in there not knowing who he is and still enjoy the show … It both ridicules and reveres Beckett, almost simultaneously."
Founding artistic director of LNT Kim Bent, a longtime acquaintance of Jacobson, offers that his work was born from his "deep love" of the Irish-born playwright.
"In ways it's a dialogue with Beckett," Bent says of Adapted. "It's different from his other work, which focuses on puppets, but this is him as a performer with a mostly bare stage, just trying to get through the evening — struggling and making his way forward in a very scary environment."
Asked how he selects shows for Winterfest each year, Bent says he just goes with his gut. "The selection process is meant to highlight Vermont performing artists who perhaps are not getting as much exposure as they should, and [we look for] new material," he says. "We never lack for folks that want to come in every year. But it's instinct, in the end. I think [Lasher and Jacobson] are both really talented artists."
Lost Nation Theater presents Winterfest, February 6 to 23 at the Montpelier City Hall Arts Auditorium, with three productions over three weekends. "The Vagina Monologues" will run February 6 to 9; "Intake," February 13 to 16; and "Adapted From Samuel Beckett," February 20 to 23. Evening performances are 7:30 p.m. on Thursday, Friday and Saturday, with Sunday matinées at 2 p.m. $15-20. More info, 229-0492. lostnationtheater.com