Courtesy of Opera Company of Middlebury/Doug Anderson
Suzanne Kantorski in last year's Eugene Onegin
Live opera in the Green Mountains is both scarce and eminently savorable — perhaps because small budgets seem to propel refreshing creativity here. Witness the summer offerings of Vermont's two opera companies: the year-old Vermont Opera Project and Opera Company of Middlebury, now in its 14th season.
In August, VOP will cool off operagoers with The Andrée Expedition, a 1980 work by Dominick Argento set in the Arctic. The opera is based on the true story of three Swedish men who, in 1897, attempted to reach the North Pole by hot-air balloon. After rough weather forced an early landing on the ice floes, the crew struggled on by foot but eventually died one by one. The men's letters and diaries, discovered 33 years later, served as the basis for Argento's English-language libretto. The haunting opera ends with fractured singing, conjuring documents half lost to water damage.
The company's founders, Quincy and Jeff Bruckerhoff of Clarendon Springs, opted for the original song-cycle version of the opera. Solo baritone Michael Chioldi and accompanist (and music director) Laurie Rogers will perform it. The piano will be onstage, as in a recital, but the production will be staged, with lighting by Jeff Bruckerhoff. The set will feature projected images as well as "abstract ice floes and hints of a balloon," says Quincy Bruckerhoff.
For Chioldi, Expedition is an atypical performance. The New York City-based dramatic baritone is accustomed to singing operas by Giuseppe Verdi and Richard Wagner. Now 47, he won the Metropolitan Opera National Council Auditions in 1995, and was 26 when he made his Met debut in an opening-night production of Andrea Chénier starring Luciano Pavarotti with James Levine conducting. Chioldi's current calendar holds several upcoming European debuts, including ones in Barcelona and Berlin.
Chioldi also teaches, which he says has made him acutely aware of the mental challenges that singing involves. That struggle parallels the theme of Expedition, he points out, which is "man against nature, but really just you against yourself."
Vermont holds an additional attraction. Chioldi (pronounced with an initial K sound — "like chianti," explains the singer) has family roots in Barre. His grandfather's brothers founded Chioldi Granite, which is still functional.
Expedition will be performed at the Vermont Marble Museum in Proctor and the Barre Opera House.
VOP's other summer event, an art-song concert on June 25, will include a taste of the opera, promises Quincy Bruckerhoff. Shelburne native and baritone Geoffrey Penar, New York-based soprano Anya Matanovic and pianist Djordje Nesic will make a room in the Rutland Free Library resound with some extraordinary talent. Fans of the now-defunct Green Mountain Opera Company, where Penar got his start before pursuing extensive training at McGill University, may recall his comedic gifts and winning stage presence.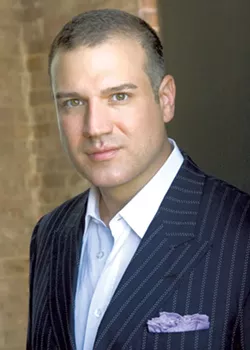 Courtesy of Vermont Opera Project
Michael Chioldi
Expedition furthers VOP's aim of presenting new and cutting-edge operas on a small scale. Last year, the company's offering was a contemporary English-language version of the Orpheus and Eurydice story, starring Tinmouth soprano Suzanne Kantorski as Eurydice. The production was staged both in the marble museum and in the atrium of the National Gallery of Art in Washington, D.C. — a performance nearly in the round that earned accolades in the Washington Post.
Kantorski appears this year in Opera Company of Middlebury's production of three operas — in one night. Founder and artistic director Doug Anderson has chosen Giacomo Puccini's trio of one-acts, called Il Trittico (The Triptych), to present in the first two weeks of June. Each opera lasts 50 minutes, with time in between for a glass of wine, Anderson promises.
When performed together, the three are typically presented in the order Puccini wanted: the dark tragedies of Il Tabarro (The Cloak) and Suor Angelica (Sister Angelica) followed by the light comedy Gianni Schicchi. That was the order of their first performance, in 1918, at the Met. (Italy was still mired in the fallout from World War I.)
Anderson opted to place Schicchi between the other two pieces, partly to give the audience an emotional break and partly because, he declares, "There's nothing to say after the last 15 minutes of Suor Angelica. If you're not crying by then, you're not human."
The Italian-language operas will be presented with surtitles. Each will have a completely different set, in keeping with the high production values OCM regularly delivers. But the casts, consisting of 14 professional singers and a chorus of eight community members, will overlap in ensemble fashion.
Il Tabarro is the story of a working-class love triangle gone bad on a barge on the Seine in 1910. Gianni Schicchi's crafty title character, living in Florence in 1299, impersonates a wealthy dead man to tweak his will. The work features what might be the most famous aria in opera: "O mio babbino caro" ("Oh, my dear father").
Suor Angelica is set in Siena in the 17th century. Starring Kantorski in the title role, it's the story of a woman punished with life in a convent for having a child out of wedlock. Then she is punished again, in a manner much worse than that meted out to Madama Butterfly, Puccini's other famous mother of a young boy.
Kantorski says the final scene will star an appearance by her own 6-year-old, Ellis Merrill, who happens to be the age of Suor Angelica's son. The moving scene will be even more so, says the singer, because "There's something visceral about seeing a real mother and son together onstage."
This is Merrill's debut performance. Jokes the soprano, "There's going to be a lot of chocolate milk around eight o'clock." The young singer's payoff will be worth it, though: Ellis specified in his contract that he is to be compensated in monster truck toys.
The payoff for audiences will be much greater: the chance to see high-level opera singing at affordable prices. Leave the big-production warhorses to regional houses such as Opera North in Lebanon, N.H., and Opéra de Montréal; Vermont has the small, lesser-known and intriguing rep covered.