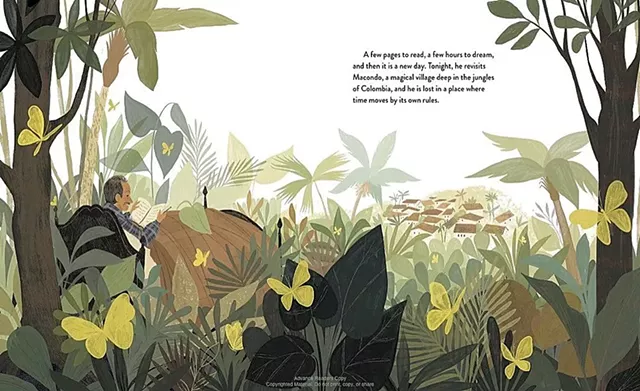 Courtesy
A page from Digging for Words
Three years ago, Angela Kunkel — now the school librarian at Vergennes Union High School — saw a video of José Alberto Gutiérrez, a garbage collector in Bogotá, Colombia, who salvaged books from the trash, beginning with a copy of Leo Tolstoy's Anna Karenina. Using this scavenged collection, Gutiérrez created a free library for the city's poor.
In September, Kunkel's debut picture book, Digging for Words: José Alberto Gutiérrez and the Library He Built, was published in both English and Spanish editions. It tells the inspiring story of Gutiérrez, interspersed with the fictional story of a little boy who discovers this library. The book features the digital illustrations of Paola Escobar, a Bogatá resident.
Kunkel, who lives in Vergennes with her 10-year-old daughter Georgia and 8-year-old son Atticus, is a former resident of New Mexico and speaks some Spanish. While writing the book, Kunkel sent a copy of the manuscript to Gutiérrez. He sent her book un abrazo gigante — a giant hug.
Kids VT: How can parents instill the magic of reading in their children?
Angela Kunkel: In José's story, and in my own experience as a librarian, I'd say that magic only happens with continued access. That means offering children a wide variety of books to choose from — including formats like graphic novels! — and that, as adults, we continue to offer choice again and again, over time. We have to be aware, too, that the magic and power of reading means funding and supporting book access for all children. For those families who may not have the ability to purchase a lot of books, public and school libraries are not just nice — they are a lifeline.
KVT: What do you like best about reading to kids?
AK: Reading is a shared experience. In Digging for Words, Señor José sits and opens a book with little José. Adults help act as a portal for kids' own interest in books. Sitting with our children and sharing a story is a powerful experience, whether we're in Colombia or Vermont.
Check out Kunkel's virtual story time with Belmont Books in Belmont, MA, via Instagram, Saturday, October 17, at 11 a.m. See belmontbooks.com for more information.
Also of note: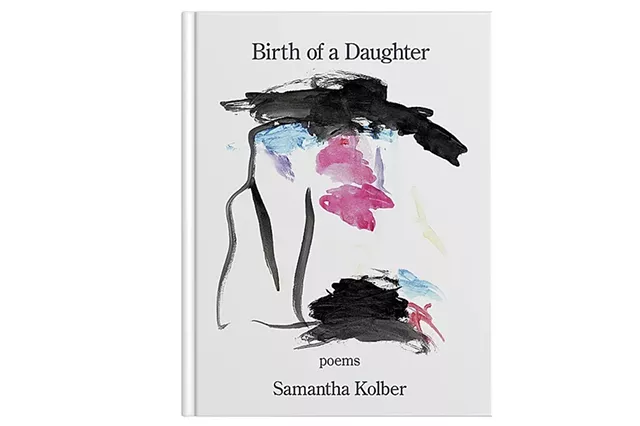 Cover art by Kolber's daughter at age 3, titled "Mommy Monster"
Samantha Kolber, a Montpelier resident and mother of a 4-year-old daughter and 18-year-old son, published her debut poetry collection, Birth of a Daughter, in September, through Kelsay Books, an independent literary press. Said Kolber:
"For me, the only way to create poems often meant writing about my children and my motherhood experience. Last year, I signed up for a 30-day, poem-a-day writing program (through Tupelo Press) where I was committed to writing, and submitting for publication on a website, a poem a day for the month of June. My daughter was 3 at the time, and many days I hardly had enough time to compose a poem before the deadline. I would sit down to write frantically and most of what came out was how frantic I felt trying to be a mom, with two kids and two jobs, and trying to write! Also, it helps to have a supportive partner, and my husband has always helped me have time to write. Though I was also a single mother for ten years when I had my son, and I still found time to write. For me, though, writing is life, so I always find a way to squeeze it in!"
To My Daughter Sleeping Soundly in the Middle of the Night
You are the reason the world keeps turning,
the reason people like me do anything at all.
You are the reason we want no wars.
You are the one perfect existence to an imperfect earth.
One touch of your cheek makes angels cry.
Kolber's virtual book launch, cosponsored by Bear Pond Books and the Kellogg-Hubbard Library, takes place on Friday, October 9, at 7 p.m. Preregister to access the Zoom link at bearpondbooks.com.