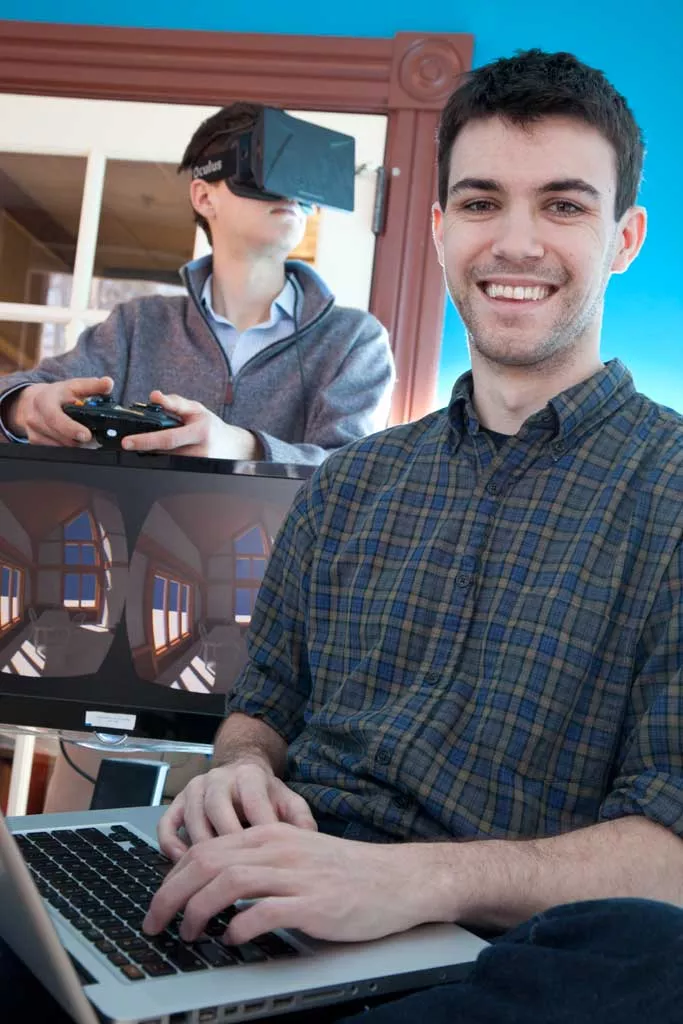 Matthew Thorsen
Nate Beatty and Shane Scranton
Shane Scranton and Nate Beatty are the first to admit that when they show up at an architecture firm, tiny black briefcase in hand, they're likely to face skepticism from the seasoned designers in the room. Inside that briefcase is a headset that looks a bit like a bulkier version of opaque, black ski goggles.
They've got a lot of explaining to do to their hosts: about virtual reality, 3-D modeling, and what those goggles might mean for architecture and design. Scranton's approach?
"We just show up with the Oculus Rift, pop it on someone's head, and it does the talking," he says.
If you're an avid gamer or techie, you've probably already heard about the Oculus Rift. In case you haven't, the SparkNotes version would go something like this: Created by company Oculus VR, the Rift is a headset that essentially transports the wearer into virtual reality. Instead of looking at a computer screen, you feel as though you're inside the screen; you can shift your perspective by simply moving your head.
Scranton and Beatty, two recent Middlebury College graduates, are developing software for the device that would allow architects and builders — and, perhaps most importantly, their clients — to explore architectural models in virtual reality. They're calling their venture Iris.
"You put it on and feel present in the space," says Scranton of the Oculus Rift. "And, boy, that's a good way to get clients to spend money on architecture."
The Oculus Rift isn't commercially available yet, but the company has already sold an estimated 50,000 headsets to developers. Oculus VR recently unveiled its latest prototype, called the Crystal Cove, which snagged the Best of CES award at this year's International Consumer Electronics Show in Las Vegas.
The device has developers, and particularly hardcore gamers, fawning like giddy schoolchildren. "I Wore the New Oculus Rift and I Never Want to Look at Real Life Again," reads the headline on a recent Gizmodo article. "There's zero doubt in my mind that when the final version of this device comes out it is going to change the world," the writer, Eric Limer, enthused.
Of course, the trouble facing journalists and early reviewers of the Oculus Rift is that it's difficult to convey in print just how immersive the experience of wearing the headset is. This reporter tried it and couldn't help agreeing with the breathlessly enthusiastic fanboys: The Oculus Rift is revolutionary.
Scranton ordered his development kit late last summer. He'd graduated from Middlebury College the previous spring with a degree in architecture and environmental studies. And, though he had extensive experience in the field for a recent graduate — including a stint at Smith Alvarez Sienkiewycz Architects in Burlington — he wasn't getting any job offers. "I applied to 50, 60 architecture firms," Scranton says. "I heard back from one — saying no."
So he went freelance instead, putting to use the 3-D-modeling skills he'd learned working on Middlebury's award-winning Solar Decathlon house. "I knew what architects needed," says Scranton. He founded Lightwell, a visualization, web design and branding studio, and found his niche producing photorealistic renderings for architecture and design firms.
"Architects are really good at looking at two-dimensional models and seeing that in three dimensions. That's what they do," says Beatty, who graduated from Middlebury College last month and joined Scranton to help with Lightwell's website design.
But laypeople, Beatty continues, may struggle to translate blueprints into a space in which they can imagine themselves living or working. That's where photorealistic renderings come in. The images are all about marketing — helping clients envision a finished space in a way that floor plans just can't. But such renderings take more time to produce than most architects have to spare, Scranton points out; that's where he found his niche.
Steeped in the world of 3-D modeling, Scranton started hearing about the latest advances in virtual reality — including the Oculus Rift. He remembers thinking, That sounds like something I might be able to do with architecture.
The kit he had ordered arrived in October. Scranton fired up a 3-D mock-up of a building, popped on the Rift — and, he remembers, shouted, "Oh, my God!" Physics major Beatty recalls having a similar reaction when Scranton showed him the Rift — he thoughtOK, this. This is what I want to do.
The two are now developing architectural software that would be "plug and play." In other words, architects could take computer models of buildings designed in SketchUp or similar programs and translate them effortlessly into an Oculus Rift experience. In the meantime, Scranton and Beatty have hacked together demonstrations that allow architects to see what's coming down the line. They're hiring additional developers to join their Iris team.
They're not alone; developers across the country are racing to develop software for the Rift. The most obvious applications are in the gaming world, but virtual reality could also be used to treat post-traumatic stress disorder, educate children with autism or rethink the film industry. Scranton and Beatty aren't the only ones working on architectural applications for the technology, but they say they hope to bring Iris in at a price point that will make their software more accessible than products from bigger companies.
On a recent afternoon, Scranton and Beatty fire up one of their Iris demonstrations for a visiting reporter.
They work in a light-filled corner office on the Middlebury campus of the Vermont Center for Emerging Technologies. But when I slide on the Oculus Rift, that office — not to mention Scranton and Beatty — disappears. Immediately a place that was previously visible only on a computer model fills my peripheral vision.
It's Scranton's childhood home, which he mocked up using SketchUp. The virtual space isn't photo-realistic in the way that Scranton's renderings for Lightwell clients are — but, it turns out, that doesn't matter. A handheld video-game controller allows the user to move through the space, but what's remarkable is the ability to turn my head and peek around a corner, or glance up at the ceiling. After I take a moment or two to adjust to the new surroundings, they do feel, in a sense, real.
Developers have been trying to crack the code behind virtual-reality headsets for decades, and Oculus Rift seems poised to be the first to succeed. The list of obstacles — tracking, resolution, motion blur — is long, but by far the biggest has been "latency," or lag time. When you're wearing a VR headset and turn your head to look to the left or right, it takes a beat for the virtual world to catch up.
When that delay is too long, the result is a feeling of nausea akin to motion sickness. Oculus VR is trying to reduce the lag to a mere 20 milliseconds. In the prototype Scranton and Beatty use, it's at about 50 milliseconds: fast enough to keep the eyes from picking up on noticeable lag, but still causing queasiness when the user wears the headset for a long time.
So far, signs point to the Rift becoming commercially available in late 2014 or early next year. Initially, Iris will offer clients a package including both the Rift and the software to run its virtual walk-throughs. But in just a few years' time, Scranton predicts, his company won't need to act as middleman for the technology. Give it five years, he says, and "the Oculus has the potential to be as ubiquitous as the television."
It certainly has a wow factor, as Scranton's demonstrations at architecture firms around the region have shown. In one instance, Scranton recalls, an architect sat down, put on the headset and then interrupted Scranton's presentation. "Just a minute," he told the budding entrepreneur. He left the room — and returned with his entire firm in tow.
"We all loved it," says Steve Smith, a principal at SAS Architects. "We all saw the potential ... You've got to look beyond the big clunky thing you put on your head, and see what's coming."
What's coming, he predicts, is that technology like Oculus will be the default within a few years. Smith calls the ability to visualize space in three dimensions a specialized aptitude, one that not every client — or every architect, for that matter — displays. He believes virtual-reality technology will not only help clients envision spaces, but help architects build them.
"It would be a great design tool," Smith says. "When you go into a building and see it framed up, it's never exactly the way it was when you saw it in your head."
Scranton and Beatty concede that some architects may be slow to adopt the technology; some firms in Vermont still hand-draft everything, Scranton says. But they hope to make their Iris software as accessible to 13-year-olds fooling around with SketchUp in their basements as it is to trained designers. And they foresee that, before long, those parties and everyone in between will have their hands on virtual-reality equipment.
"This is not a step forward in technology," Beatty says, "but a revolution in how we experience space."
The original print version of this article was headlined "Virtual Space"