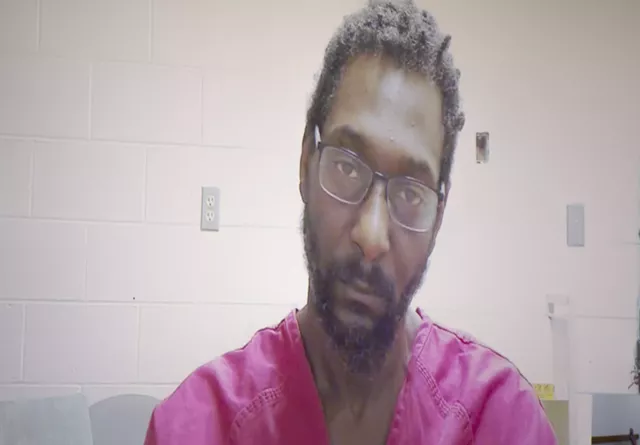 Derek Brouwer ©️ Seven Days
Christopher Crawford
Updated at 7:24 p.m.

Two men were arraigned Thursday in connection with the execution-style killing of a Philadelphia man early Sunday as he sat in Burlington's City Hall Park.
Christopher Crawford, a 42-year-old from Sicklerville, N.J., with a long criminal history, pleaded not guilty to a charge of first-degree murder in the death of Bryan C. Rogers II. A second man, 59-year-old Joseph Craig of St. Albans, pleaded not guilty to a charge that he aided in the murder by driving Crawford to and from the scene.
Both men appeared in court virtually from Northwest State Correctional Facility in St. Albans. Superior Court Judge Alison Arms ordered each to remain in prison pending further proceedings, upon a request by the Chittenden County State's Attorney's Office.
Rogers was shot in the back of the head twice at close range shortly before 1 a.m. during a busy Labor Day weekend in the city's nightlife district. The shooting was captured on city surveillance video, which police say helped them later apprehend the suspects.
Police did not identify a motive, but acting Chief Jon Murad said at a press briefing following the arraignments that he suspects the shooter and the victim were likely involved in the drug trade. He said the incident appears to be unrelated to other shootings in the city over the last two years, which have largely involved young, local men.
"These are not people who are long-term residents of Burlington," he said. "And I do believe that [drugs are] a factor, certainly in their presence in the city, if not in this particular act."
The brazen killing unfolded within earshot of numerous police officers, who had been stationed in the roughly half-square-mile downtown core that night as a show of force in a city that's been rattled by surging gun violence. Murad had enlisted six troopers from the Vermont State Police to patrol alongside four Burlington cops, including the acting chief himself.
"It was the first full weekend where the students for our colleges have really been back. We expected a boost to the nightlife," Murad said. "And we wished to have a sense of presence, to project the sense that there is going to be a public safety presence in our downtown."
Though police responded to the sounds of gunshots "within seconds," the shooter was able to flee the scene. But detectives used extensive security footage from city-owned cameras and downtown businesses to reconstruct the shooter's movements.
Murad said the videos showed that Crawford — wearing a light-colored hoodie — walked by uniformed officers twice as he circled the park so he could approach Rogers undetected.
Following the shooting, he entered the back seat of a dark sedan that had been parked along St. Paul Street, Det. Byrne wrote. The car left the area.
Derek Brouwer ©️ Seven Days
Joseph Craig
On Wednesday morning, officers pulled over a Kia Optima downtown that appeared to match the getaway car seen in the videos. The affidavit said both cars lacked license plates and had several other distinguishing features. Craig was driving the car at the time of the traffic stop, while Crawford and a woman who has not been criminally charged were passengers.
Burlington officers questioned Craig, who said that he met Crawford in prison and that Crawford had been staying in an apartment in Winooski. He told officers that they had been at the fair earlier Saturday evening before Crawford asked to go to Burlington.
Craig admitted to being in the park at the time of the shooting, according to the affidavit, but he claimed he couldn't see what happened because a public restroom blocked his view. When Craig returned to his car, he said he found Crawford already in the backseat.
The day after the shooting, he and Crawford drove to St. Albans and sold drugs, police say Craig told them.
Burlington police, with assistance from agents with the federal Bureau of Alcohol, Tobacco, Firearms and Explosives, arrested both men following the Wednesday traffic stop. Crawford also had an extraditable warrant from New Jersey for failing to appear in court on a cocaine sale charge.
Appearing alongside Murad at Thursday's briefing, Burlington Mayor Miro Weinberger said stopping the spike in gun violence is the city's "highest priority."
"I've said before, if you commit a gun crime in Burlington, we will do everything we can to hold you accountable," he said. "The city is making good on that commitment to the public and to the perpetrators of gun violence."
Hussein Mubarak, 21, was fatally shot on a Luck Street sidewalk in the Old North End in July. Nobody has been charged in his death.
Later in July, Mikal Dixon forced his way into an apartment and shot two women before fatally shooting himself. Kayla Noonan, 22, a student at the University of Vermont, died. The other woman was seriously injured, but survived.
Murad said police have made arrests in just over half of the 23 gunfire incidents in the city so far this year.