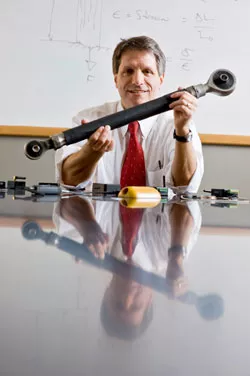 Two of Vermont's most successful homegrown tech companies recently sold to out-of-state interests. But their founders, as well as outside analysts, suggest that the takeovers could actually do more for Vermont employees, host communities and the state's economy than if they'd stayed locally owned.
Williston-based MicroStrain and Milton-based Ascension Technology Corporation completed buy-out deals this summer with companies based in North Carolina and Pennsylvania, respectively. MicroStrain CEO Steve Arms says he agreed to sell the company he founded in 1987 to LORD Corporation, in part to ensure it had the capital and expertise necessary for continued growth.
"Once a company reaches between $10 million and $20 million in revenues, it needs to bring in new investment in order to reach higher levels," says Arms, a University of Vermont grad who built the company around his own invention: a tiny sensing device that measures stress levels in everything from knee implants to helicopters. He sold the business for an undisclosed sum.
Ascension, a manufacturer of electromagnetic tracking systems for medical applications, was sold to Roper Industries, a $2 billion conglomerate, for a price that also remains private. Jack Scully, who stayed on as managing director of the company he cofounded 26 years ago, says the sale "is giving us the resources we need to play more effectively in the medical arena."
"It might have taken us five years to get there on our own," says Scully, a St. Michael's College graduate. "Now it'll be more like two years."
One big plus: Both companies will stay put in Vermont and no job cuts are planned. In fact, MicroStrain's new owners may actually add to the company's workforce of 58 full-time employees and 14 interns, Arms suggests. And LORD has an in-house program that provides financial assistance to full-time employees who continue their education in their respective fields. The company reimburses 75 percent of tuition and fees upon successful completion of up to two courses per semester.
"LORD is very enlightened in that way," Arms says.
Ascension's "14 highly qualified engineers" — part of a roughly 40-person workforce — helped ensure that Roper won't be moving the business out of state, Scully says. Roper has renewed the lease on Ascension's space in Milton's Catamount Industrial Park, in part because those dozen-plus engineers "are not about to leave Vermont," Scully explains.
An additional benefit of the Roper takeover, Scully says, is that "the benefit package is going to get bigger in the new year" for Ascension employees.
Arms says he was motivated to sell the privately held MicroStrain mainly by his obligation "to bring value to shareholders." He chose LORD over other potential buyers because "it's a major aerospace company owned by universities, including MIT, that offered a perfect fit for our products." LORD cares at least as much about its innovation ethic as it does about its quarterly reports, Arms says.
The internship and training programs developed by MicroStrain, which LORD will be carrying on, are important, Arms says, because there's a shortage of talented techies in Vermont.
That assessment is seconded by Rich Tarrant, the cofounder of IDX, a medical software designer that is ranked as the state's most successful homegrown high-tech company. "Vermont doesn't have good tech training programs," says Tarrant. Selling IDX to GE Healthcare six years ago for $1.2 billion gave the former IDX access to world-class brain power, Tarrant notes.
Transferring ownership of a Vermont-bred business to an out-of-state corporation can have negative outcomes too, of course. "The granddaddy of them all," in the view of economic analyst Jeff Carr, was Ben & Jerry's. The "one percent for peace" set-aside established by the local ice cream moguls "turned into .00001 percent" following Ben & Jerry's sale to Unilever, an Anglo-Dutch multinational, notes Carr, president and economist of Williston-based Economic & Policy Resources.
Another example Carr cites is Dwight Asset Management, a Burlington investment house purchased earlier this year by Goldman Sachs. Goldman is moving all but a few of Dwight's operations to Manhattan and cutting loose about half of its 100-member workforce in the process.
Lawrence Miller, secretary of the Vermont Agency of Commerce and Community Development, says the formation, growth and eventual sell-off of any company — not just tech firms — can be seen as a natural evolution. It's capitalism in action, he observes.
"Putting up barriers to companies being bought would be a mistake as well as unfeasible," he says. A moral consideration has to be made as well. "People who have put their hearts and souls into a business deserve to be able to do what they want with it," Miller maintains.
"These sorts of transactions do represent risks to employees, communities and the entrepreneurs themselves," Miller acknowledges. "But if a company has a good management team, they tend to stay here."
It's probably naive to assume that everything will remain the same under new ownership, especially when the new owner is far bigger than the business it has bought. "Change is inevitable in these circumstances," Carr points out. "Sometimes it's good, sometimes not so good."
For Ascension, takeover by a Fortune 1000 corporation has put stresses on the accounting and administration units, Scully reports. "There was a fear we'd get steamrolled by their regulations, but that hasn't really happened," Scully says. Only that Ascension's accounting unit is now feeling pressure from corporate HQ to close the books at exactly the end of the month, he adds. It used to be that a few days might pass before monthly accountings were finalized.
Scully, 65, says the new Ascension owners asked him to remain in a position of power following the takeover, which did lead to the retirement of company president and cofounder Ernie Blood. In fact, Scully got a promotion, from vice president for marketing to managing director. He consequently feels no diminution of authority at Ascension and says he agrees with the direction in which the company is going.
Meanwhile, loss of control over the business he started meanwhile proved unpalatable to MicroStrain's Steve Arms, who resigned from the firm a month after its August purchase by LORD. "It was different for me to go into the office and have it not be my company," Arms says. "Being in charge of things is what I enjoy."
Arms promises that he will go on to launch another venture at some point. And that would fit a pattern, Miller says.
"Original investors who sell their businesses may go on to start new enterprises," the state economic development chief says. "And that can be really good for Vermont."
Some employees may also decide they'd rather take a chance as entrepreneurs than remain at a company that's become more cautious and impersonal following its sale to a megabusiness. That's what happened with several employees at the former IDX, Tarrant recounts. "People who didn't like to work in that new atmosphere started their own companies," he says, adding that Winooski-based Marathon Health is the child of ex-IDXers, including himself. Tarant currently serves as chairman of the board of the company he launched in 2005.
Today, GE Healthcare remains in the South Burlington headquarters built for IDX. While the company employs fewer Vermonters than when it was IDX, Tarrant says the highly skilled employees who were let go had few problems finding work. They were "instantly employable," he says.
Takeovers can also change a company's culture, and that's a big reason why another highly successful Vermont tech firm, Winooski-based BioTek, has spurned offers from would-be buyers.
"We've had a good team working together here for a long time," says Adam Alpert, vice president of BioTek, a manufacturer of instruments in the life sciences field. "There's a core culture here, a commitment to shared values, a sense that this is how we operate."
Adam and his brother, CEO and president Briar Alpert, have not lacked for chances to make scads of money by selling the business to a big-name, out-of-state company. Their "top-of-the-list" reason for rejecting those offers, Adam Alpert says, is that "we're passionate about the business and how we do it.
"We do think there's opportunity for BioTek to keep growing, to become the best firm of its kind — not just for its shareholders, but for its employees and all who benefit from having a successful business in Vermont," Adam Alpert says.
Remaining independent, he adds, allows a company to seek new business anywhere in the world. "If it's no longer independent, a company faces limitations as well as some potential advantages. It can wind up competing with other aspects of a big corporation and can have its focus blurred."
For now at least, BioTek is staying locally owned. "It's worked out well for us," Adam Alpert says. "That might or might not be the right option for another company. A lot depends on the intentions of the acquirer. It's not like there's any general rule."