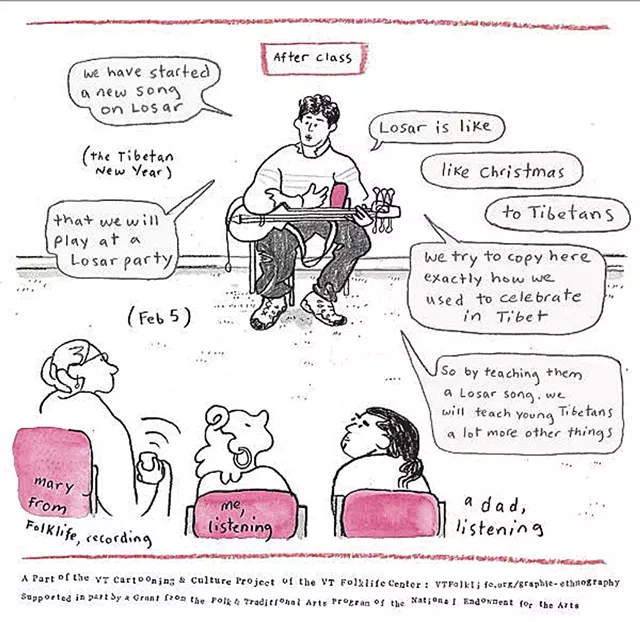 Iona Fox
A panel from "Almanac" by Iona Fox
From hardscrabble images of disappearing hill farmers to genteel portraits of Vermont's Colonial Dames, from the rustic majesty of windswept ice shanties to the cheap thrills of semipro wrestling, Vermont Folklife Center is the keeper of Vermont's storied past. Recently, the Middlebury museum received a pair of grants that will spur its mission to chronicle, catalog and preserve the state's cultural heritage for generations to come.
Announced on March 1, a $25,000 grant through the National Endowment for the Arts' "Art Works" program will support the center's Vermont Cartooning and Culture Project. VFC will also benefit from a nearly $200,000 grant awarded in February by the Council on Library and Information Resources to the American Folklore Society in Bloomington, Ind., for the purpose of digitizing collections. The VFC is one of three partners — with the University of Oregon and Indiana University Libraries — working with AFS to preserve a variety of historical archives.
The Vermont Cartooning and Culture Project is an 18-month initiative of VFC's Traditional Arts Apprenticeship Program. It employs the art of nonfiction cartooning as a medium to explore and share stories and experiences across the state's cultural and ethnic communities.
"We've been trying to explore the idea of tying ethnographic cartooning to the work that we do," explains VFC associate director and archivist Andy Kolovos.
The cartoon project is two-pronged. In four special editions of her comic series "Almanac," which appears weekly in Seven Days, cartoonist Iona Fox, a former Vermonter now based in Chicago, will cover traditional music from Vermont's Franco American, Somali Bantu and Tibetan communities.
"Working ethnographically brings with it a deeper and more intimate kind of collaborative engagement than journalism," writes Fox in a press release, "and reaches more widely into a community than do traditional slice-of-life comics."
The project's second prong involves an adaptation of material from the VFC archives, penned by local and regional cartoonists including New Hampshire's Marek Bennett and Joel Christian Gill, Center for Cartoon Studies grad Robyn-Brooke Smith, and Grafton native Ezra Veitch. Drawing on extensive archival resources, those artists will collaborate to tell the story of Daisy Turner (1883-1988), an African American storyteller and poet born in Vermont.
Turner was the daughter of former slaves who settled in Grafton after the Civil War. VFC founder Jane Beck interviewed Turner extensively in the 1980s, collecting more than 80 hours of interviews. They were used to create the Peabody Award-winning audio documentary series "Journey's End: The Memories and Traditions of Daisy Turner and Her Family," as well as a video series, "On Her Own: The Traditions of Daisy Turner."
"Daisy was an amazing, strong-willed person and an amazing storyteller," says Kolovos. "And the stories she told were not just from her own life, but family stories that were passed down from her father that situated her family narrative beginning pre-slavery in Africa. It's a pretty intense sweep."
Once finished, the collection of comics about Turner's life will be distributed free to public libraries in Vermont, with support from the Vermont Department of Libraries.
"If we can secure additional funding, we'll expand that to school libraries, as well," says Kolovos.
He concedes that the average person might find the AFS digitization grant less exciting than the cartoon project: "You really have to be an archiving nerd to find this stuff interesting." Nonetheless, it's an important step in preserving certain vulnerable collections.
Kolovos explains that the AFS grant comes after eight years of AFS collaborations on archival projects with VFC and the Western Folklife Center in Nevada. Those projects created a database framework for information from folklife repositories around the country — something like a digital card catalog. The next step is filling that database with content.
The new grant will make it possible to digitize more than 825 hours of VFC audio and video, much of which exists in fragile or outdated formats such as digital audiotape, as well as hundreds of photographs and pages of texts.
Under the direction of AFS, Kolovos will spearhead the digitization of 11 VFC collections to be collected, transfered and cataloged by archivist Susan Creighton, the 2019 Jane C. Beck Folklife Fellow. They include interviews on the commercial and recreational history of Lake Champlain and oral histories of the steamship Ticonderoga. Two collections of recordings by traditional Vermont artists will also be digitized, as will the New England Storytelling Project Collection, a five-state project overseen by the VFC in the 1990s that captured snapshots of everyday life around the region.
When the digitization project is complete in spring 2020, the VFC collections, along with those from Oregon and Indiana, will be available to the public online through the AFS Folklore Collections Database — making Vermont's past just that much more accessible to everyone.